Get the story at BVI Regatta Update!

Confusion reigned among Vanish navigators when it was announced that Sunday's race was around the island rather than around the buoys. Tactician Mike Shuttleworth grabs the chart and his second diet coke, while Bill focuses exclusively on the chartplotter and gives the wheel to Mike Mullaney.

Do you think anyone would notice if I took a leak here?

Pete, the mast man, jumping the jib halyard.

Raise that sail!

Renee, who did pit, tailing the halyard.

Sails up, nothing left to do but smile, smile, smile!

Josh signaling to Bill on the helm. Vanish Rule Number One for the regatta was: Don't hit anything. Thankfully, it was followed.

One of our competitors (who we crushed), a Farr 65.

Mike Mullaney, our grinder.

Alison and Vicki on the leeward rail during the light wind round the island race.

Sitting on the rail. We need wind!

Is that sail trimmed right???

Dousing the chute.

Vicki trimming the spinnaker.

Flying the chute during the around the island race.

Grind!

Mike grinding, Bill at the helm.

Trimmer Dave Sipes.

Bowman Josh Summers.

Grinder Mike Mullaney.

Bill, Mike and Dave look on.

Alison, who did sewer (re-stuffs the spinnaker below).

Dave posing for the camera.

Mmmmm I'm hungry. Climbing the mast all day is hard work, I'm going to get me that steak sandwich that Doris made for lunch.

Sandwiches under the spinnaker.

Can you trim the spinnaker and drink water at the same time?

Bill taking a glimpse at the spinnaker.

Heading up as we round the island, it's time for a spinnaker peel to the asymmetrical spinnaker (reacher).

Asymmetrical reacher up, ready for the spinnaker to come down.

Trip!

Douse that chute!

Flying the asymmetrical reacher.

Man, there's a lot of sails up here.

Fay and Josh cleaning house.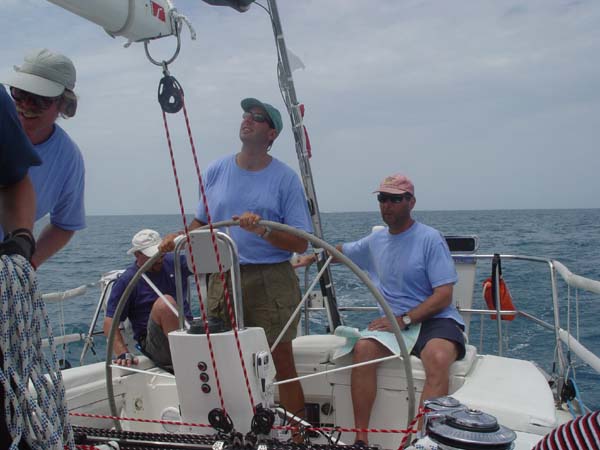 The back of the bus.

Race called, heading back to Nanny Cay.

What was this line for again?

Fine day of racing, matey!

Mike and Vicki bumming that the race was called off.

Josh climbing up the main post-race to install our new reefing lines.

Who needs a rock climbing wall?

Can someone let me down now please?

One more view of reefs below Toa Toa.

We didn't want to leave this place!

Renee, Jen, Pete, Dave, Alison, Michael Fay and Mike Mullaney.