Great Racing at the BVI Spring Regatta
See BVI Regatta Photos I, II, III for more pictures.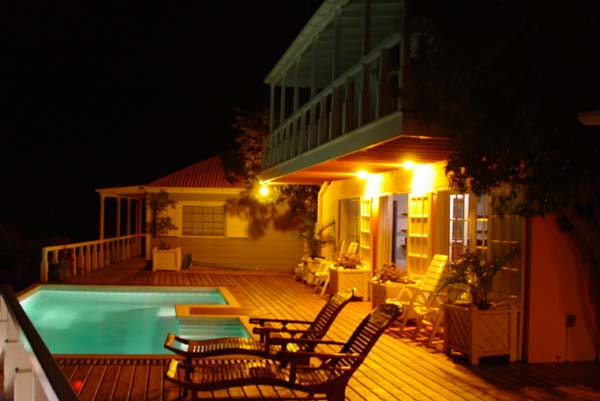 We raced Vanish for the first time in the competitive racer/cruiser (spinnaker) class at the BVI Spring Regatta. There was a lot of coordination of the crew, the accommodations and the shipping of the racing sails for weeks leading up to the event.

Since Josh Summers, a professional captain, agreed to race on the boat as bowman, we felt okay doing the spinnaker class. Some of the crew that Bill had raced with in New England flew down for the event - Shadowfax owners Mike Shuttleworth and Vicki Jackson, Trimmer (and former Vanish offshore crewmember) Dave Sipes and his girlfriend Alison Vanderbilt, and Pitman Pete von Lossiter.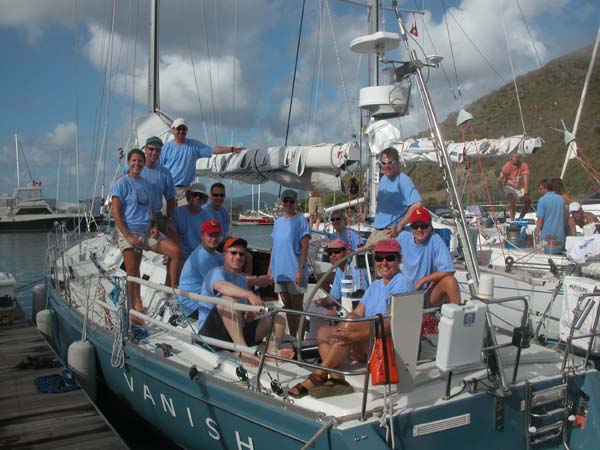 Mike Mullaney of Yacht Management Services, a boat builder who did a lot of work to get Vanish ready for a year at sea, and his wife Doris arrived ready to race. Micheal Fay, a crew member of Brown-Eyed Girl, a J-44 that is raced competitively in New England, joined our crew for the regatta and provided lots of tips on how to race the boat. The owners of a J-42 Starlight, John Bell and Jill Wescott and their 13-year-old daughter Lauren, rounded out the crew.
The first day of racing was a spectacular day - beautiful Caribbean weather, 15-20 kts breeze and four windward/leeward races! Everyone got a good workout!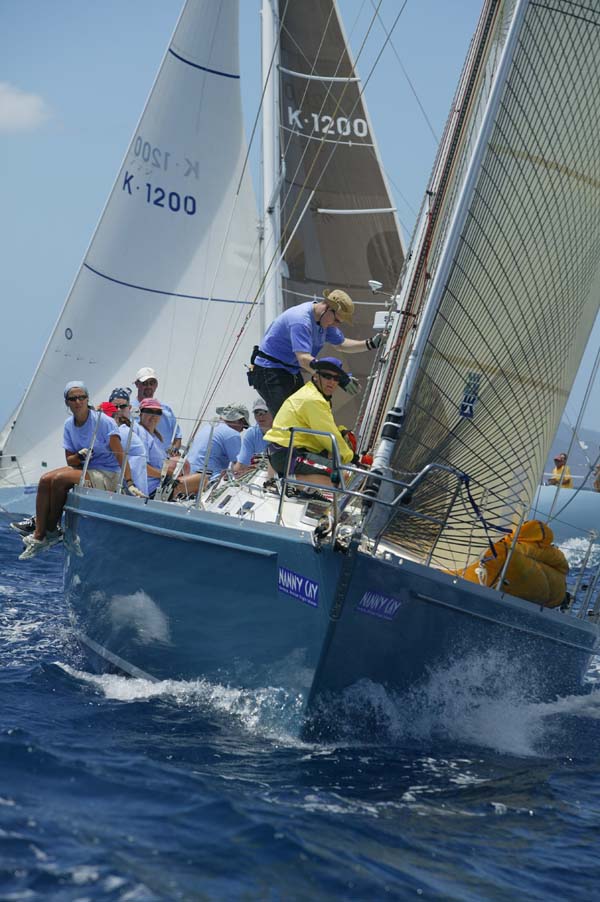 At the end of the day we had taken three fourths and a fifth, putting us well in the game. Not too bad considering we put a spinnaker up sideways and had mastman Pete swallowed by the foredeck hatch.
On day two we faced challenging conditions, but crew and boat were ready for them. Squalls came through the racecourse, adding new obstacles - steering around broached boats and avoiding lightening strikes! Four boats in other classes were hit, and one boat in our class broke there mast. When it got really bad, we took the conservative route and went non-spin one leg. By the third race conditions calmed down and we were in a groove. Mike Shuttleworth called a jibe set, the bow crew performed flawlessly, and we took home a second for the last race of the day!
Day three the forecast was for light air. We thought with a couple of good windward/leeward races we could pick off some of the heavier competitors and make our way to third. Unfortunately, the race committee decided to run an around Tortola race which they ended up abandoning as the wind died half way into the race. At least the more relaxing change in venue enabled us to take lots of photos!