Dec. '02: Cruising the islands around St. Martin.
From our stay at Simpson Bay Marina, we left to cruise Anguilla French St. Martin, and then back to Dutch St. Martin.
MPEG Videos: (right click to download, left click to play)
- Ile Penel, St. Martin (3.2 meg)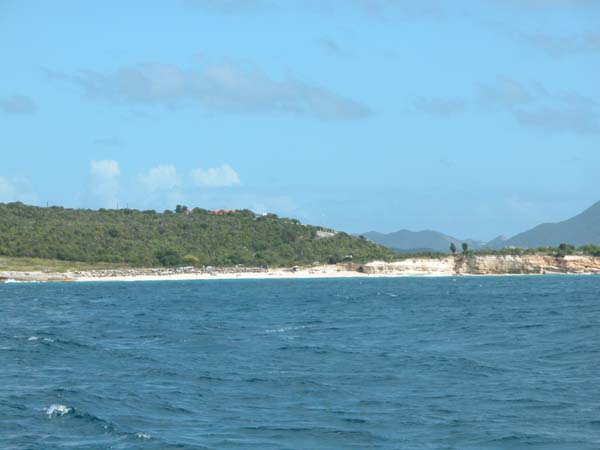 Cupecoy beach Dutch St. Martin. Don't bother bringing a bathing suit. Photo taken on way to Anguilla.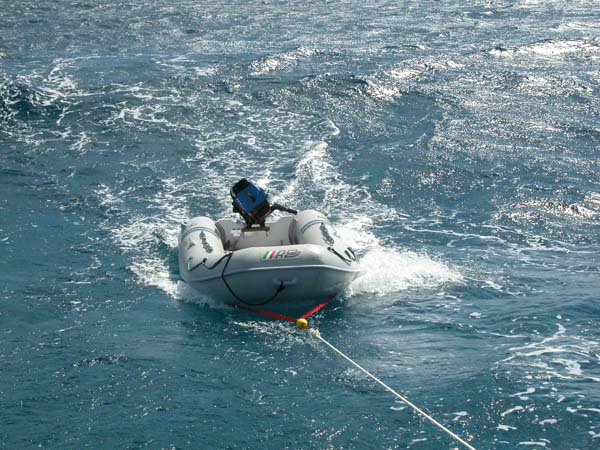 Our new dinghy en tow, soon to be named "Haze"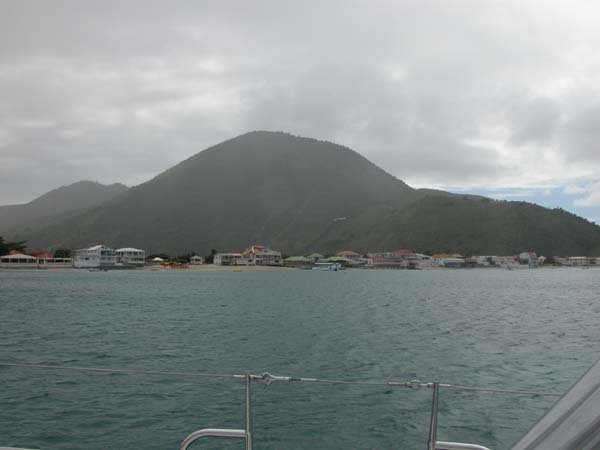 Grand Case, French St. Martin. Our first port-of-call after leaving Simpson Bay. Grand Case is known as the gourmet capital of the Caribbean. It is lined with fancy French restaurants, all in dinghy distance.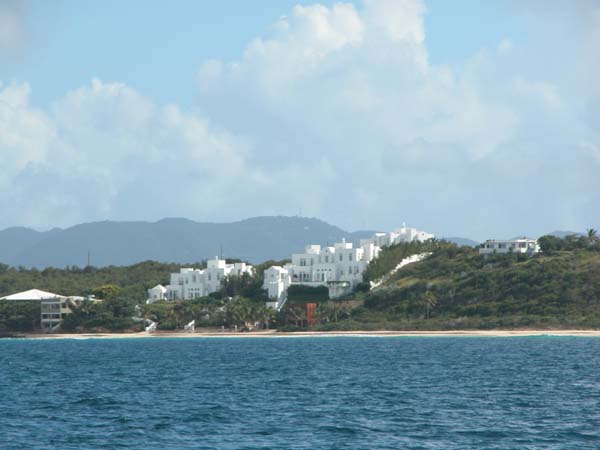 Exclusive Anguillan hotel on way to Road Bay, Anguilla.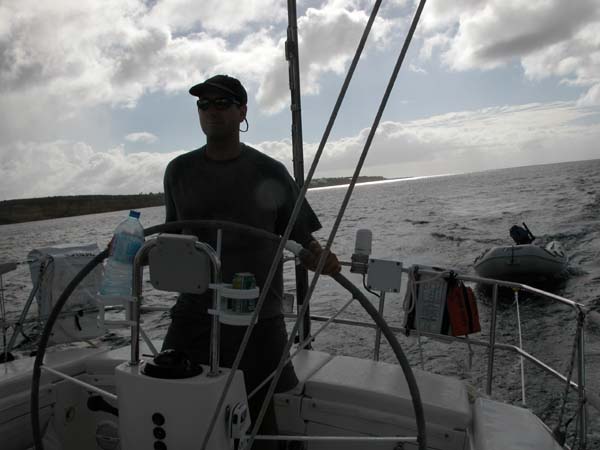 Bill sailing us into Anguilla.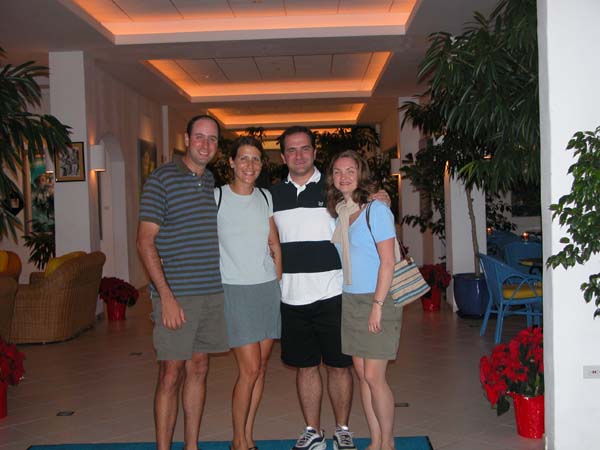 Dan and Lara from Boston. We met at the bar, next thing you know they are inviting us back to their swanky resort for a most enjoyable evening!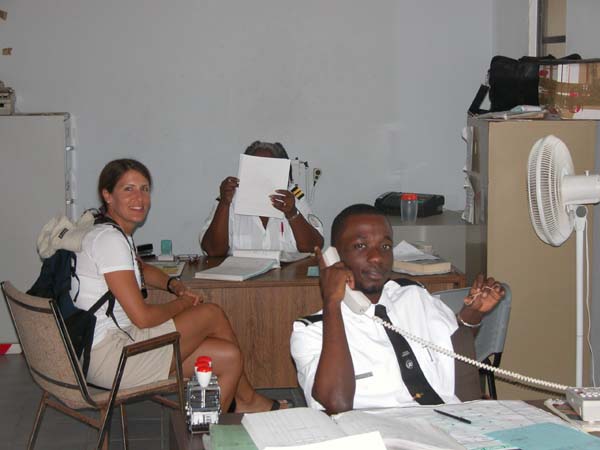 Friendly but camara shy Anguillan customs officers.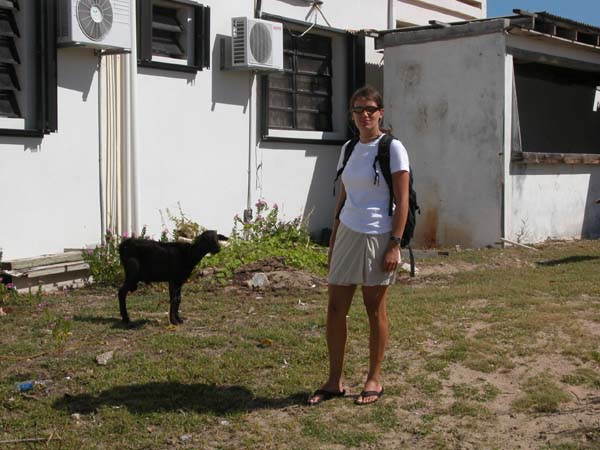 Renee can't get enough of those goats, Anguilla had lots!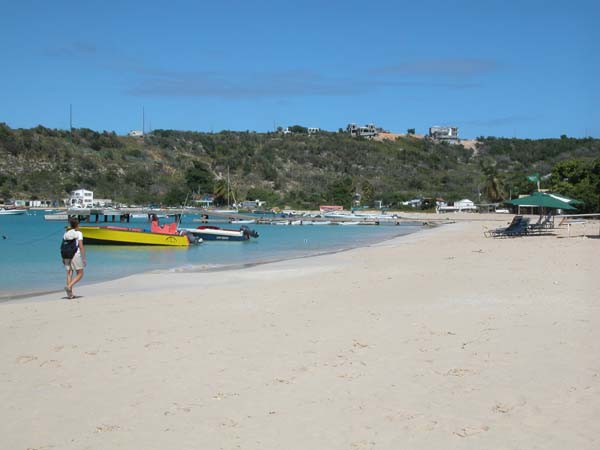 Beach bars lined the harbor in Road Bay Anguilla. Don't walk away Renee.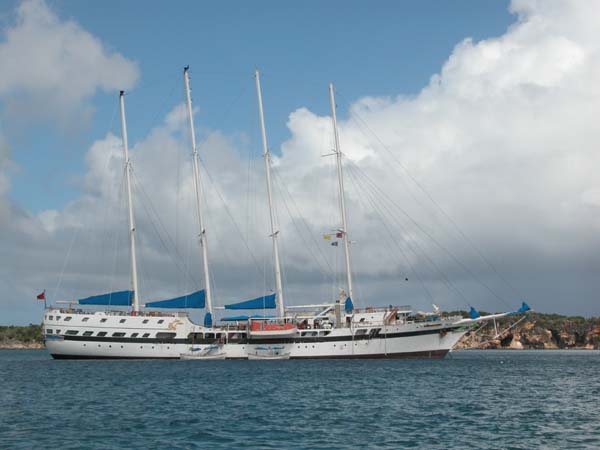 Our neighbor at the next port, Crocus Bay, Anguilla.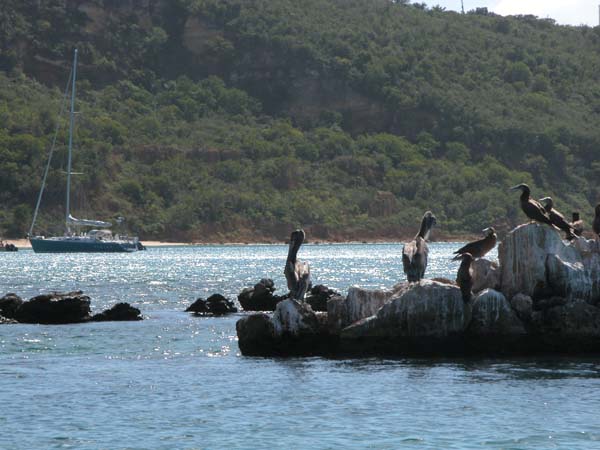 Pelicans eyeing Vanish.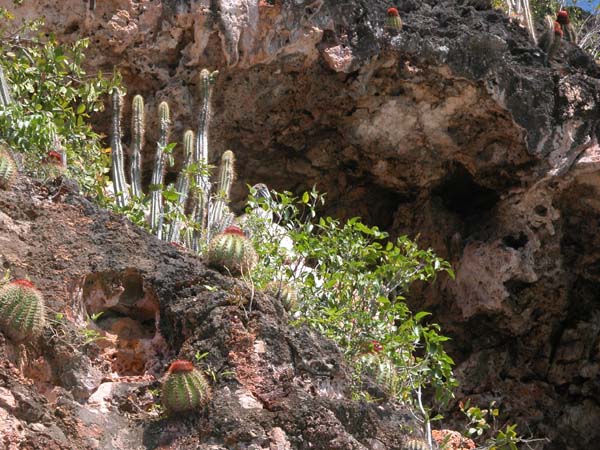 Fauna in Little Bay, an Anguillan marine park.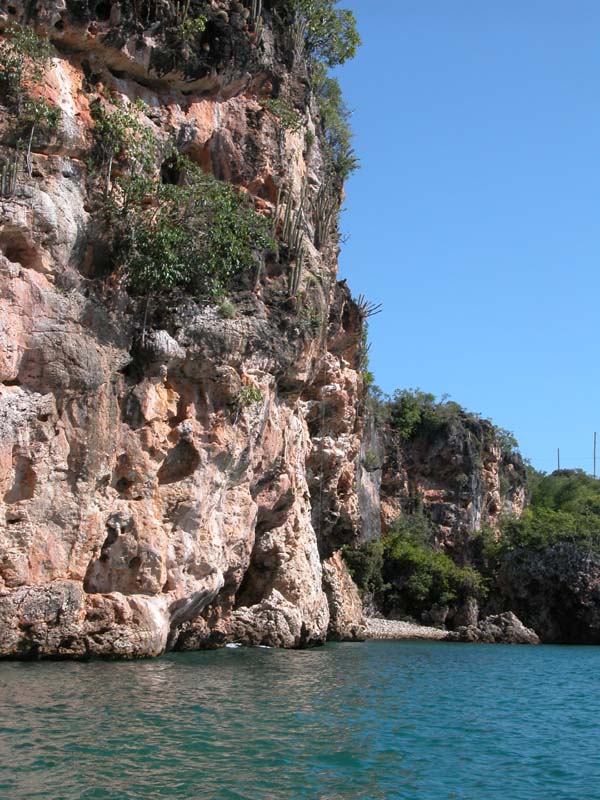 Marine park cliffs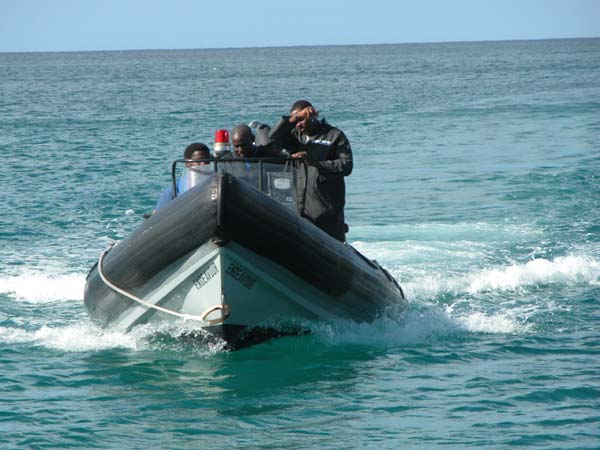 Vanish can't hide from the Anguillan authorities.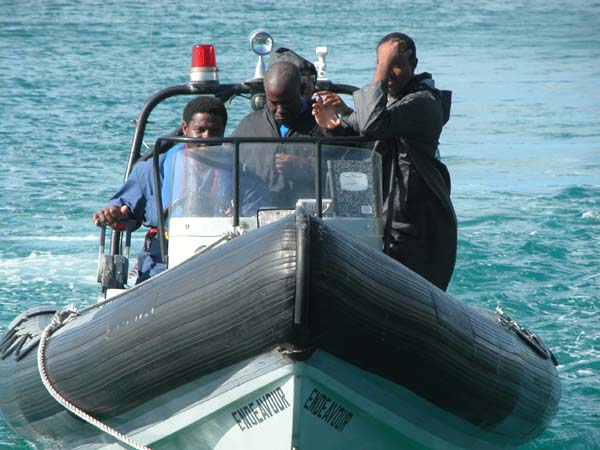 The ever shy, but quite menacing looking, Anguillan officials demanded our customs papers. Luckily we were legit, no problem, mon.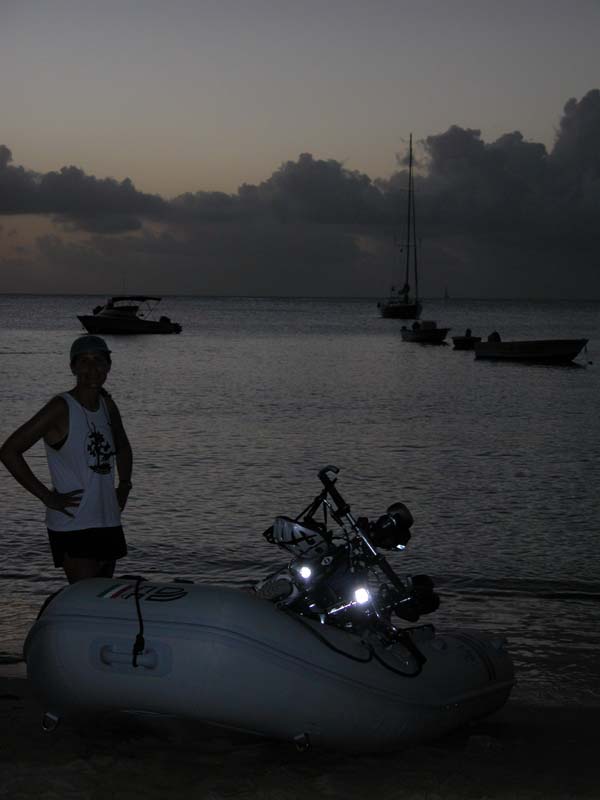 Heading home after an evening bike ride.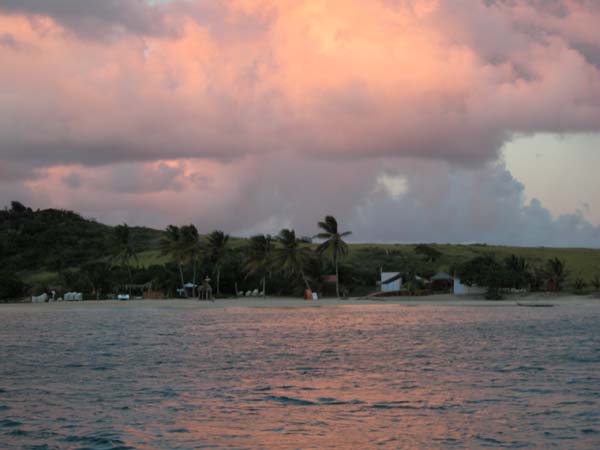 Ile Pinel, French St. Martin: Difficult anchorage, but check out that sunset.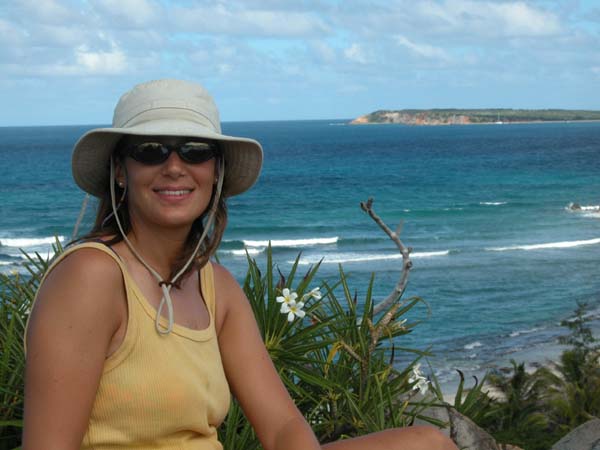 Renee atop Ile Pinel, looking out at Tintamarre (locally known as the flat island)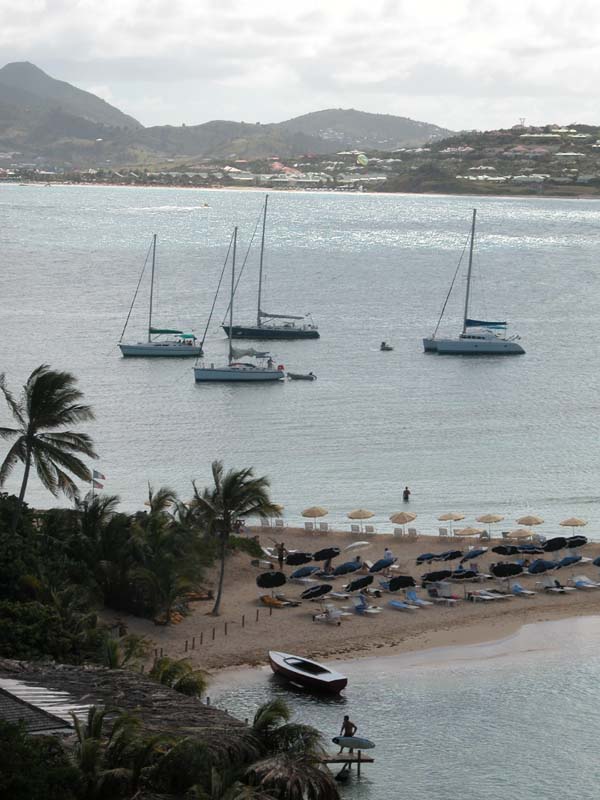 View from atop Ile Pinel. We have the beach, Vanish, and St. Martin's Orient beach in the background.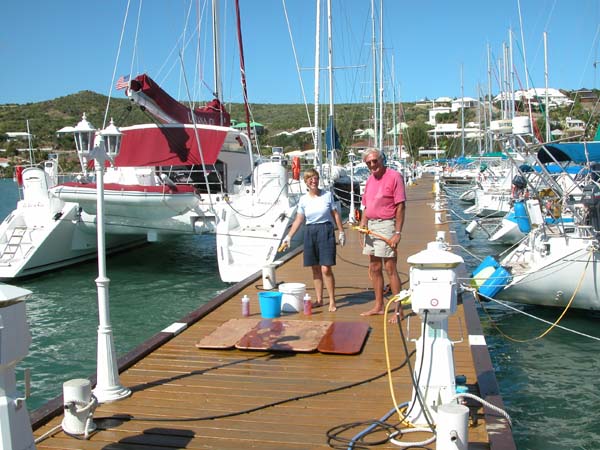 We pulled into Oyster Pond Marina, Dutch St. Martin, to repair a bent mainsail headboard and visit our local friends at the Princess Heights Hotel not too far away. Our Canadian neighbors are seen working away.