We met Renee's parents in Cannes after their whirlwind tour through Europe. First stop for us was the Iles de Lerins near Cannes, a good anchorage to swim and "people watch". We also visited the historic monastery and grilled a fresh whole fish on the boat.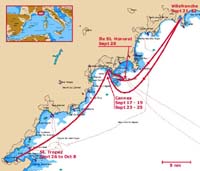 From there, we had a sunny motor ride to Villefranche-sur-mer where we spent a couple of days. Since all the marinas in Monaco were full because there was a major boat show taking place, we went to Monaco by train for the day from Villefranche. Heading back west along the Cote d'Azur, the wind began to pick up quite a bit. Surprisingly enough (since there was a regatta going on there) Cannes was the only marina in the area that had room us. There, we met up with fellow J-boat sailors Jean-Louis and Annette Pezin, celebrated Renee's mother's birthday and watched the regatta boats until the wind calmed down a bit. After an early morning sail to St. Tropez, we spent a fabulous day with the Pezin's at their home in Callian for an authentic Provence experience. At anchor in St. Tropez, we watched the port transformed into Les Voiles de St. Tropez as sailors, festivities and racing boats filled the harbor for the regatta.

Lerins Islands a couple of miles off Cannes. We anchored off St. Honorat and visited the 4th century monastery on the island. The gift shop sells wine and a green liqueur. The monks raise grapes and their liqueur is concocted from 44 different herbs - the local version of Chartreuse made by the Carthusian monks.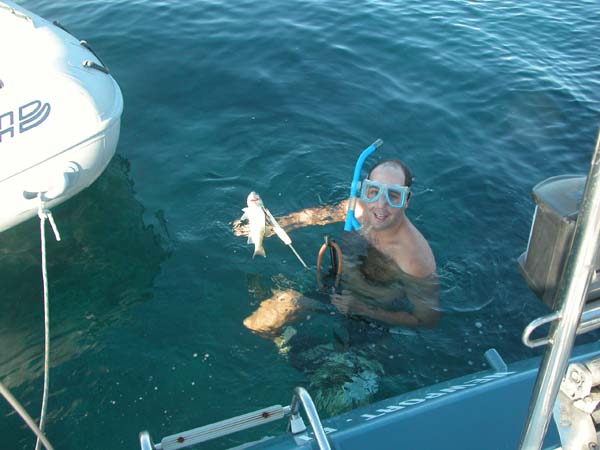 Bill spear fishing off the boat. The picture of success, but still it got away.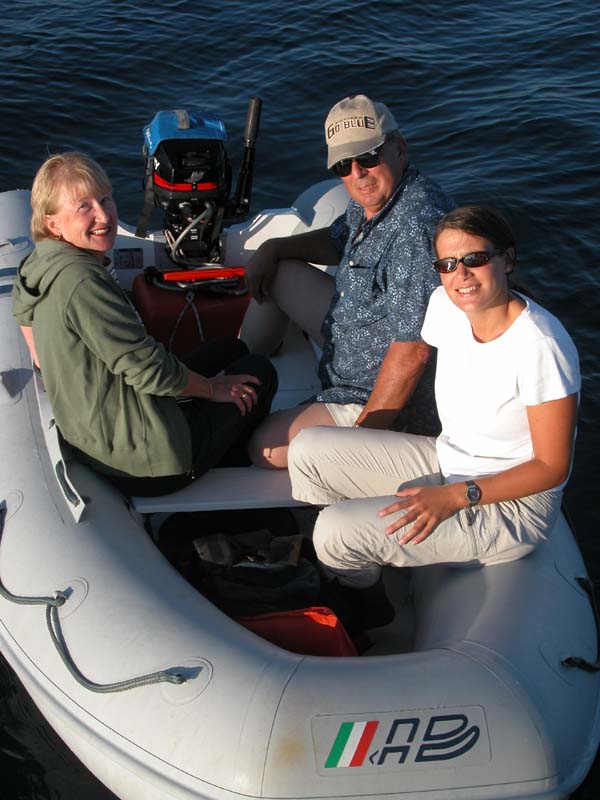 Mom and Dad in the dingy!!!

On the shore of St. Honorat.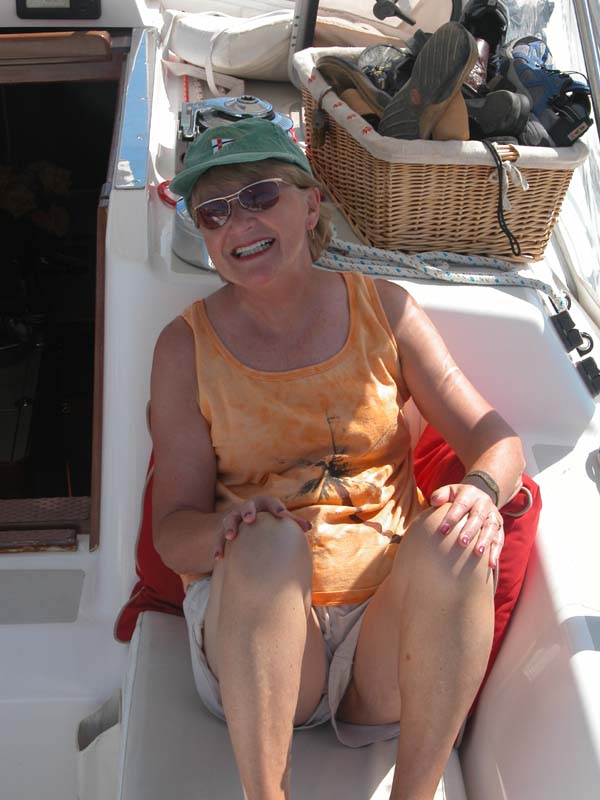 Mom's all smiles - must have been calm seas!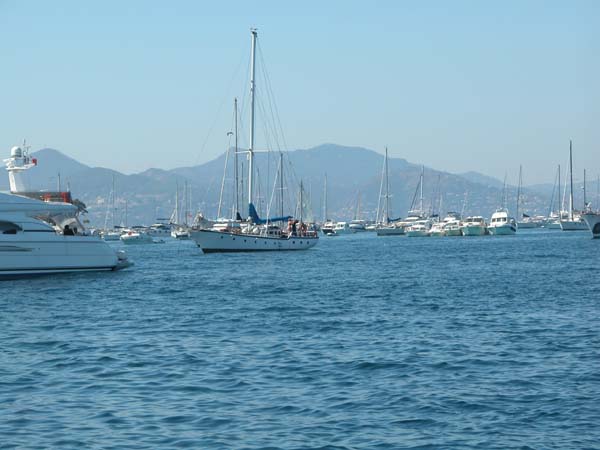 Crowded anchorage on the islands off Cannes.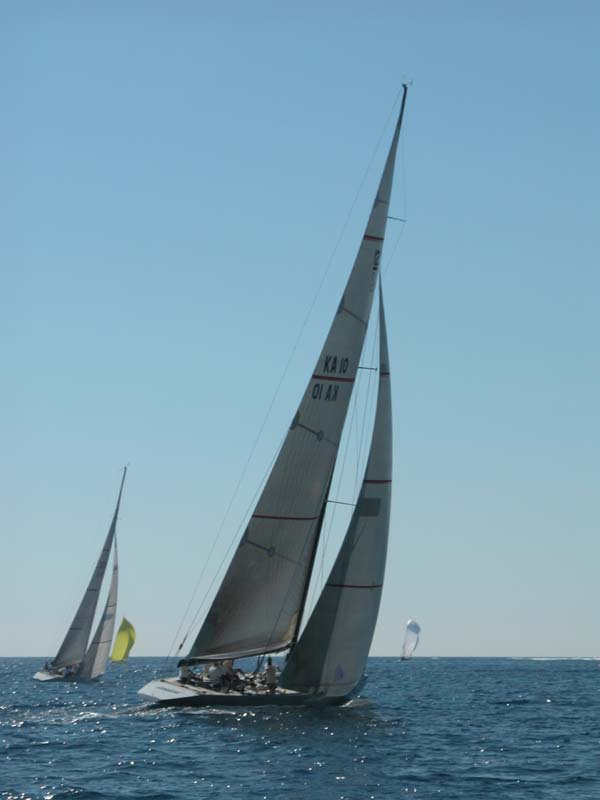 Raceboat headed for Cannes from Monaco.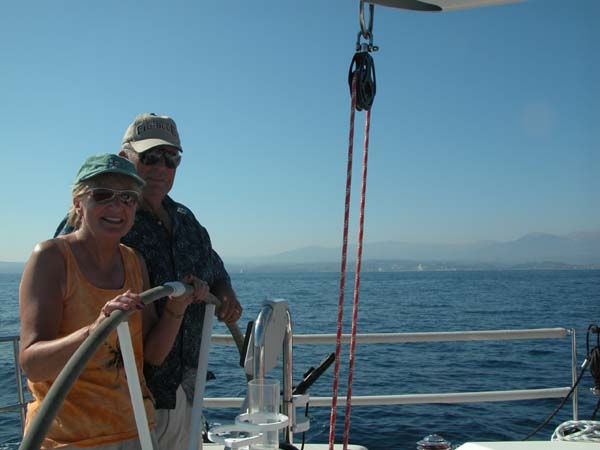 Mom and dad at the helm on a beautiful day.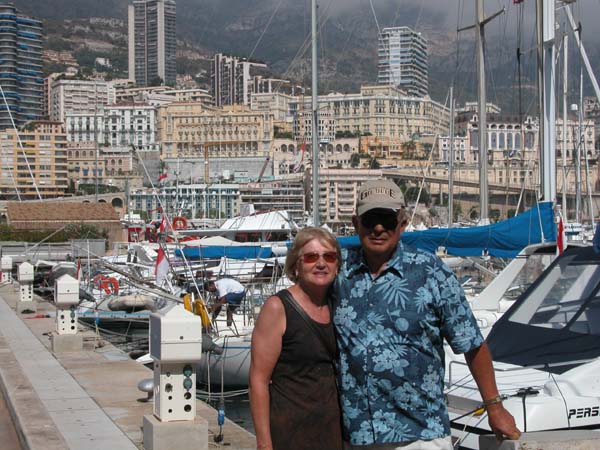 On the dock in Monte Carlo.

Grand Prix statue in Monte Carlo.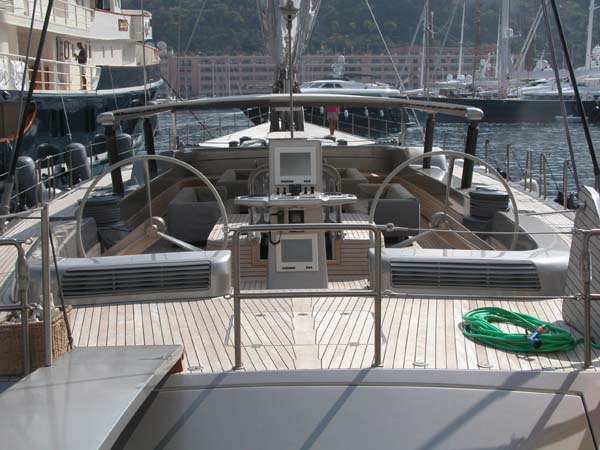 The huge boat show in Monaco (the reason there was no room for us in the marina), advertising these custom boats.

Mom and Dad were certain that this was Ivana Trump's yacht.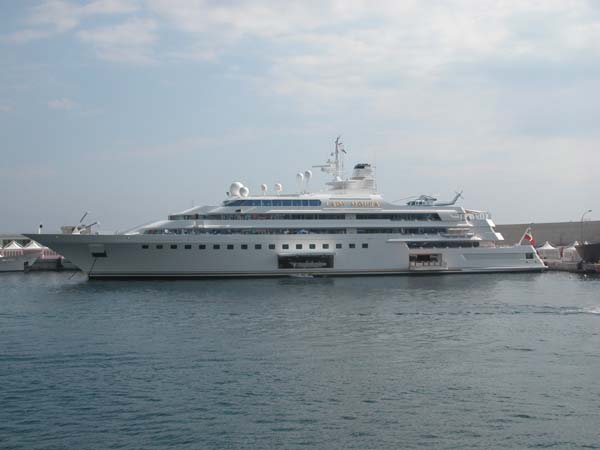 A familiar spectacle - Lady Maura - in Monaco. No wonder there was no room for Vanish.

High rollers at the Monte Carlo casino.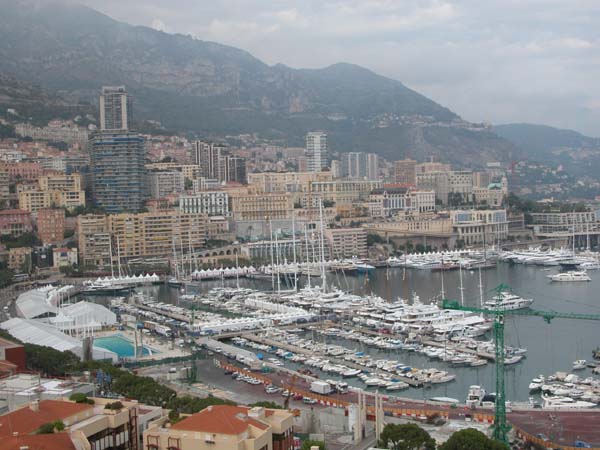 Monte Carlo from the upper part of Monaco.

Ladies by the palace. Once the home of still famous Princess Grace.

The obligatory changing of the guard shot at the Palace in Monaco.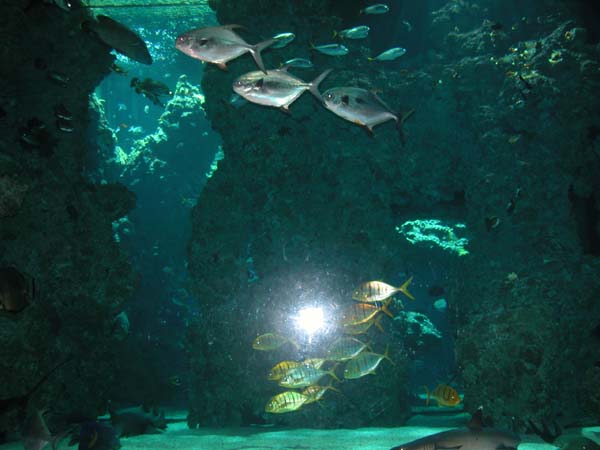 The aquarium in Monaco was quite impressive - fish like you've never imagined!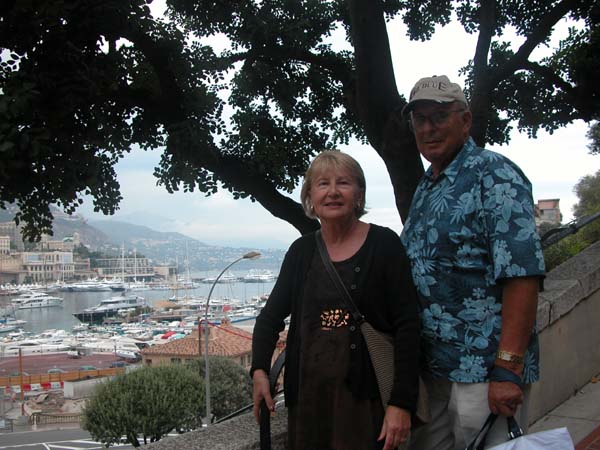 Walking down from old town Monaco.

Pyramidal buildings of Marina Baie des Angles along the Cote d'Azur. We caught a "fish" that turned out to be a plastic bag while sailing by!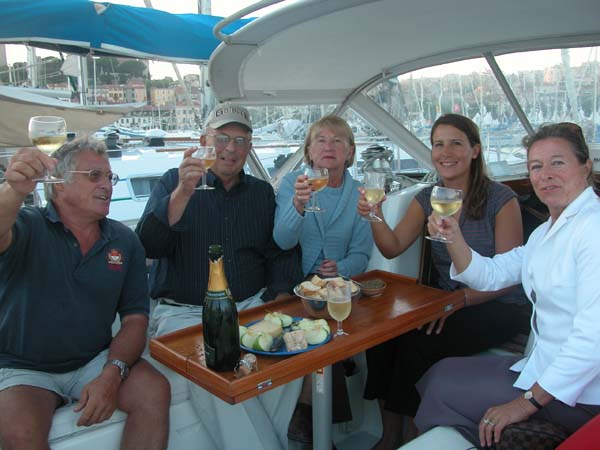 Jean-Louis and Annette Pezin come aboard in Cannes (with champagne no less) to celebrate (??) the recent sale of their J-160.

Goat cheese salad and chilled rose on deck for lunch on Mom's birthday.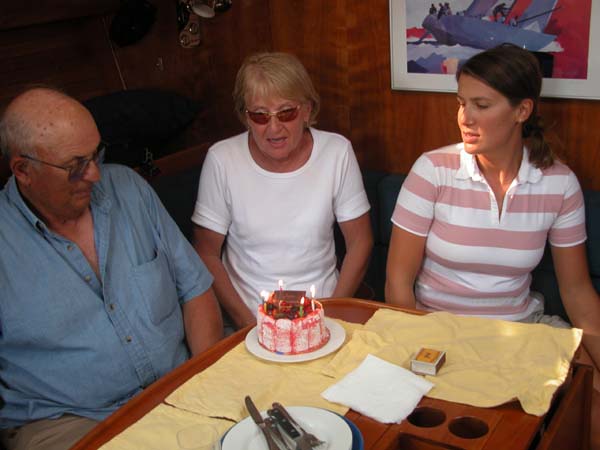 Happy birthday Mom! How old were you again?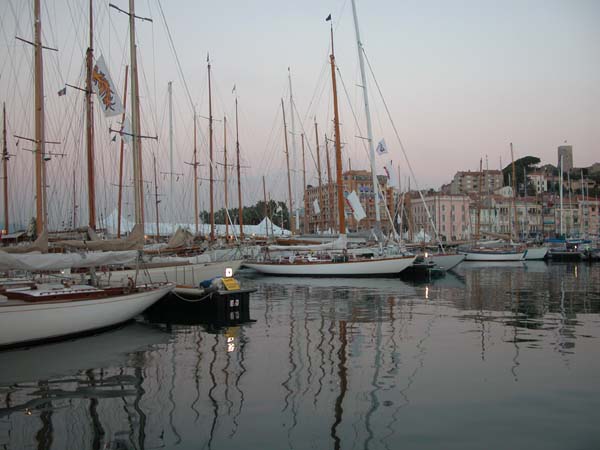 Leaving Cannes harbor at dawn for a sail to St. Tropez.

A fantastic tour of the Provence region near his home by Jean-Louis.

Annette and Jean-Louis hosted us to a wonderful lunch and dinner, typical Provencal cooking!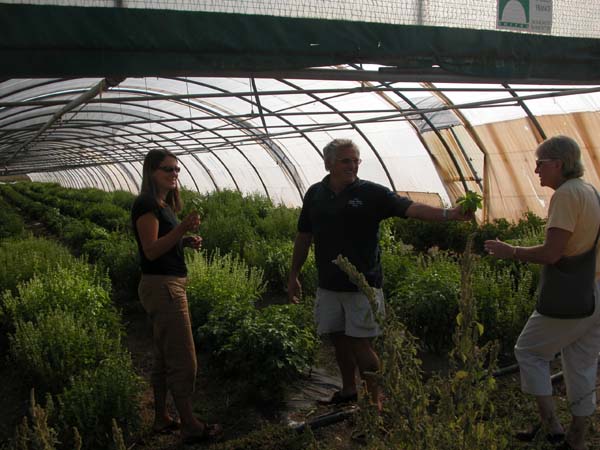 A visit to Jean-Louis' farm nearby where he grows fresh herbs, mesclun lettuce and strawberries.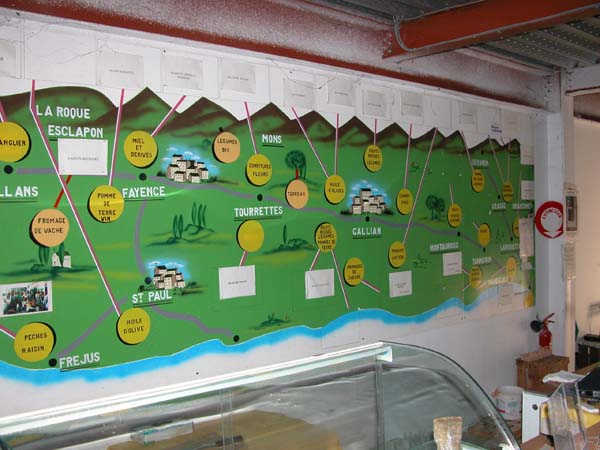 Inside Marche Paysan, a farmer's market founded by Jean-Louis. The board shows the locations of various contributors to the market.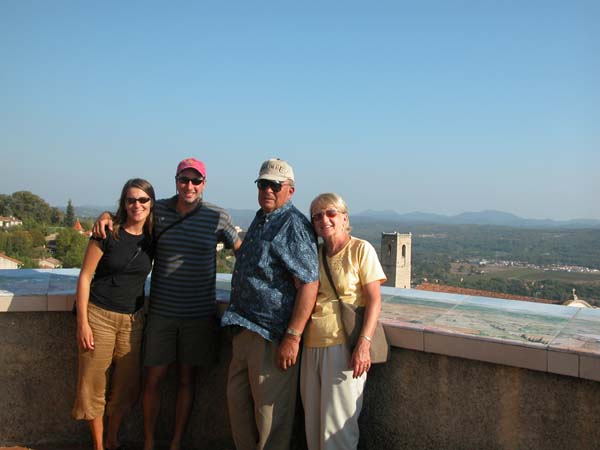 Looking out at the rolling hills over Fayence.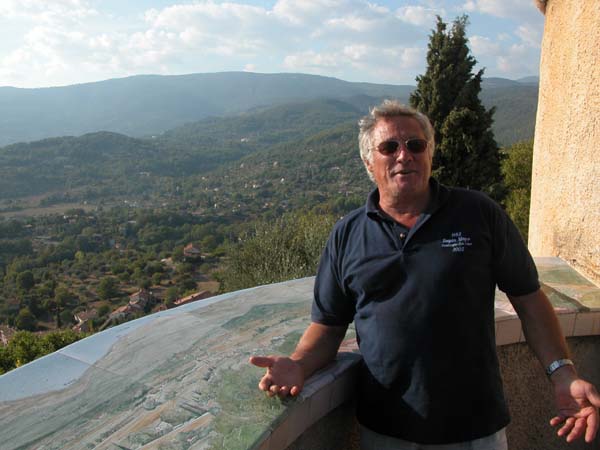 "It is not possible to get more typic Provence."

Our tour include a visit to the aqueducts near Callian that were carved by the Romans. The run all the way to the coastal city of Frejus, and are basically still in use.

Callian, Jean-Louis' village, was absolutely picturesque!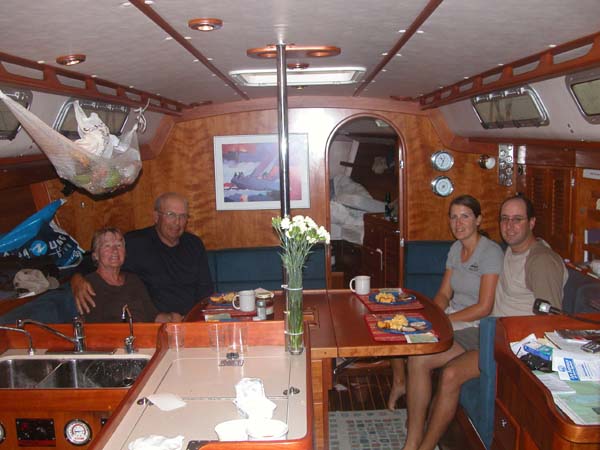 Bill's eggs for breakfast on the new placemats Renee's mother bought us.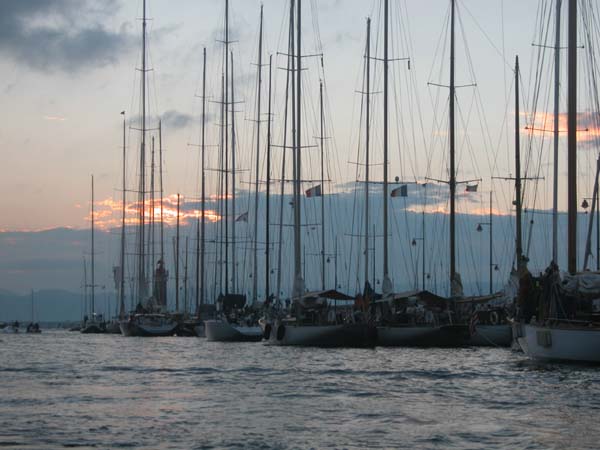 Boats starting to gear up for Les Voiles de St. Tropez.

Monument in St. Tropez where allied troops landed in WWII.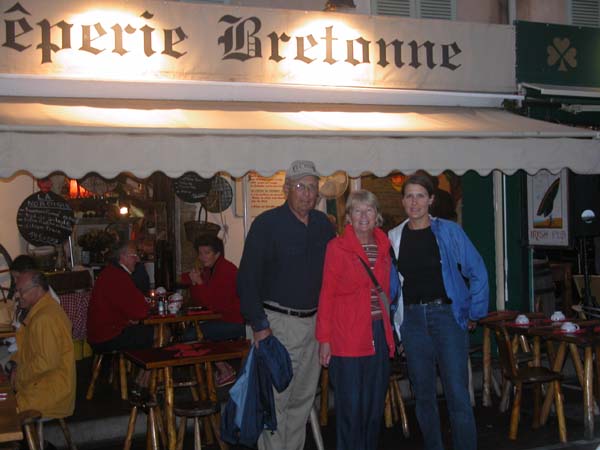 Dinner at the creperie on the harbor at St. Tropez.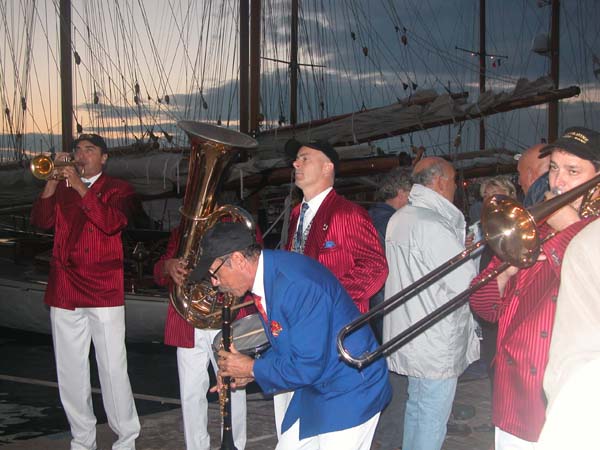 Les Voiles de St. Tropez marching band. They put on a show every night of the week.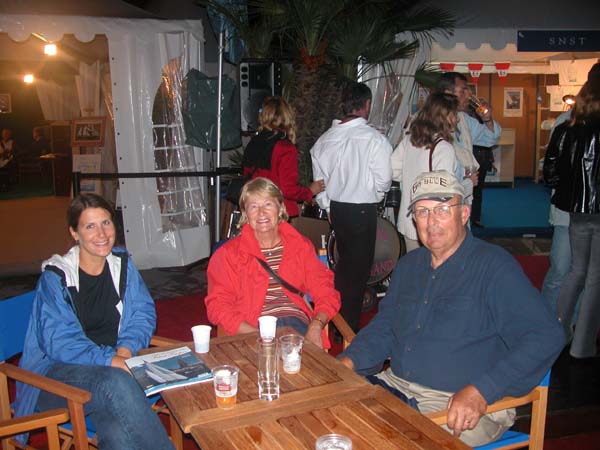 Regatta village, Les Voiles de St. Tropez.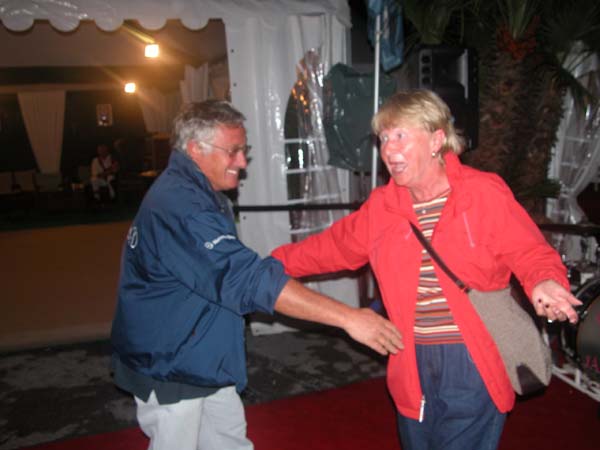 Mom and Jean-Louis shakin' a leg!

Bye Mom and Dad!!