The Straits of Bonifacio - the body of water between Sardinia and Corsica is not large and we mistakenly didn't give it the respect it deserved. Leaving an island off Sardinia after a long, lovely morning swim, we headed off with full sails towing Haze. As soon as we were out of the protection of land, the wind blew 25 and full waves rushed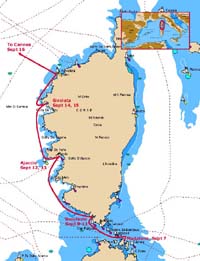 into the cockpit as we beat our way northwest. We quickly reefed the sails, but we still were getting pounded and our dinghy was taking on serious waves. We found a rock island not too far off and made for its lee. We quickly anchored, put Haze on deck and prepared for the 15 mile slog to Bonifacio. Lesson learned - never underestimate the Straits of Bonifacio.
It is always nice to revisit some favorites so we were happy to spend some more time cruising the west side of Corsica on our way north. Besides being a place we love, Bonifacio gave us great shelter from the mistral that was blowing across the Med. We hiked along the picturesque (hence all the pictures) cliffs, enjoyed the Corsican cuisine, and worked on our website (you think this is effortless?). Next stop was Ajaccio the capital of Corsica where we were surprised at how cosmopolitan it was compared to the rustic terrain of Corsica. From Ajaccio, we continued up the coast back to Girolata, another favorite port with great hikes all around. Out of time before we needed to be back in mainland France, we took one last swim and headed off at sunset.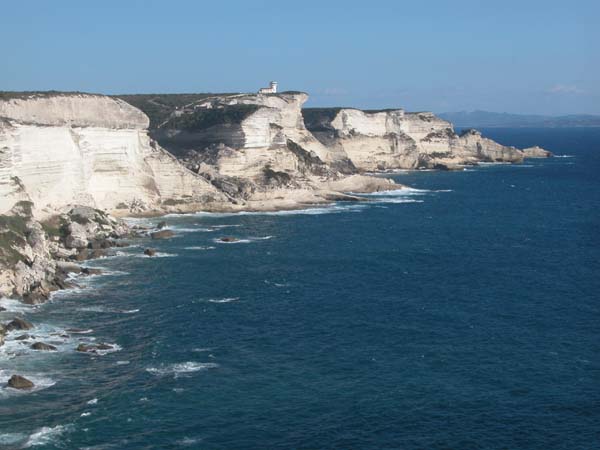 Looking south along the cliffs towards Sardinia in the background. It was a beautiful walk.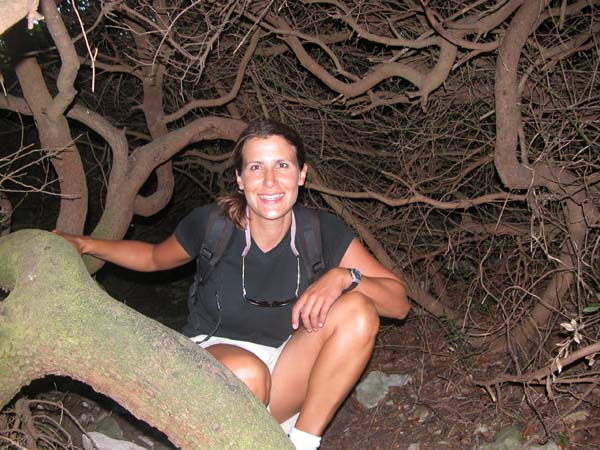 A hidden passage along our walk.

Pertusato lighthouse and the end of our walk.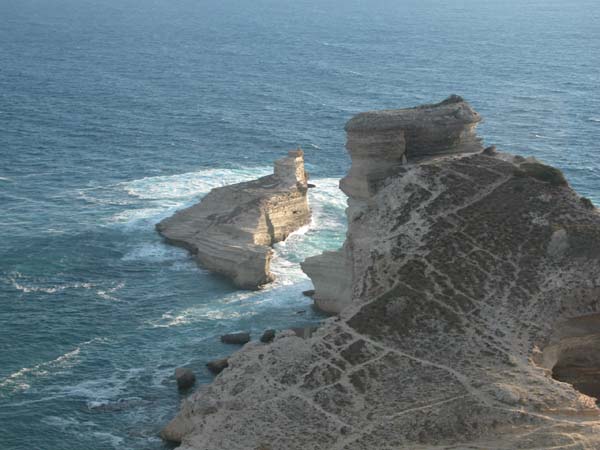 Busted!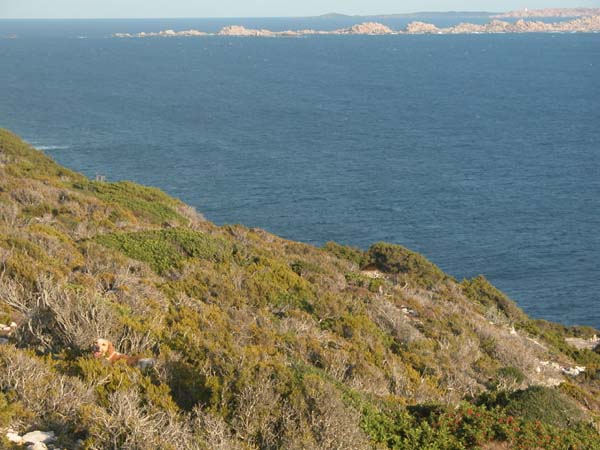 The day before the winds were howling across the Straits of Bonifacio and we ducked behind the rock island, Ile Lavezzi, for some temporary shelter. Now we view the calm waters. We also befriended 'Tripper' our canine walking companion seen in the foreground.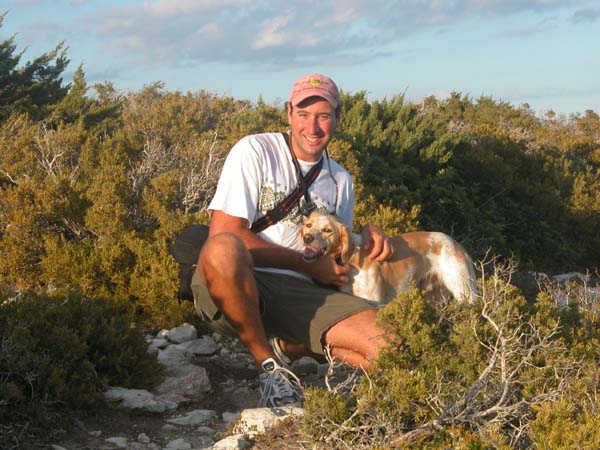 I think there will be a dog in our future.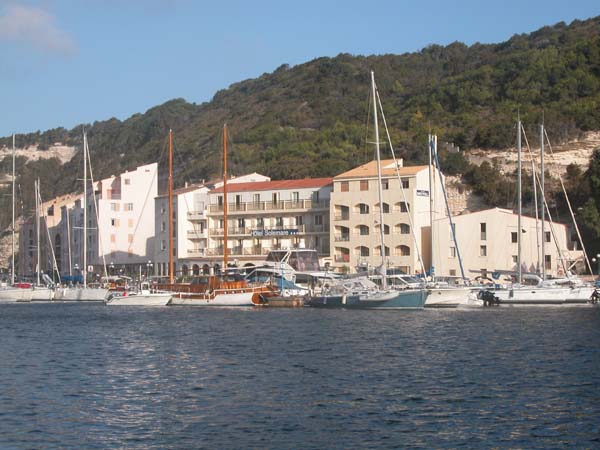 Vanish and Haze settling into a couple of days in Bonifacio - one of the most picturesque ports we've visited.

Bonifacio from above, can you find Vanish. Here's a hint, you can sort of see Haze hanging from the side.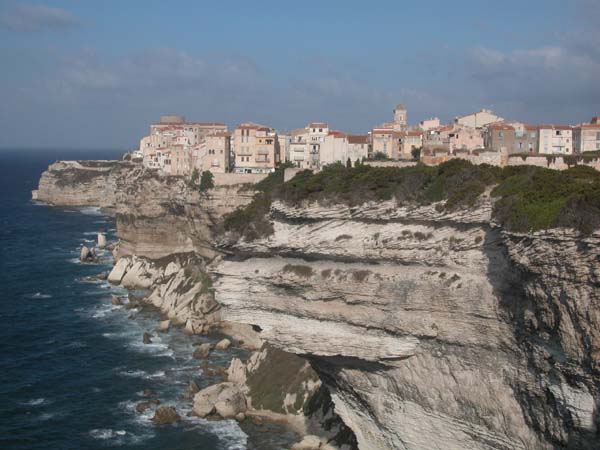 Cliffs of Bonifacio and 'High Town'.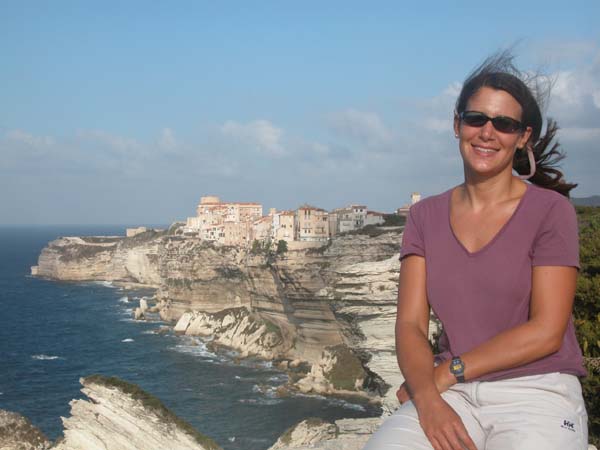 Renee on the town.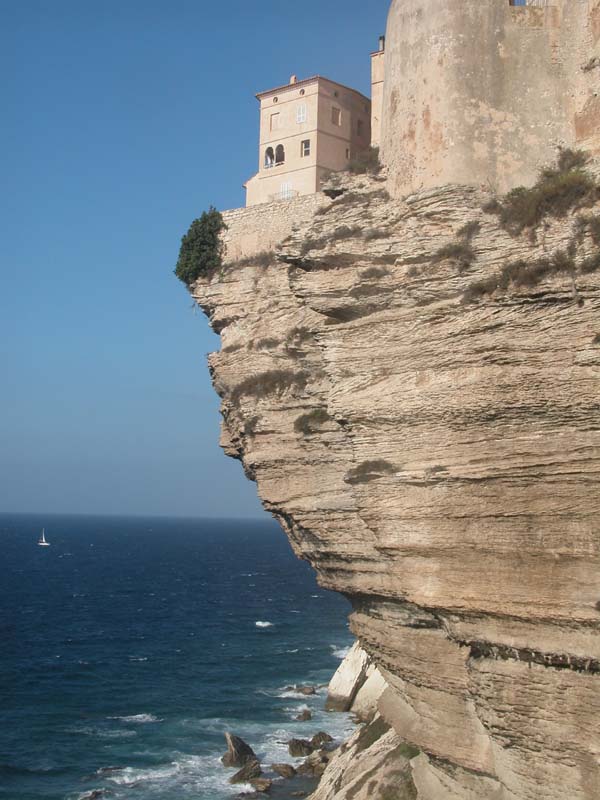 Do you think they let the kids play in the yard?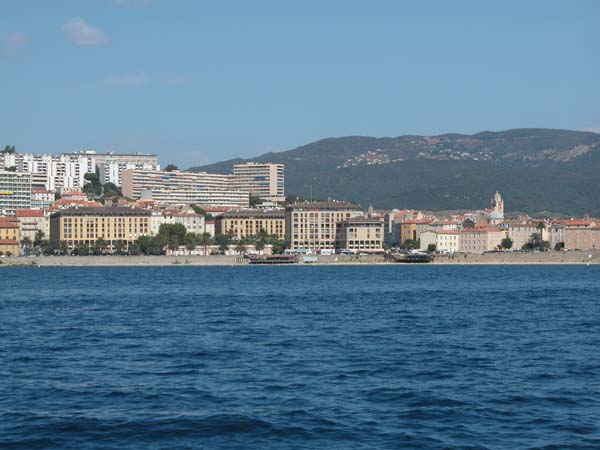 Ajaccio, capital of Corsica and birthplace of Napoleon Bonaparte. The town was actually nicer than the picture shows.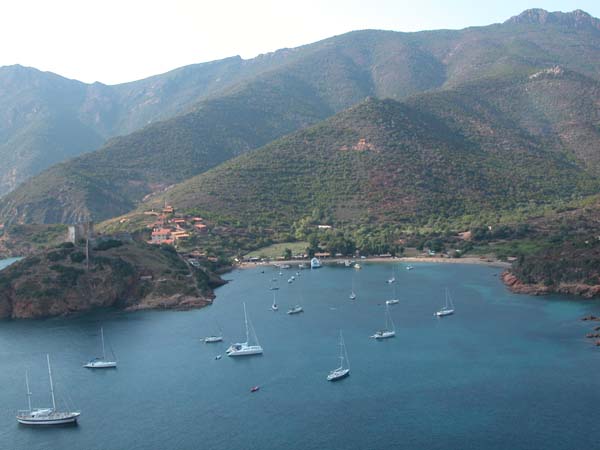 We liked Girolata so much the first time, we went back for more. Plus it was a sheltered harbor from the active westerlies.

Afternoon hike from Girolata. Can you believe we reached our destination and they were out of beer? End of season I guess.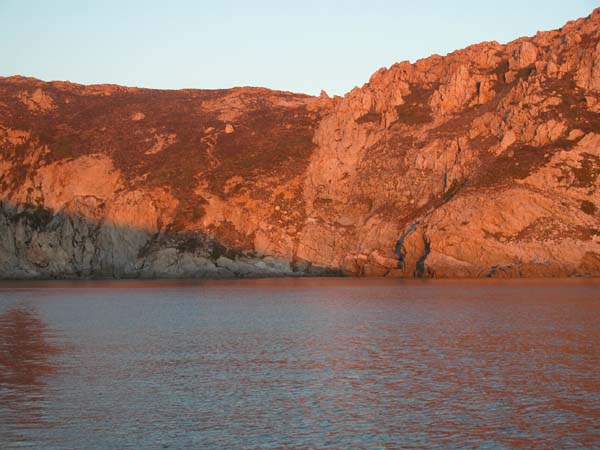 Small cala just south of Calvi and our last stop in Corsica before a night passage to Cannes. Very pretty at sunset.