After dropping off Bill's parents in Palermo, we ended up spending more time in Sicily than we initially thought we would. We spent a night at the small port of Sferrocavallo,
two nights anchored off the beach resort town of San Vito Lo Capo, and several nights on the dock in Trapani waiting for the winds to calm down a bit. We biked all over Trapani, a fairly large Sicilian city, and visited the ancient mountain town of Erice above it. After spending one night on Favignana, part of the Egadi islands near Trapani, we set off for the 150 mile trek to Sardinia. The sail started with about 35 knots of wind on a broad reach, and I thought it was going to be a really long, wet night. By about 10 p.m., the wind had died down. We ended up motoring the last half of the trip, but unfortunately still had big seas to contend with. Around noon the next day, we arrived in Villasimius at the southeastern point of Sardinia, a welcomed refuge. From there, we had a nice 20 knot downwind sail to Arbatax, about half way up the island of Sardinia. We waited out some more high winds in Arbatax, before heading up to the Porto Cervo area.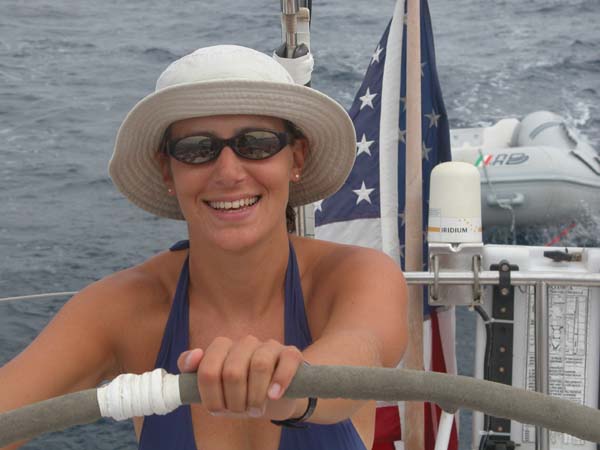 Leaving San Vito Lo Capo, a Sicilian beach resort town.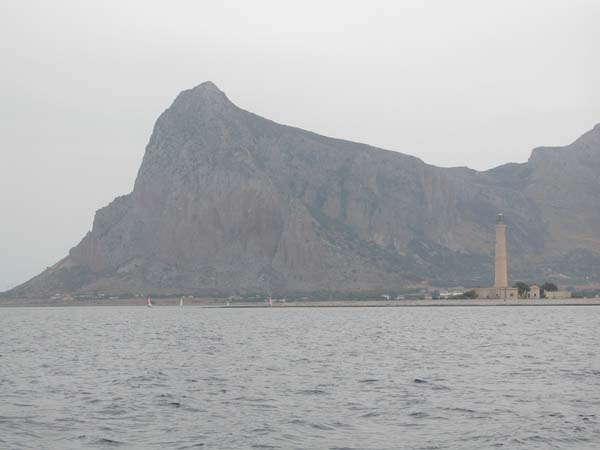 Hot and hazy in San Vito Lo Capo. Due to its proximity to northern Africa, you could see Arabic influences in this part of Sicily, lots of cous cous restaurants.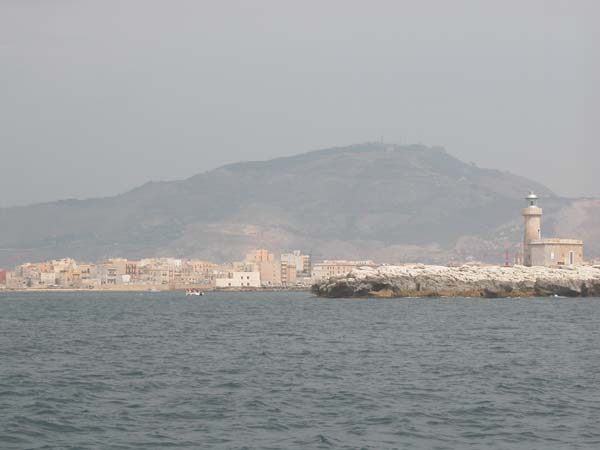 Port of Trapani with the mountain town of Erice in the background, northwestern coast of Sicily. There were great flat beds of sea salt drying in the sun near the harbor. Sicily's sea salt is supposed to be very high quality.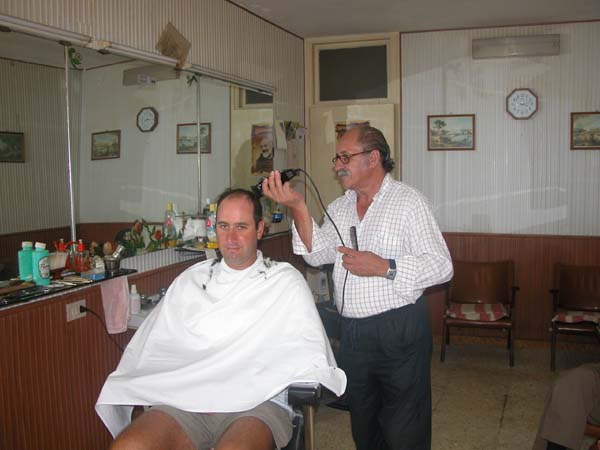 Bill getting a haircut in the medieval mountain town of Erice, Sicily.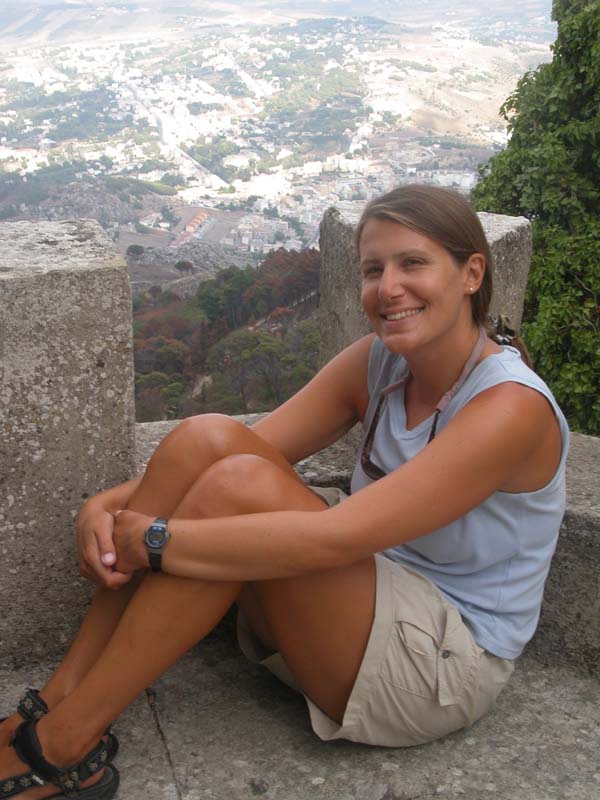 Renee in Erice, above the town of Trapani.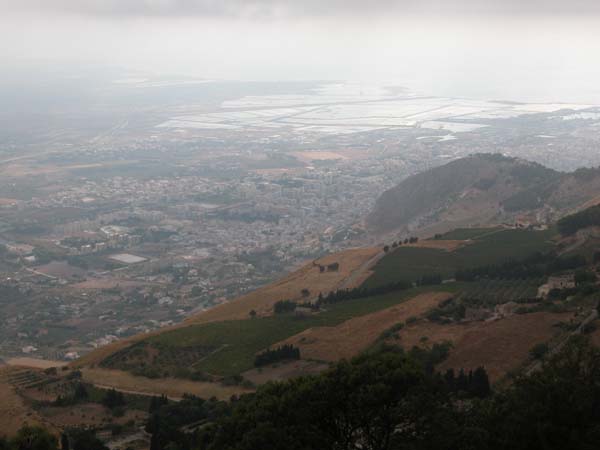 The farms of Sicily, and the salt fields of Trapani in the distance.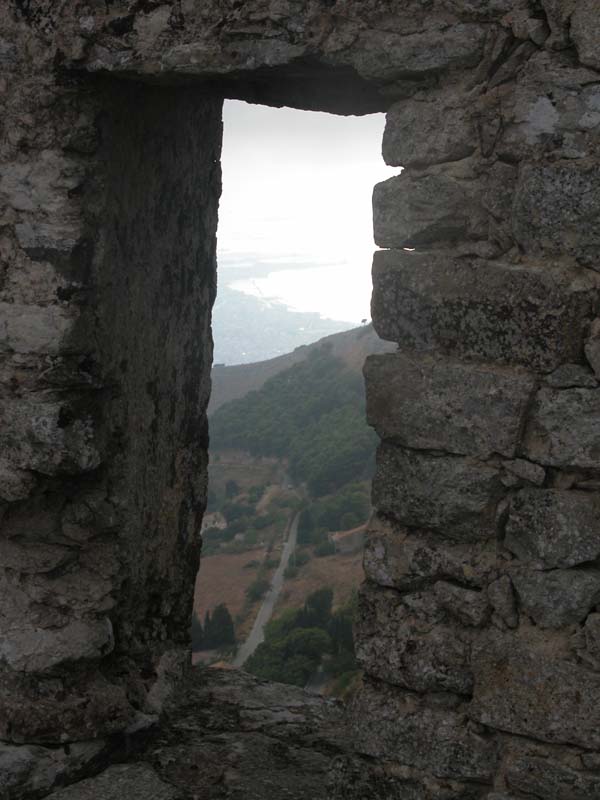 Ruins in Erice.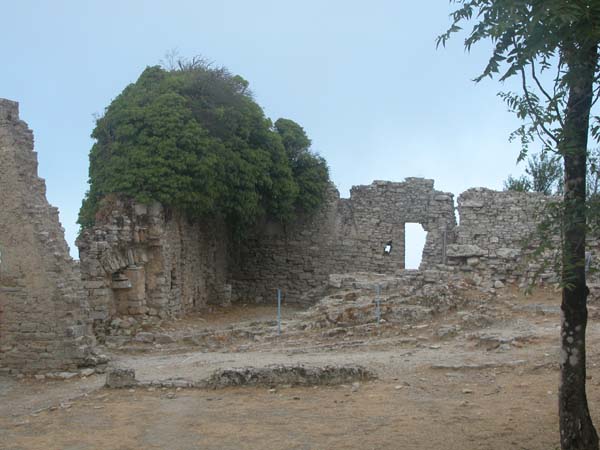 In Greek times, the village was known to mariners for its temple of Aphrodite - many sailors made the pilgrimage to visit her prostitute "priestesses". Remains of the temple seen here.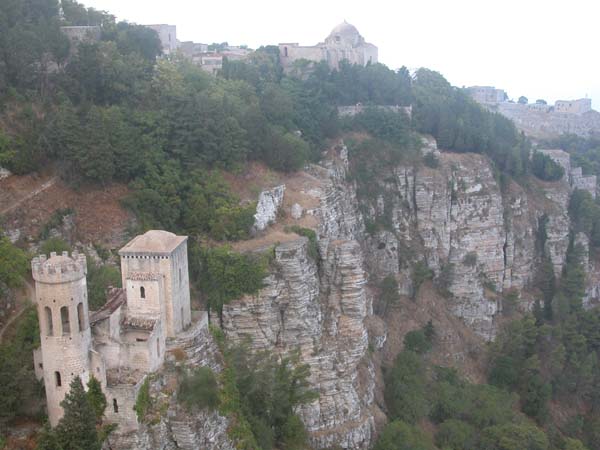 The cliffs of Erice, Sicily.

Captain Nick and Isabetta on Great Escape in Trapani. Thanks for the great dinner and conversation!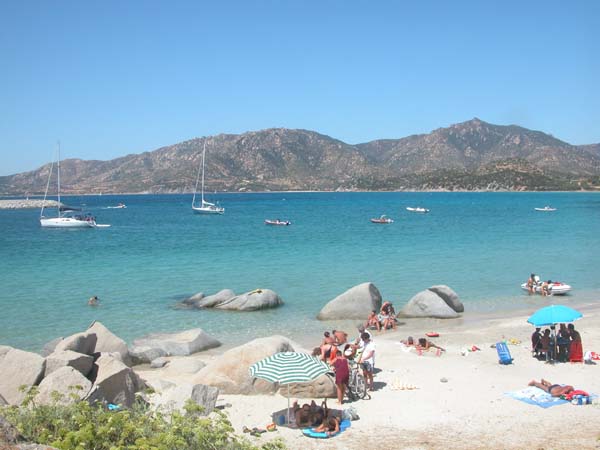 Beach off Villasimius, near Capo Carbonara on the southeast corner of Sardinia. We loved the calm, protected anchorage with a nice breeze after the long, salty ride from Sicily - perfect for a swim, lunch and siesta.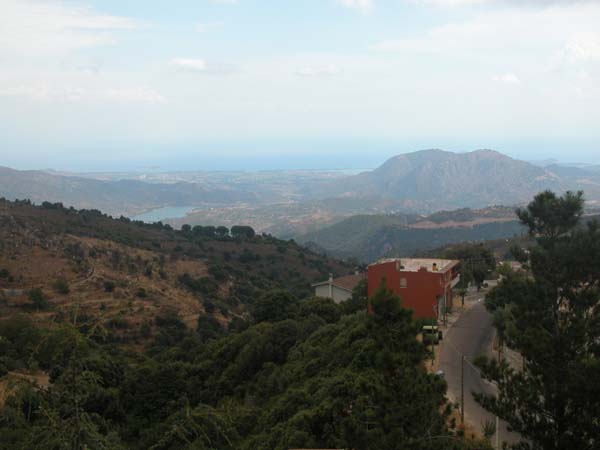 On Bill's birthday, we rented a car and drove up to the mountains of Sardinia.

"Yabaa dabba doo!" The mountain town of Villa Grande in Sardinia.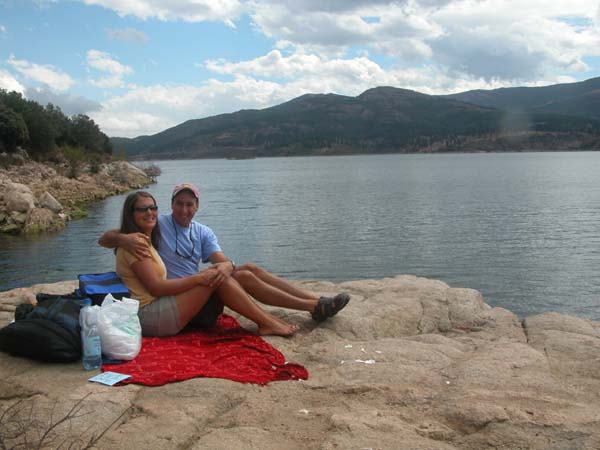 Picnic lunch in the mountains of Sardinia on Bill's birthday!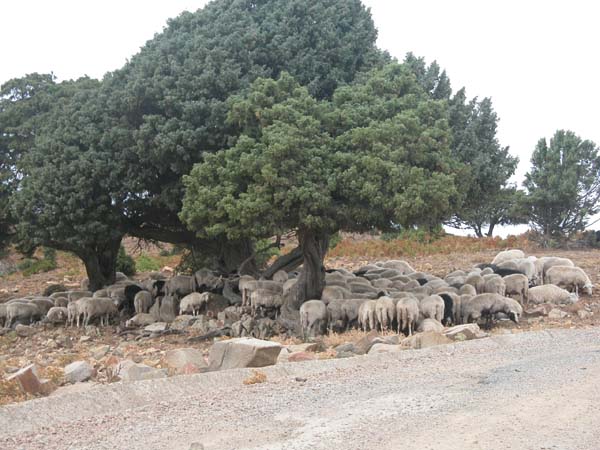 Sardinia sheep's milk - made in the shade.

Happy Birthday to you! Bill's birthday on the boat in Arbatax, Sardinia.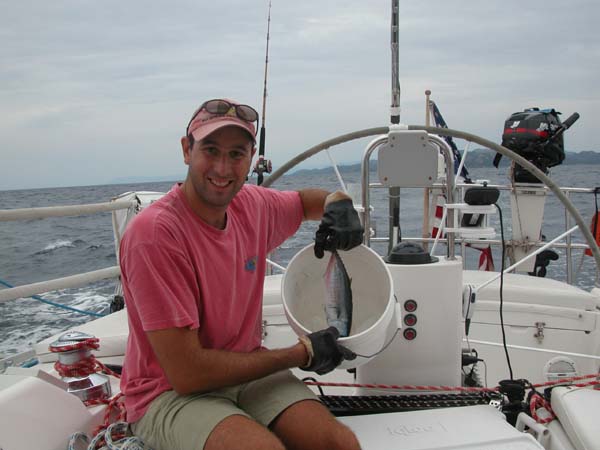 After a long dry spell, we caught 3 tuna from Arbatax to Cala Coda Cavallo. Guess it's tuna season.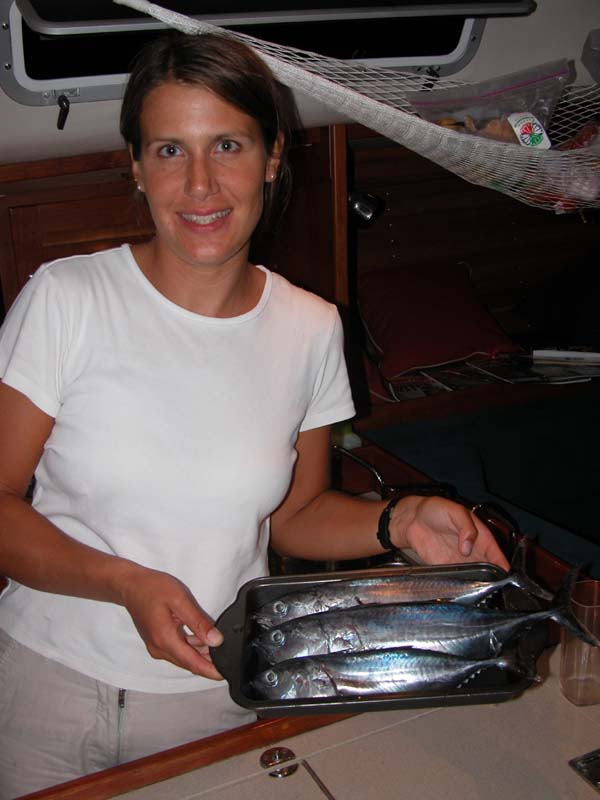 Time to grill some fish!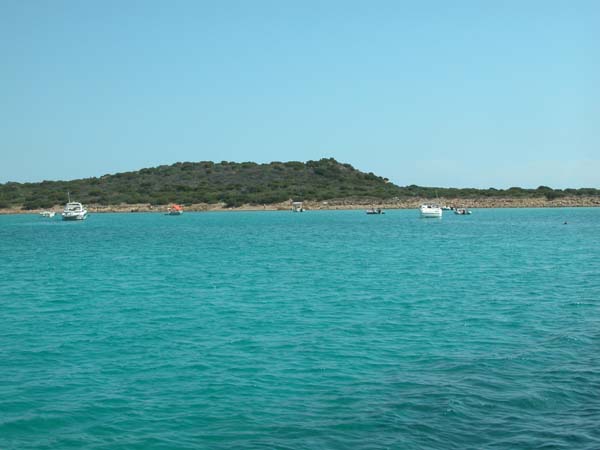 Anchorage at Cala Coda Cavallo where we also met a young American family of five sailing a Amel Super Maramu around the Med.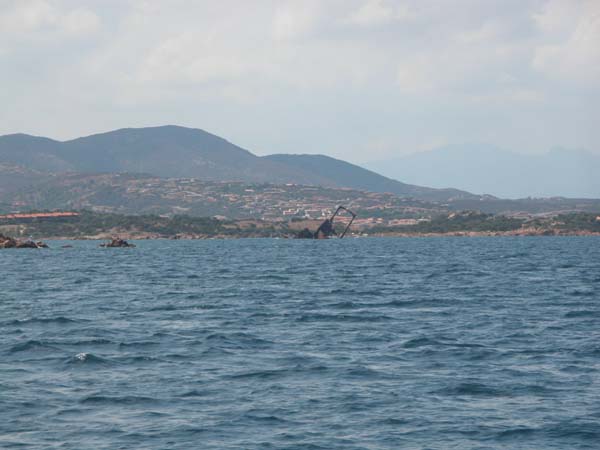 Wreckage of a ship on a reef off Isola Rosso in northeastern Sardinia. We didn't get too close!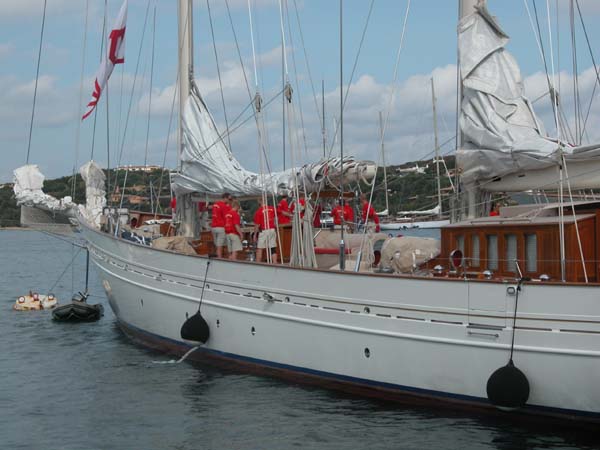 Adella - a 180 foot rebuilt 1930's schooner that our Danish friends from Tarok VI raced on in Porto Cervo. Bill almost got to join, but his prudent wife wouldn't let him stay the whole week.

Looks good! Erik, Claus, Jakob, Hendrik and Trolles know how to get that ship moving.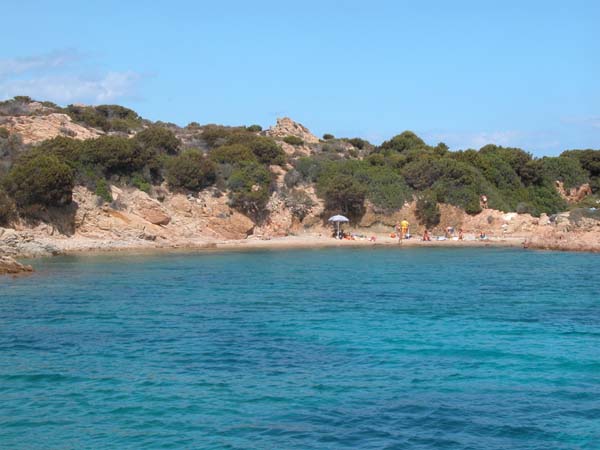 Cala Spalmonte on Isola La Maddalena, a short sail north of Porto Cervo and our last Italian port. Next stop Bonifacio, Corsica back in French waters. We'll miss you Italy!