Steep wooded mountains, small historic villages, clear waters and rustic French food made Corsica was one of our favorite places of all!
We hiked in Cap Corse, near Calvi and in Girolata, though we didn't make it to the famed GR20 - Corscica's version of the Appalachian trail. After seeing the heights, we decided also to check out the depths and went diving out of Bonifacio on the southern part of the Island. After a nice sail across the Straits of Bonifacio, we entered Italian waters. We anchored on the northwest part of Sardinia in the so-called "jet-set" Porto Cervo (well, they let us in) where we met up with a familiar face from the Caribbean - Captain "John-Brian" from St. Martin.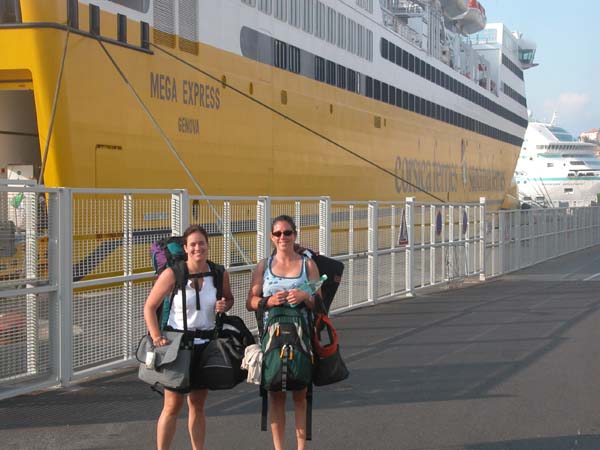 Bye Guys! Lisa and Aislinn boarding the ferry from Bastia, Corsica back to the mainland.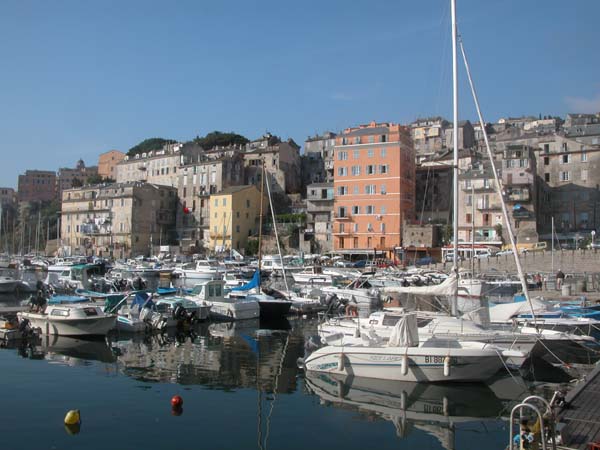 Old town Bastia. Rented a car from St. Florent to take Lisa and Aislinn to the ferry and ended up having a good tour of Northern Corsica.

Fisherman in Bastia.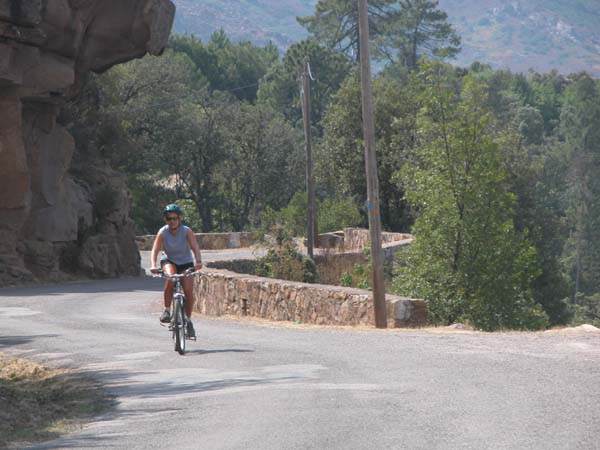 A twenty-five kilometer ride from Calvi up to the hiking trails!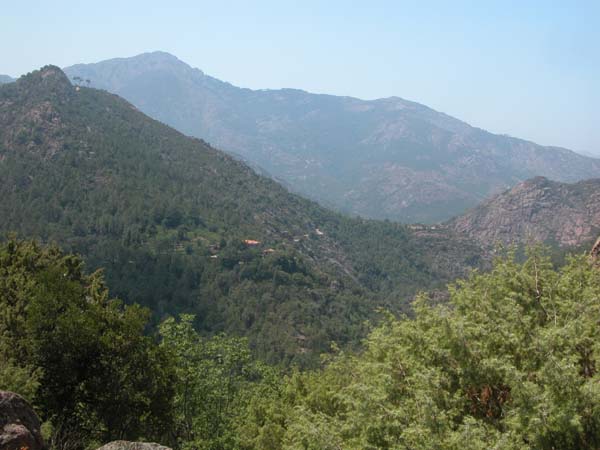 Hiking in Corsica.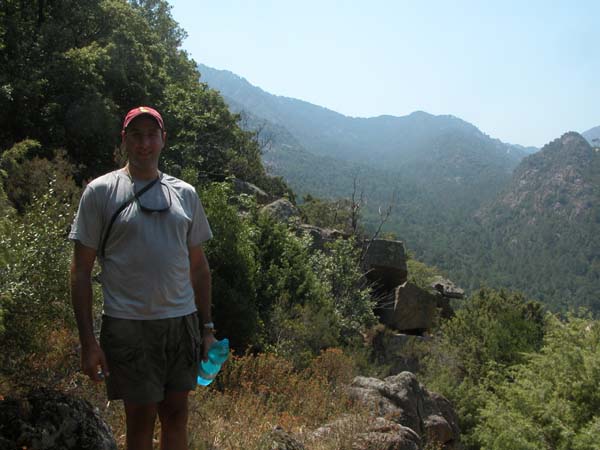 Bill taking a break.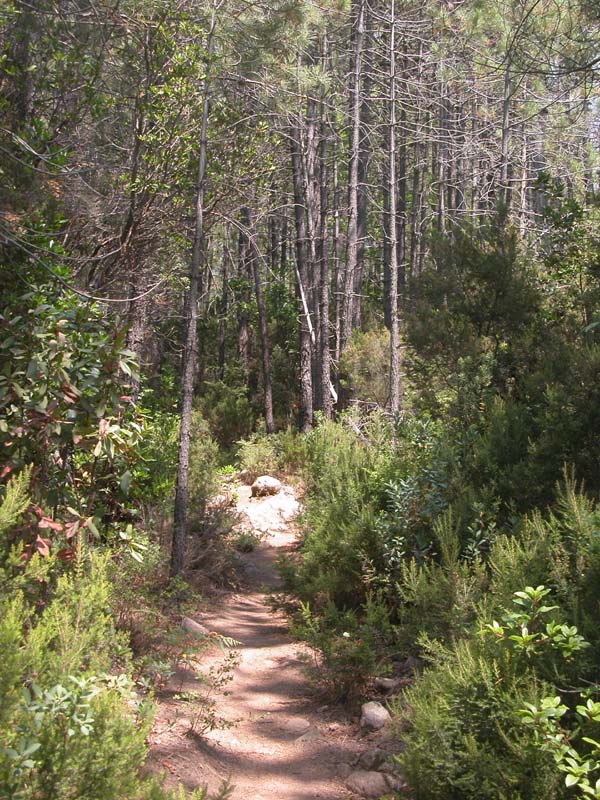 Nice hiking trails for which Corsica is known.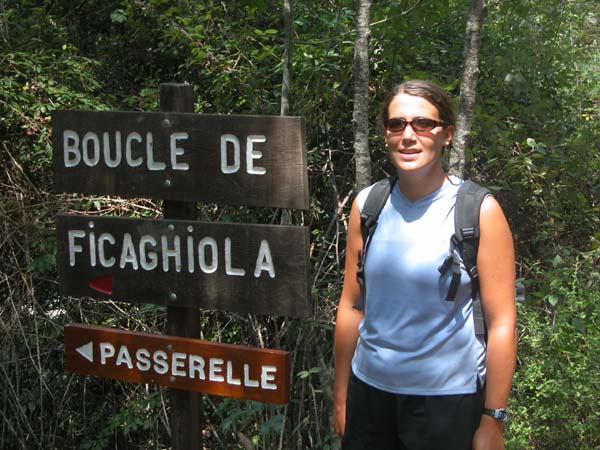 Yeah, that's the Boucle we were looking for.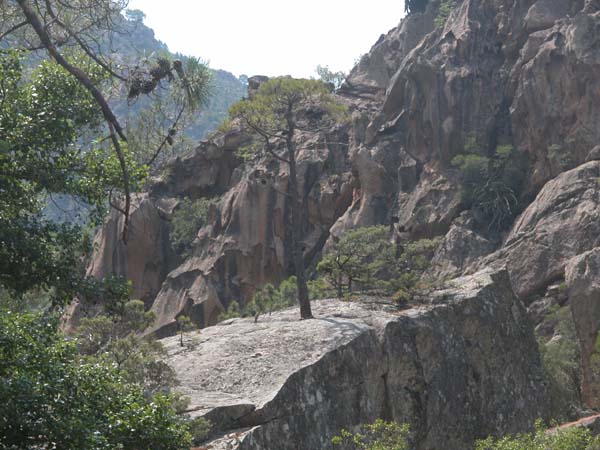 More coarse terrain of Corsica.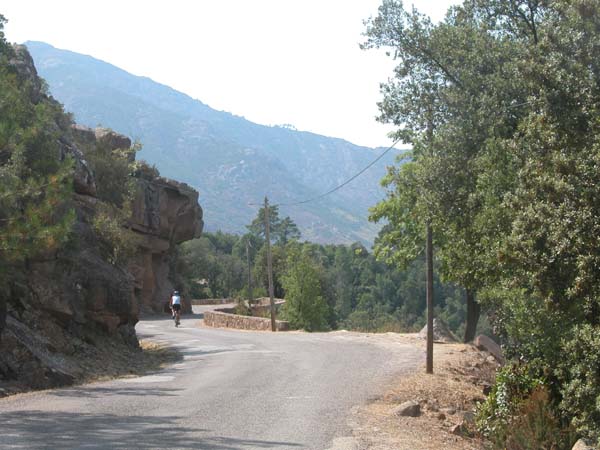 Weeee, 25 km of down makes the up worth it!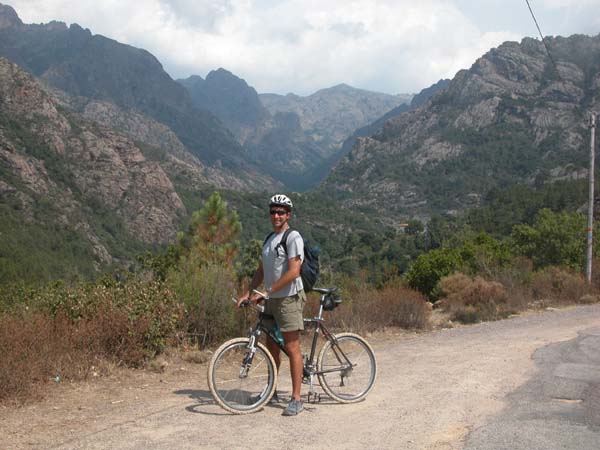 Looking down over the valley.

Canadian friends, who turned up in Calvi.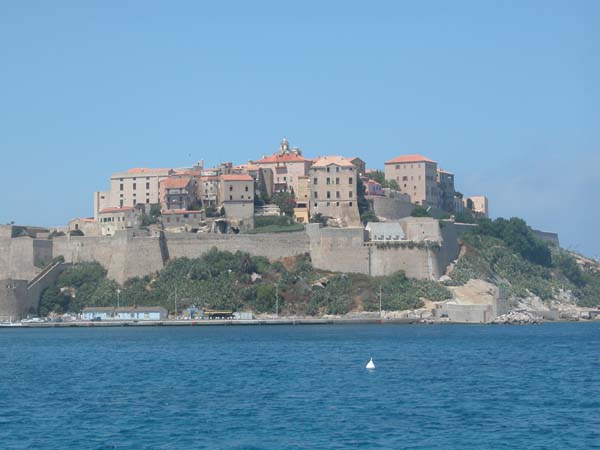 Calvi's old town Citidel. Once a fortified village, now inhabited by Corsians with strong legs.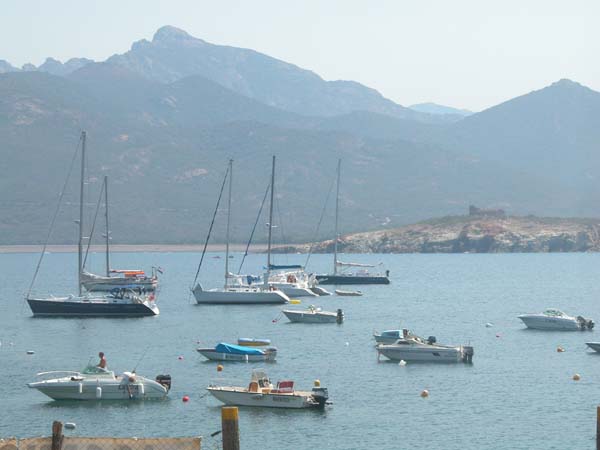 Vanish, amongst others, anchored in Galeria, Corsica.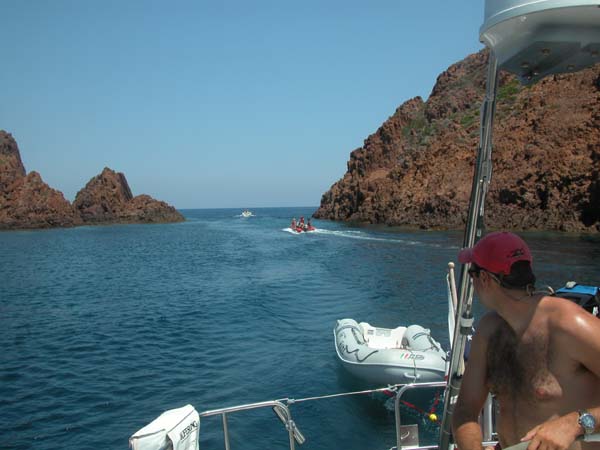 Wow, did we just motor though that narrow passage? Gargalu passage, western Corsica.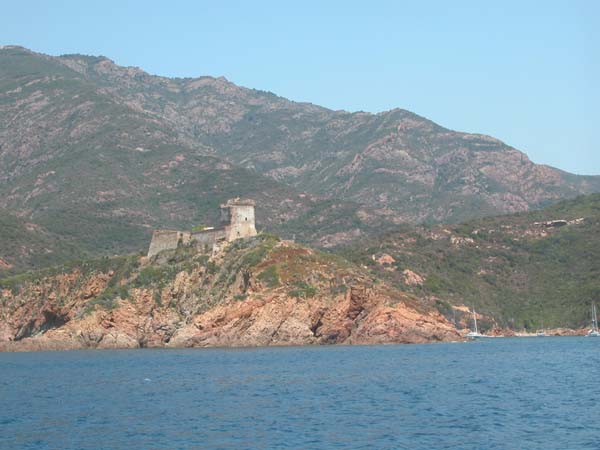 Genoese watchtower overlooking Girolata, Corsica.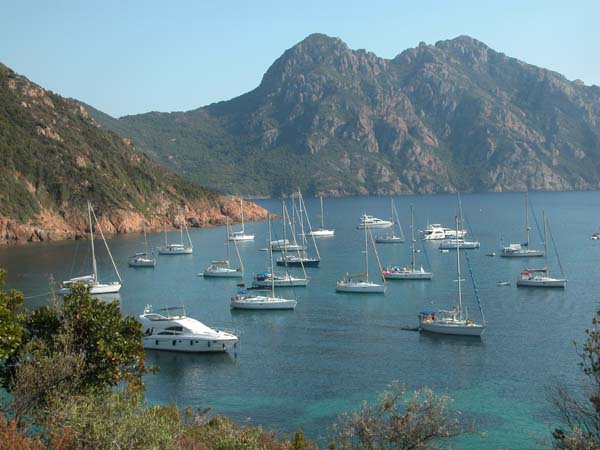 Vanish anchored in Girolata, Corsica. Girolata is a village accessible only by boat or by hiking trail.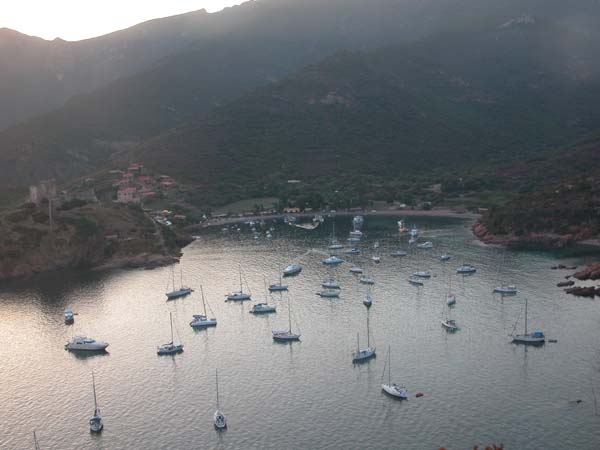 Girolata cove from hiking trail above.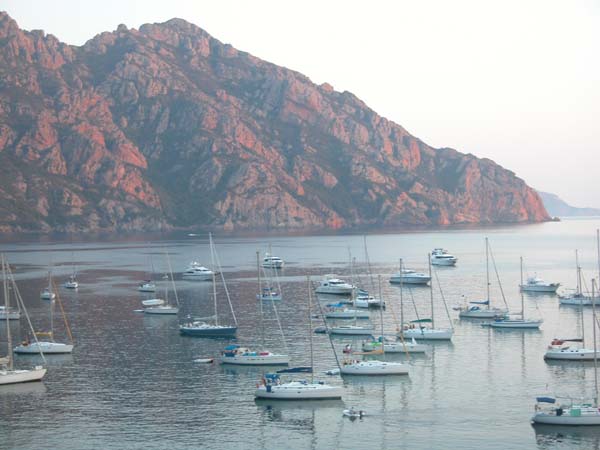 Sunset in Girolata.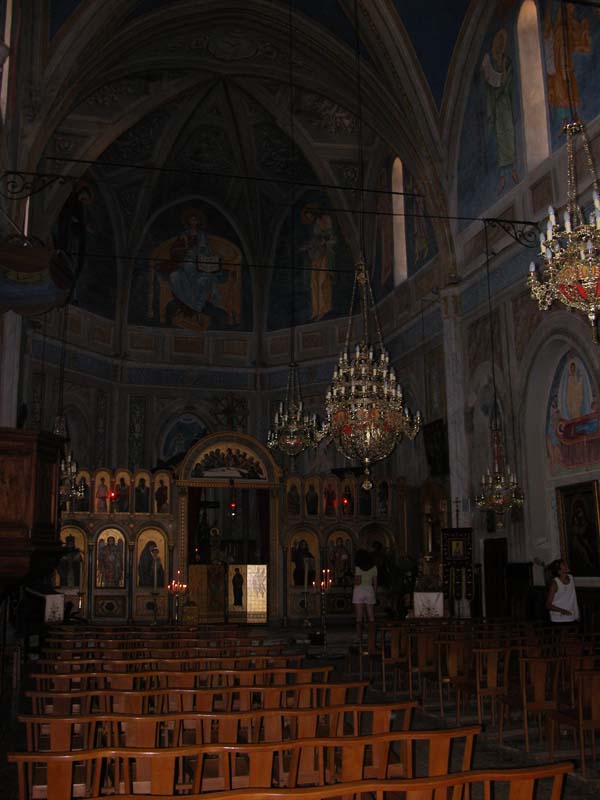 Greek church in Cargese, Corsica, a village with Greek origins.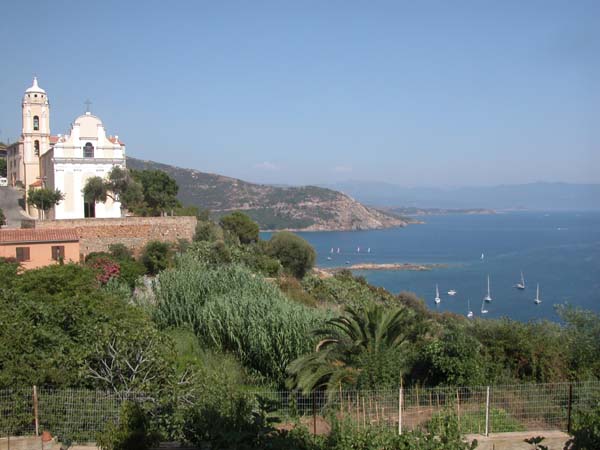 Not to be outdone - the Roman Catholic church in Cargese built across the way.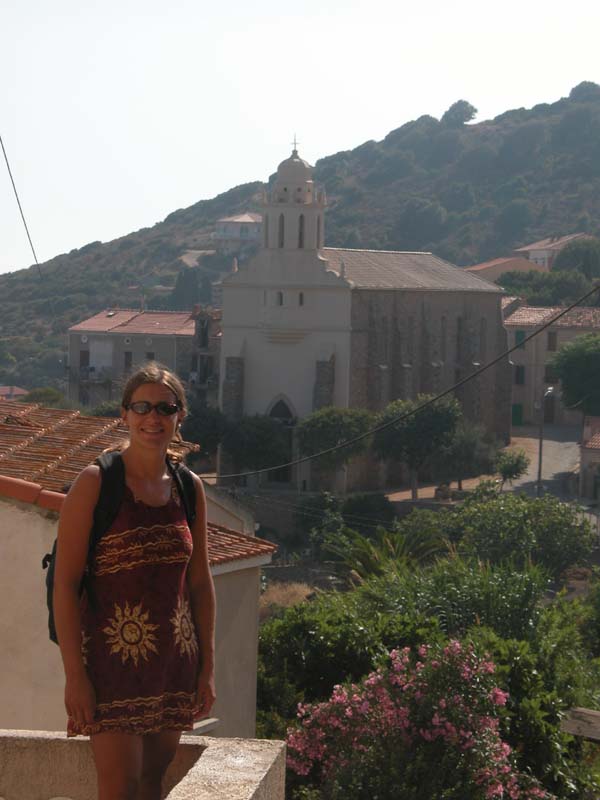 Outside of the Greek church in Cargese. Bill was disappointed that there weren't any Greek restaurants in the village as well.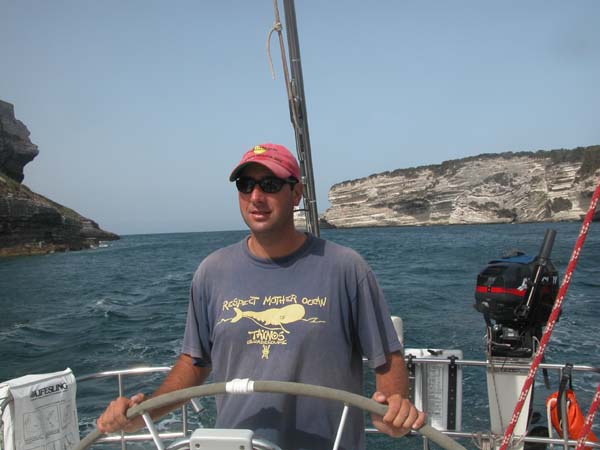 At the southern end of Corisca lies Bonifacio, a very unique, natural U shaped harbor which appears to be carved out of the limestone cliffs. After spending a night in a nearby anchorage, we make a morning attempt to find a place in the crowded Bonifacio marina.

After hearing about the great diving around Corsica, we had to see for our selves. Setting off in a diving boat in the Straits of Bonifacio.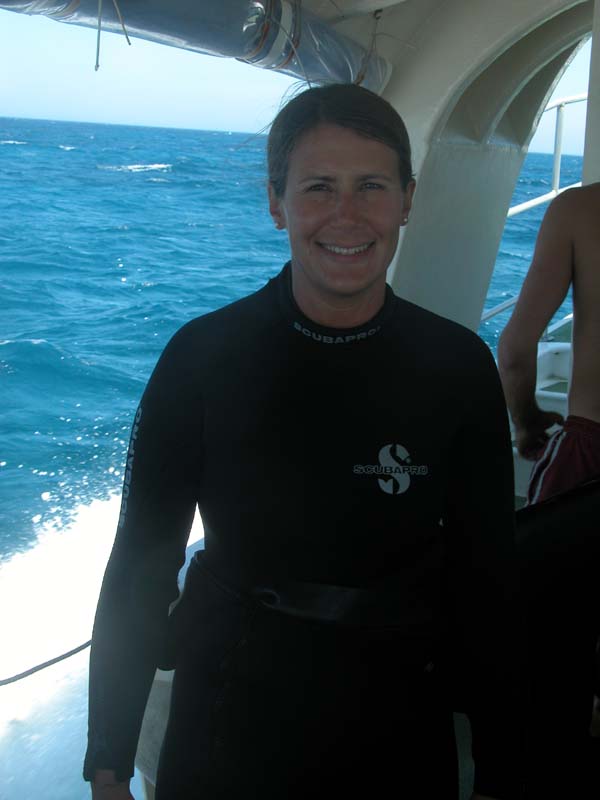 It's a bird, it's a plane, it's Aquawoman.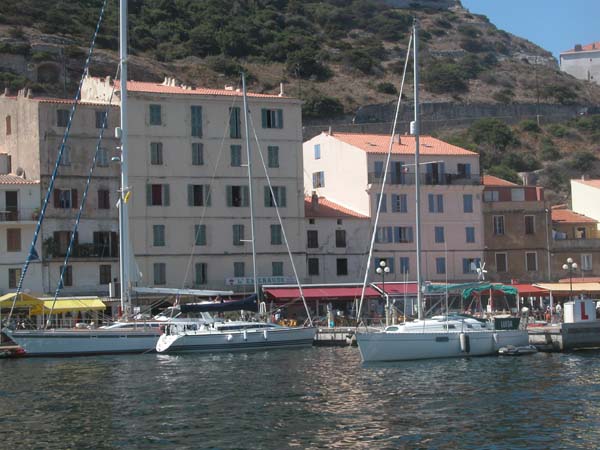 Dock we were tied up to in Bonifacio, except we were crowded in with four additional boats.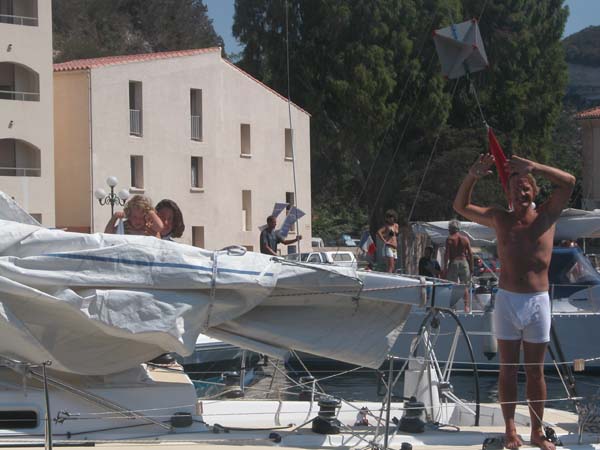 On our way out of Bonifacio we saw "Tom" the Dutchman we met in St. Florent on a J-120, Miles Ahead. Here with his wife Billie and daughter Camilla Mae in Bonifacio (after we woke them up).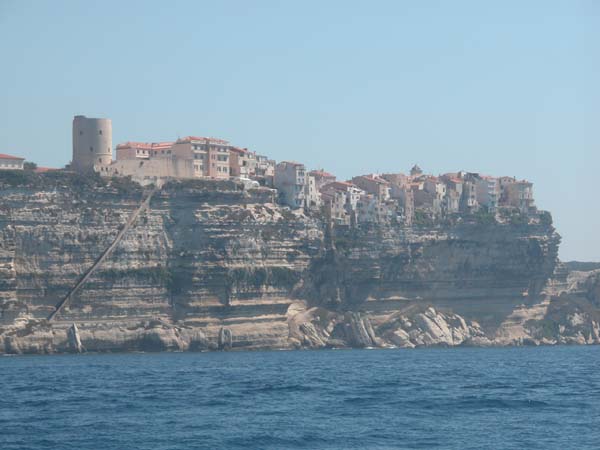 The "High Town" of Bonifacio, Corsica as seen from the sea.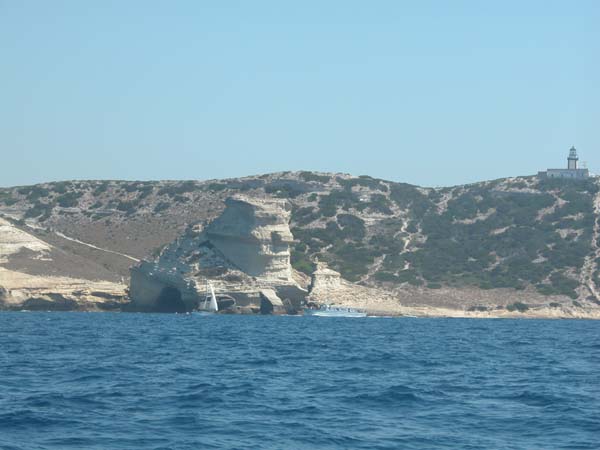 Southern coast of Corsica.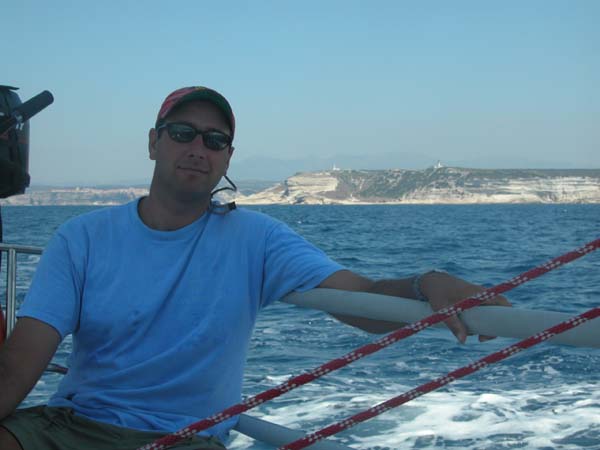 Sailing out of Bonifacio.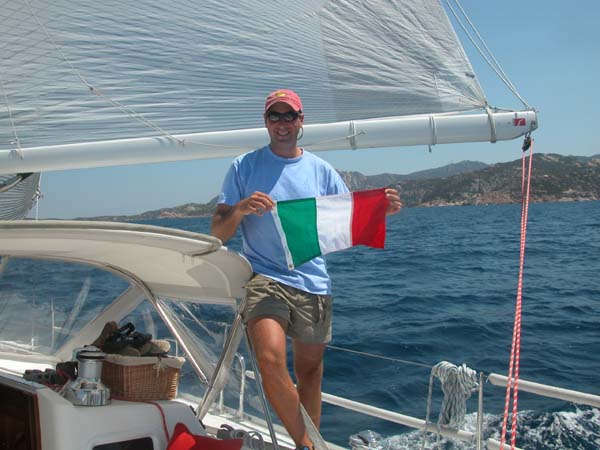 Sailing in on a beautiful 15 kt run, we make it to Italian waters! The changing of the courtesy flag!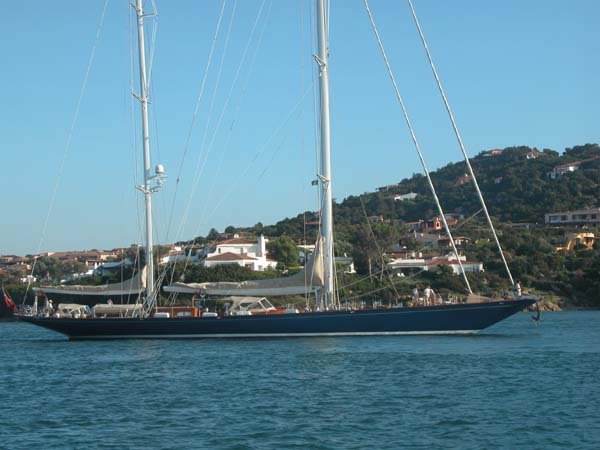 A rare, but fittingly huge, sailboat in Porto Cervo, a glitzy harbor on the famed "Costa Smeralda" and the home of many a super motor yacht.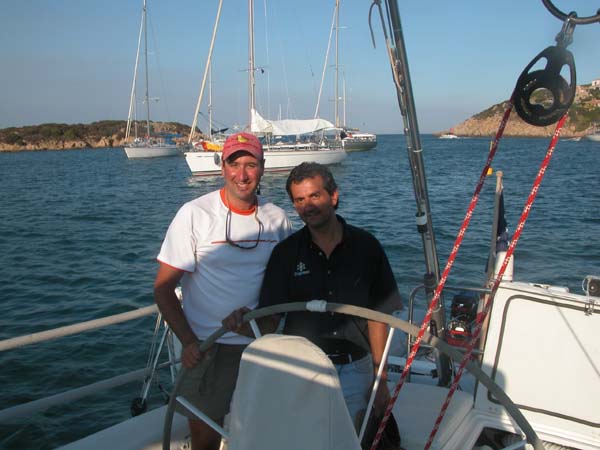 All smiles after a visit from a refrigerator "repairman" - no smiles tomorrow when still no Frosty the fridge.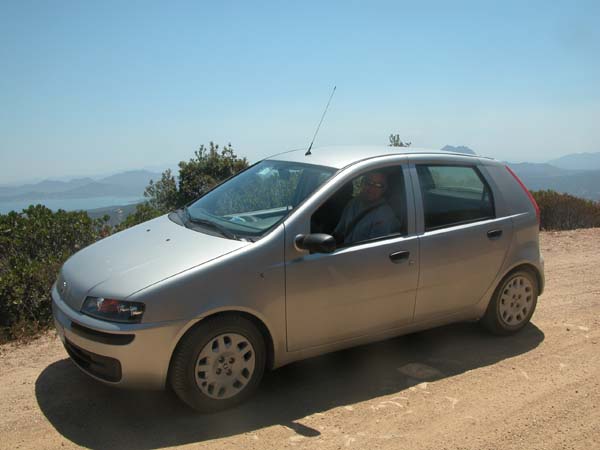 Caribbean Captain friend John-Brian, who is spending the summer working in Porto Cervo, gave us a tour of Northern Sardinia in his Punta!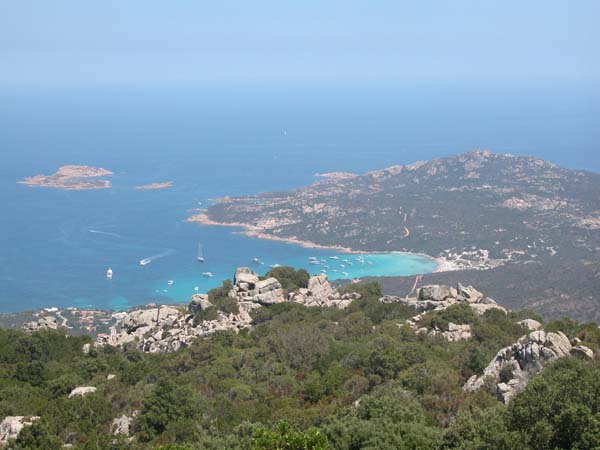 Costa Smeralda from above.

Elsewhere, the powerboat (trader!) John-Brian works on.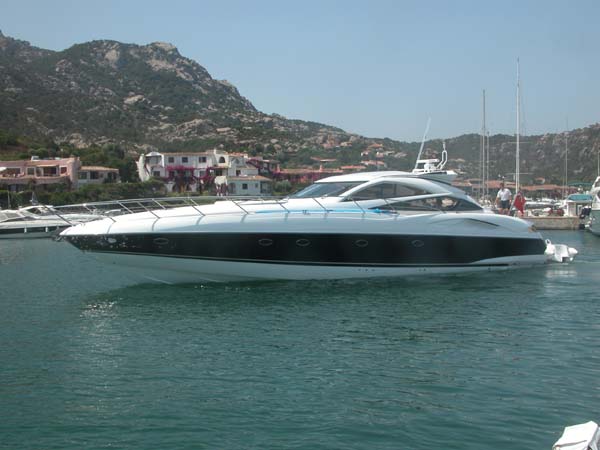 Elsewhere heading out.