July '03: Villefranche to St. Florent, Corsica
Our friend from Boston, Aislinn McGuire, met up with us in Cannes to spend a few days of her European vacation with us. From there, it was a short sail over to Villefranche just east of Nice (nice!) where we spent a few days - mostly exploring the historic village and swimming off the boat. Then, all the way from Seattle Lisa Murray met us, and we set sail for Corsica at about 9 p.m. Unfortunately, there wasn't any wind, and we motored the whole way. We arrived at about noon and determined that Corsica is definitely worth the trip - rustic mountain scenery and unspoiled coasts! We even heard some great guitar music at a bar/cafe in St. Florent.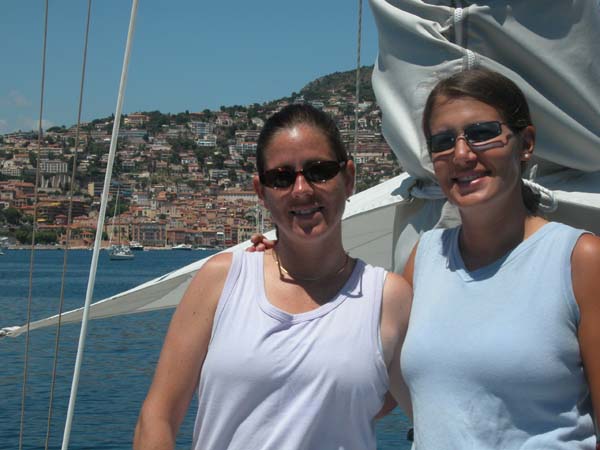 Aislinn on Vanish in Villefranche after a night of jetlag, ohh sorry, she flew business class!

Brian, a professional football coach friend of Aislinn's who is working in Sweden and traveling around Europe a bit this summer, with Ais and Renee. Brian got to spend the 4th of July with some Americans!

Villefranche from le bateau.

Aislinn and Renee hiking up to the castle atop Villefranche.

Rade de Villefranche on our hike up.

We found the castle! (Wish there was some marker that said what it was . . .)

Renee taking in the view.

Aislinn and Renee high above Villefranche.

Vanish looking good at Rade de Villefranche. Bill enlisted Brian to help him put the awning up.

We had small planes flying overhead continuously at Villefranche, we learned that they were fire fighting planes that go out to sea and collect water to drop on the forest fires.

Lisa and Aislinn at sunrise on the overnight sail (i.e., motor) to Corsica. No wind, but we did see several whales in the early morning hours.

St. Florent, Corsica. First stop in Corsica and we think we are going to like it here.

Miles Ahead, a J-120 in St. Florent, sailed by a Dutchman and his family.

Another evening shot of St. Florent, Corsica. This one shows the citadel on the left.

Spectacular little village (Farinole I think) and church as we drove into the mountains to go hiking.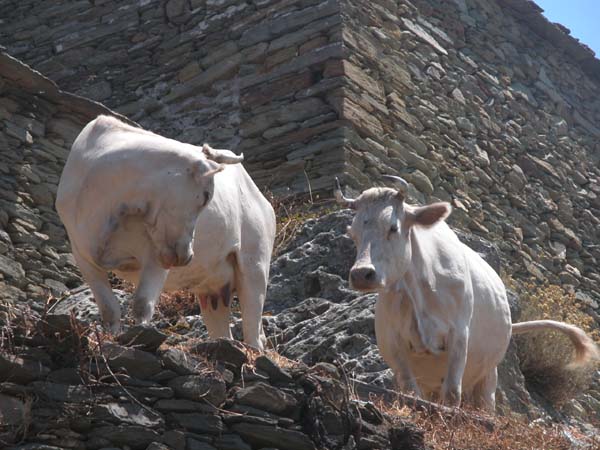 "I think it's too hot to go up the mountain mid-afternoon, don't you Bessy?"

The Dutchman from Miles Ahead (who we call Tom because we think he looks like Tom Petty and we can't pronounce his Dutch name) finds water along our hike in Cap Corse.

Finally a lunch break, still no shade. (Aislinn, Lisa, Renee and "Tom")

Lunchstop rock.

Our legs got a little scraped up from the brush along the trail.

At the top of the trail there was a small stone chapel where we all said a prayer of sorts.

The shepard's little chapel.

Tom was very excited to find flowing well of spring water.

Mausoleum-type building on our hike down near Olcani.

Looks like we made it! Back at the car in Olcani in Cap Corse.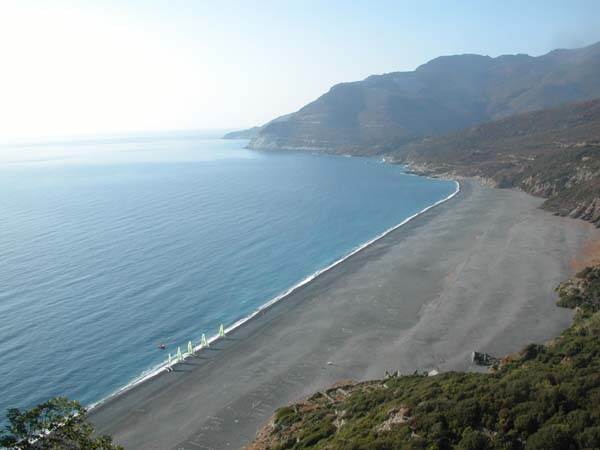 Black sand beach near Nonza.

On the dock in St. Florent. Aislin and Lisa's last night with us.