We crossed of the Golf du Lion and arrived in Cassis at sunset. Cassis proved less than hospitable, so we continued on up the Cote
d'Azur. We secured a berth for several days in Sanary-sur-Mer, a picturesque seaside town where a festival of music was taking place.
After a brief stop on Ile de Porquerolles, we spent several days anchored off the harbor in St. Tropez, where we learned the Rolex Regatta was being held. There, the French Simrad rep repaired our chartplotter and we met up with friends - Craig Mattson, Bill's former business partner who was vacationing in Cannes and Jen Harrison, who had worked for Craig and Bill and now lives in Portugal with her British husband.
After spending a night at Rade d'Agay with Jen and Craig, we headed into Cannes. Cannes was experiencing a heat wave while we were there - the beaches were packed. From Cannes, we took trips with Craig and Jen to Monaco and to visit the wife and family of a French sailor we had met in the Caribbean at their home nearby. After our tough start in Cassis, we ended up really enjoying the French Mediterranean coast.

Arriving off the coast of Cassis at sunset after an uneventful Gulf du Lion crossing.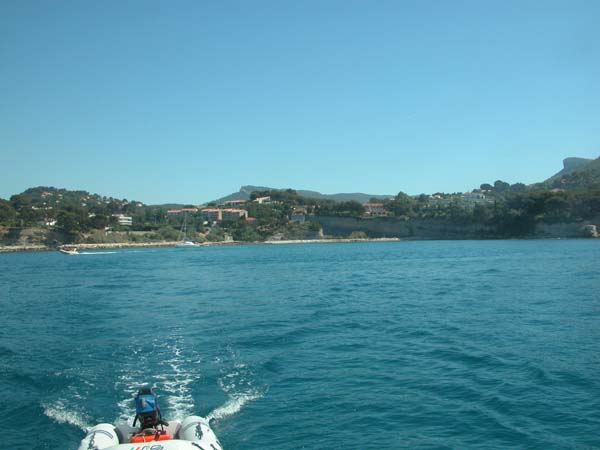 Speeding away from Cassis after a night of being boarded by hoodlum juveniles, getting turned away from docking in town, and a rolly anchorage. Too bad, we were looking forward to spending some time in Cassis.

Wild rock formation off the French Cote d'Azur.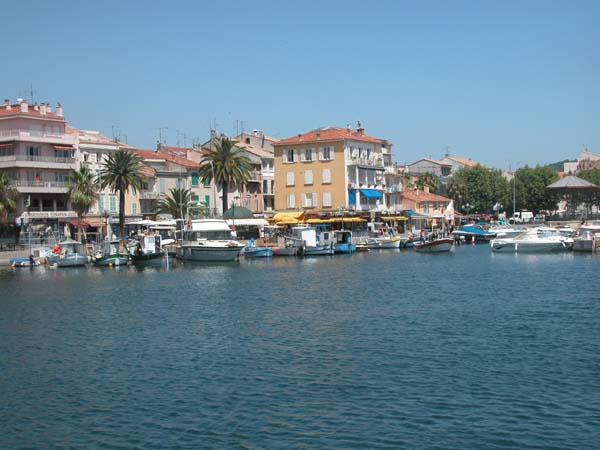 Sanary-sur-Mer: first port town stop in France. The Captainerie was helpful, spoke English AND had a place for us!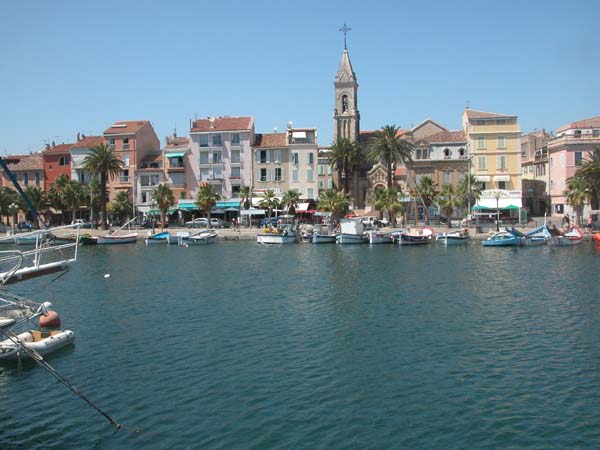 There was a music festival going on in Sanary the night we docked there, so we heard bands from the boat.

Ohh, la la!

Voila! Bill Med-moored Vanish at the dock, pas problem.

Secret French lair, accessible neither by road nor coast apparently.

Entering St. Tropez.

Instead of towing, the cars are lifted away.

St. Tropez from the water.

Raceboats lined up for the Rolex regatta in St. Tropez.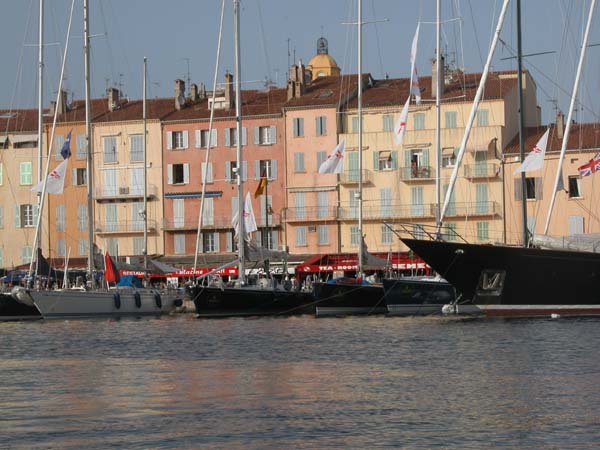 Old Town St. Tropez, known for an artsy, hedonistic approach to life: ' . . a place for idling, for siestas, for making love, perhaps for growing fat, as Colette herself did [while living here] a fact she duly recognized when she made a practice of asking for beef-steaks as thick as her own thighs.' (from Patrick Howard's "When The Riveria Was Ours")

St. Tropez old harbor filled with the Rolex race boats.

Crews on the dock getting ready to race.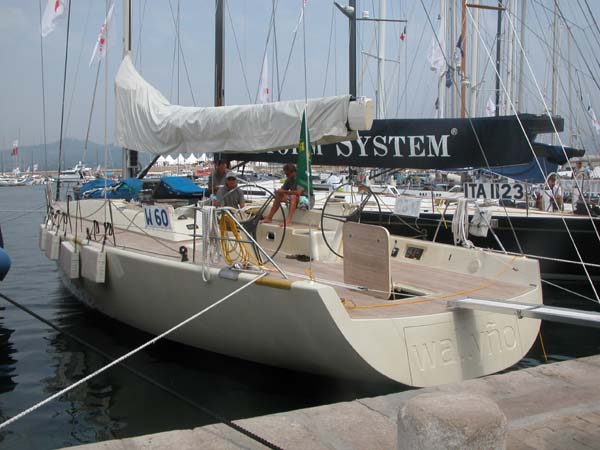 Wally boat that Bill liked.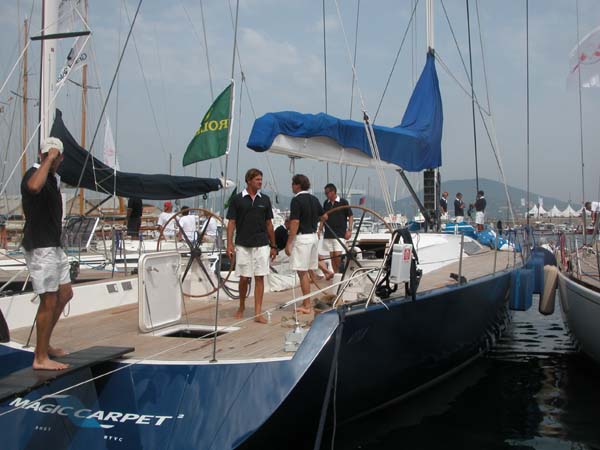 "Magic Carpet" - racing Wally boat that Renee liked.

Boat that gave us a hat going to the race course.

Certainly a little sailboat race is not more sacred than lunch. Rolex Race Committee enjoying a long French lunch with wine of course.

Bill, Craig and Jen pose while leaving St. Tropez.

There's always room for another Renee and Bill at the helm picture.

Coming out of the haze, a classic yacht enjoys the light St. Tropez breeze.

Anchored off the beach at St. Tropez. Craig contemplates a swim ashore.

"Bain de soleil for the St. Tropez tan."

After reading that the most beautiful women in France were supposed to be on the St. Tropez beaches, we were not sure we could agree. But, we can confirm that some of the French go topless, and many men and women were in the buff, at least in St. Tropez.

Jen and Craig while underway to Agay.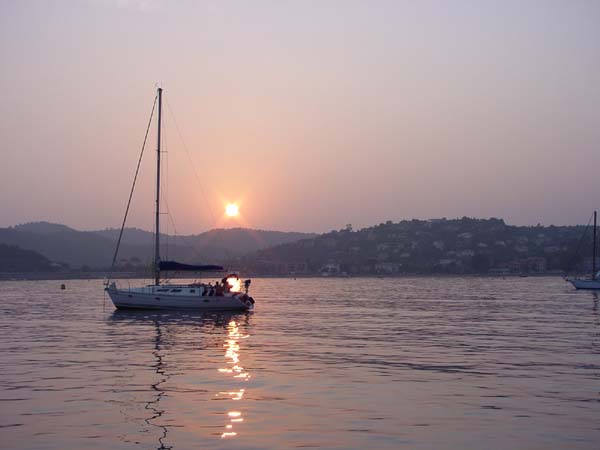 Jen's "stroke of genius" - a picture of sunset at Rade d'Agay.

The French really will sail anything.

Bill and Jen playing backgammon during a motor to Cannes.

Bill determined to sail.

Arriving in Cannes.

Fish market in Cannes.

Home of Jean-Louis and Annette Pezin about a half hour from Cannes. Annette and her family treated us to a wonderful dinner in her historic, provence home.

Food and wine comma.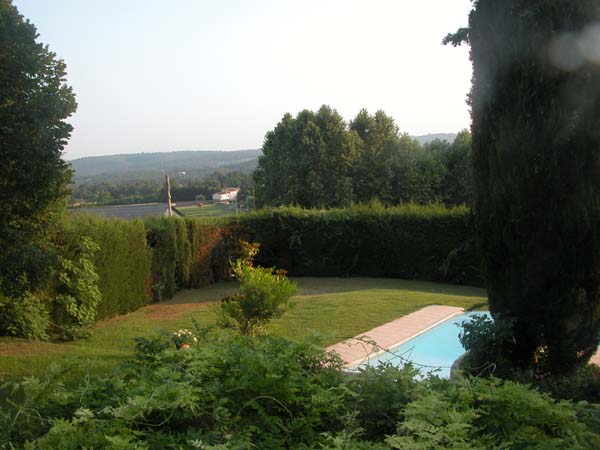 Pezin's backyard.

Docked next to us in Cannes - Cornelius and his wife on the classic 1934 yacht, Adria, restored to its original condition. They are Dutch but have lived in France for 20 years. Thanks for sharing your wine.

We drove about 45 minutes from Cannes to Monaco with Craig and Jen.

Historic statue of the Grand Prix.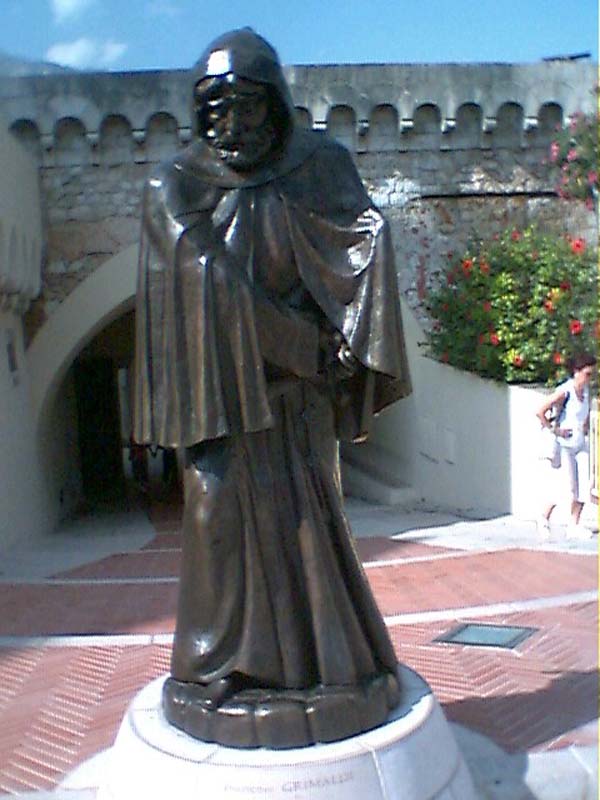 Monaco is the oldest monarchy in Europe, which has been ruled by the Grimaldi family for centuries. The Grimaldi's gained control of the principality at one point by dressing up as monks with swords hidden under their robes and gaining entrance to the Genoese castle - as commemorated here.

"We all live in a . . ."

Overlooking Monaco.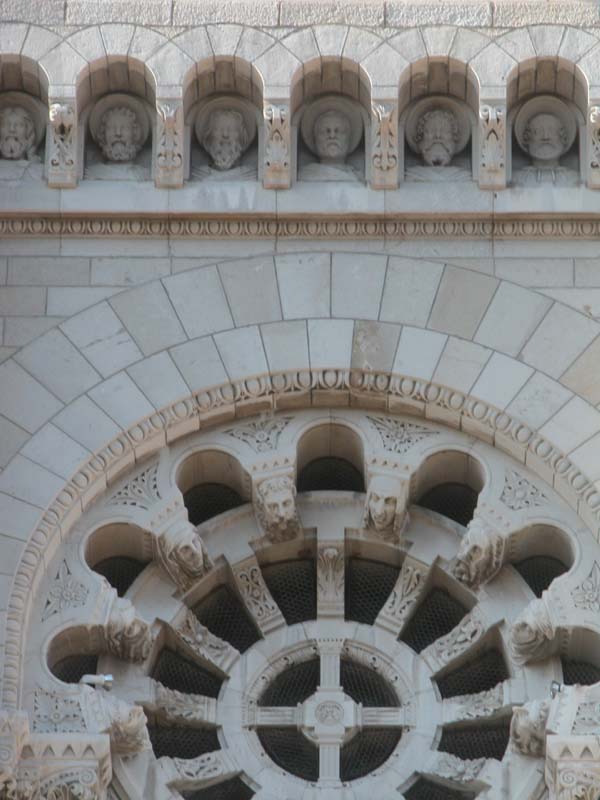 Close-up of the cathedral in Monaco.

Aquarium and maritime museum, built into the cliff.

Monaco's harbor.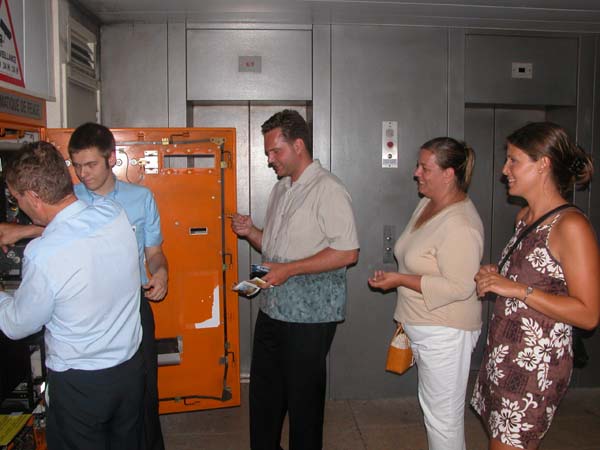 We had a little bit of trouble with the electronic payment method at the parking garage.

Craig and Bill - last night in Cannes.

Au revoir, Cannes.