While in Trinidad, we met the family and friends sailing aboard TAROK VI, a Danish Swan 46. Similar to us, the Tarok crew is taking a year plus at sea. They left from Denmark in the Fall '02 and headed down to the Canary Islands where they joined the ARC Rally to the Caribbean.
Tarok invited us to race with them at Antigua Race Week. We saw Antigua was sort of on our way, and next thing you know, we're taking a second in our class at Antigua Race Week, the largest regatta in the Caribbean.
Thanks for a great time, Tarok VI! Here are some highlights....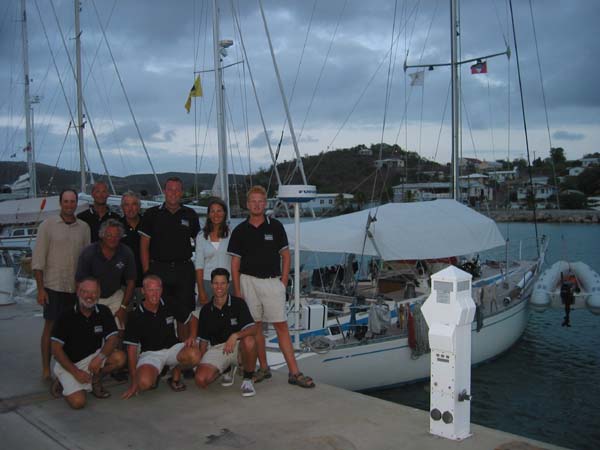 Crew Photo with Tarok VI in background. Front Row from left: Captain Erik, Klaus, and Allan. Top row from left: Bill, Jean-Louis (from Albacor III), Trolls, Peter (from Oo Jah), Hendrik, Renee, and Jacob.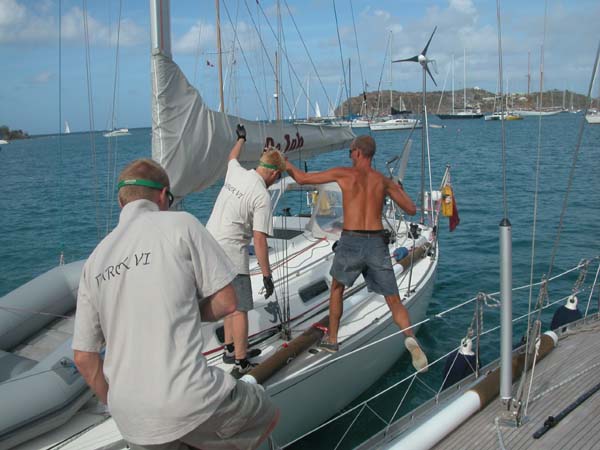 Rafting up with Oo Jah, Tarok VI's official "Mothership". Oo Jah is an English flagged J/110 owned by Peter. He amazingly crossed the Atlantic with his family of six aboard this 34 foot boat. Peter met the Tarok clan on the ARC rally and besides providing the mothership, Peter was Tarok's navigator extraordinaire for the week.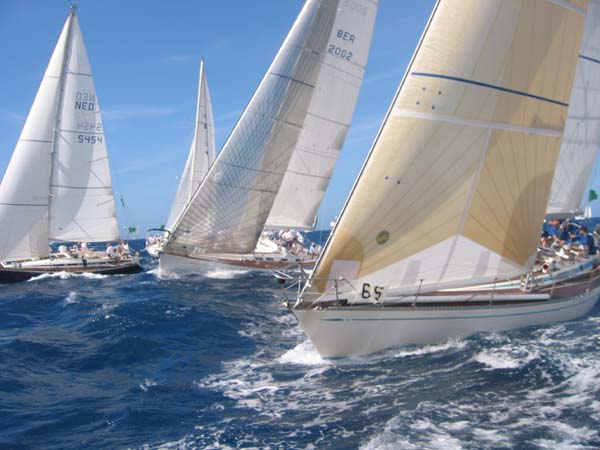 Day one starting line - gets your heart pumping!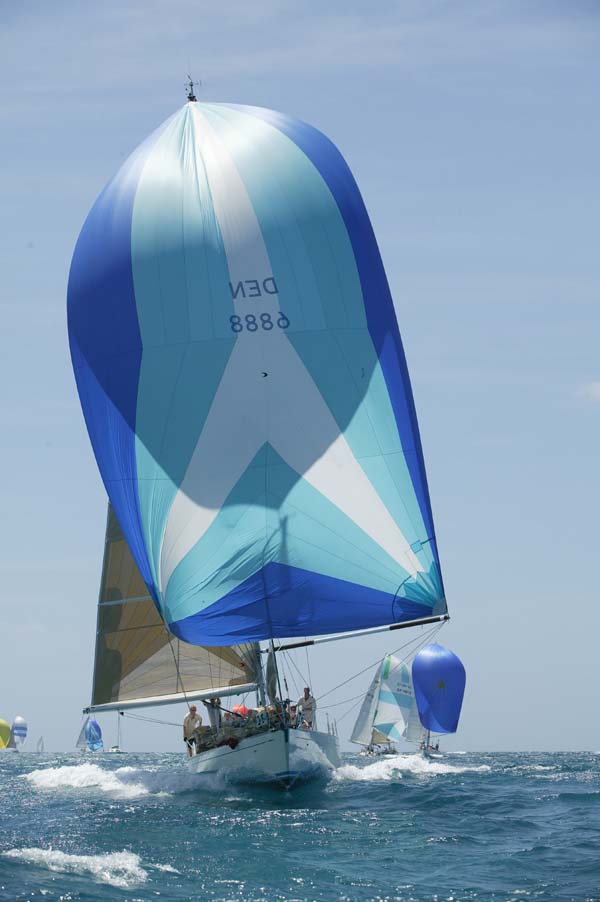 Tarok VI downwind leading the pack.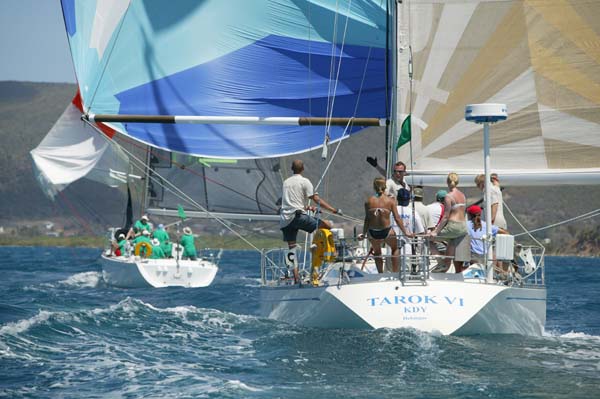 The Danes handle there boat with ease.

Jacob working the bow.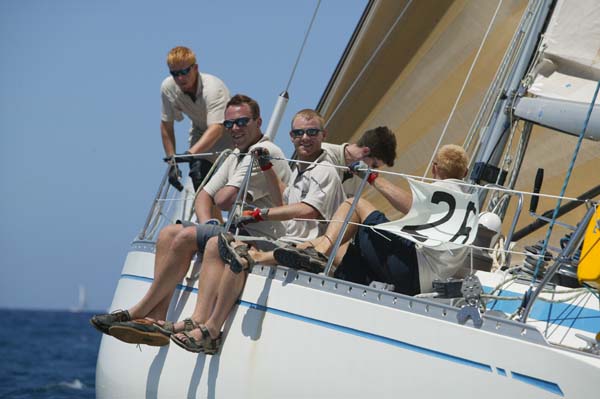 Smiles on the rail.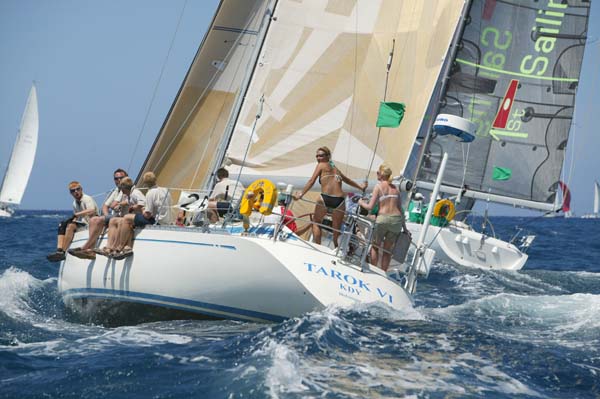 Coming into the weather mark.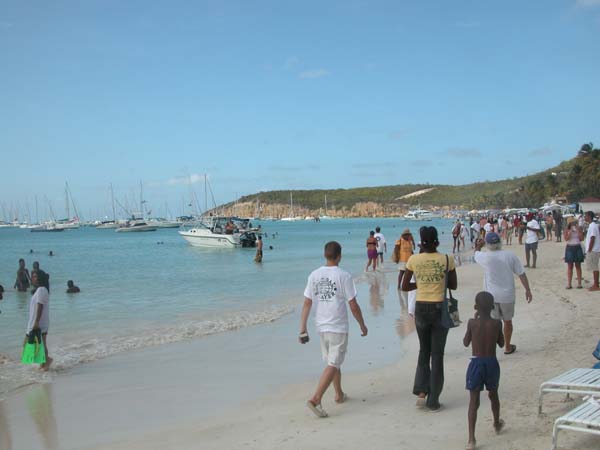 Day one racing over, time for R&R at Dickerson Bay.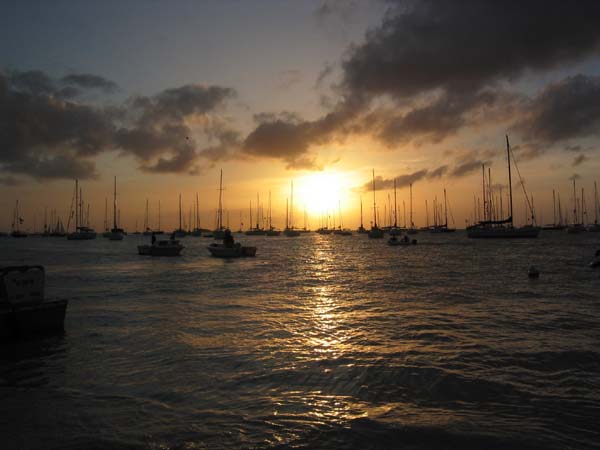 Sunset with the fleet at anchor.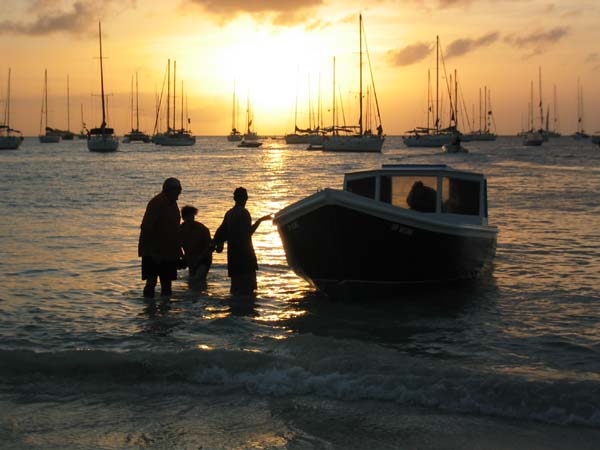 Boat taxi shuttling the racers to and from the beach.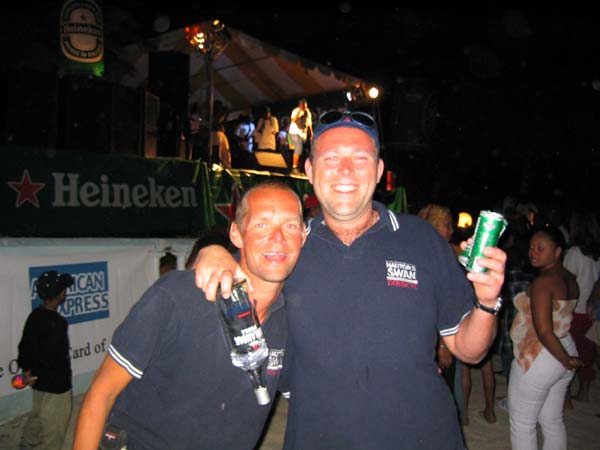 Trolls and Hendrik feeling good, not that they remember.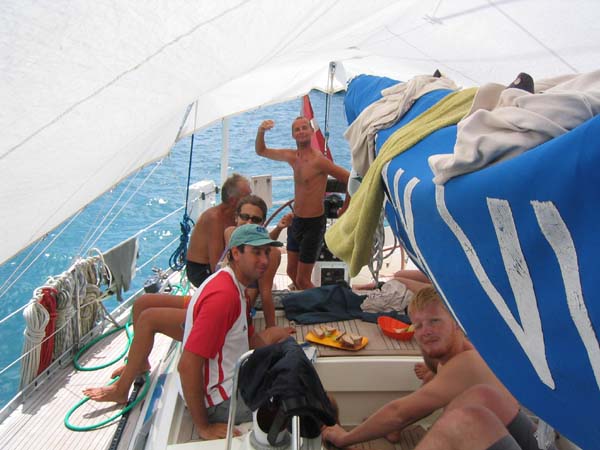 Day two of racing. Some feeling better than others.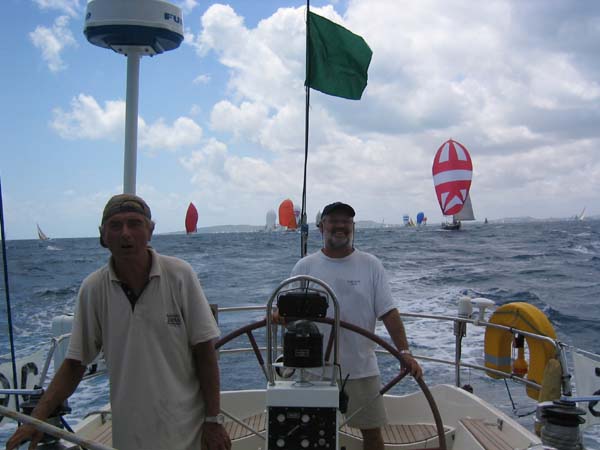 Erik steering the straight course, and Peter making sure we're going the right way.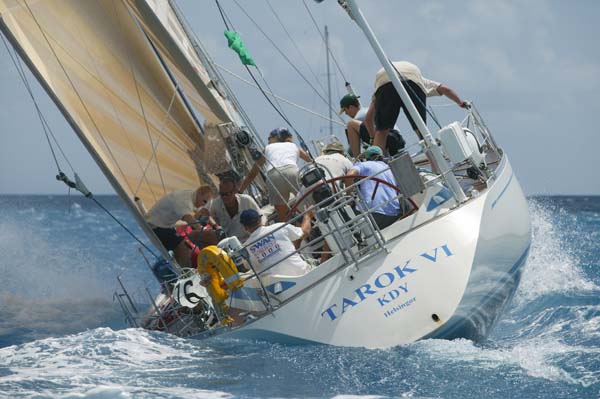 Hard on the wind, getting ready to tack.

Heading back in, Erik hands over the helm. Tarok is a fine sailing machine!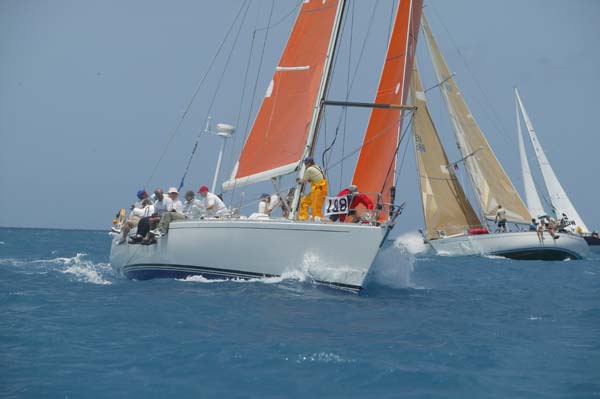 J/46 "Jacana" racing in the class ahead of us. They took second place, and we enjoyed seeing a J/46 beat some familiar Swan 48's.

Mid week, Jean-Louis from Albacor III arrives in Antigua. In true Jean-Louis style, he nonstop single-handed his way from Trinidad to Antigua (approx 400 nm) hand steering the last third due to autopilot troubles.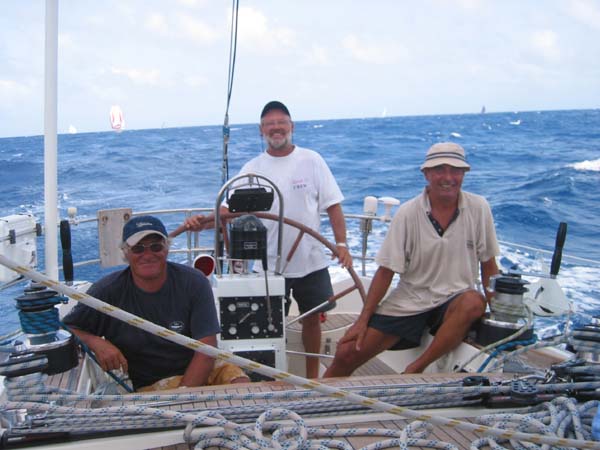 Jean-Louis joined Tarok VI for the last day of racing.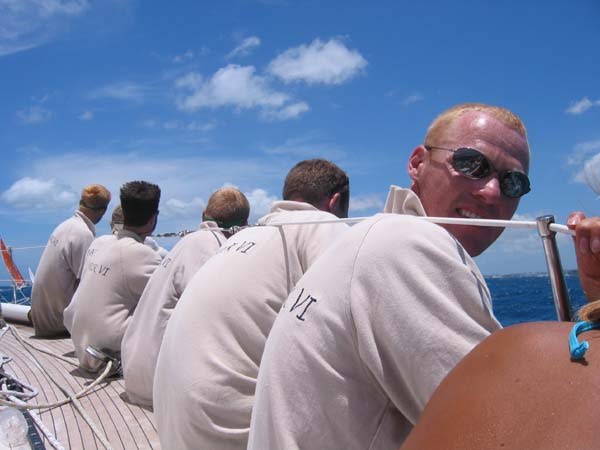 It's a beautiful day on the rail.

Trolls trimming the spinnaker.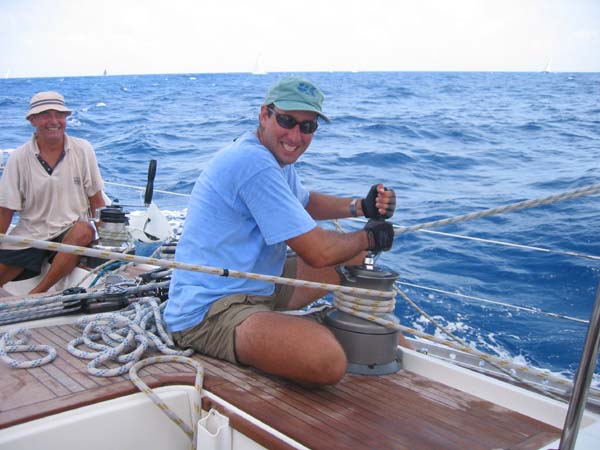 Com'on, Bill (said with a Danish accent)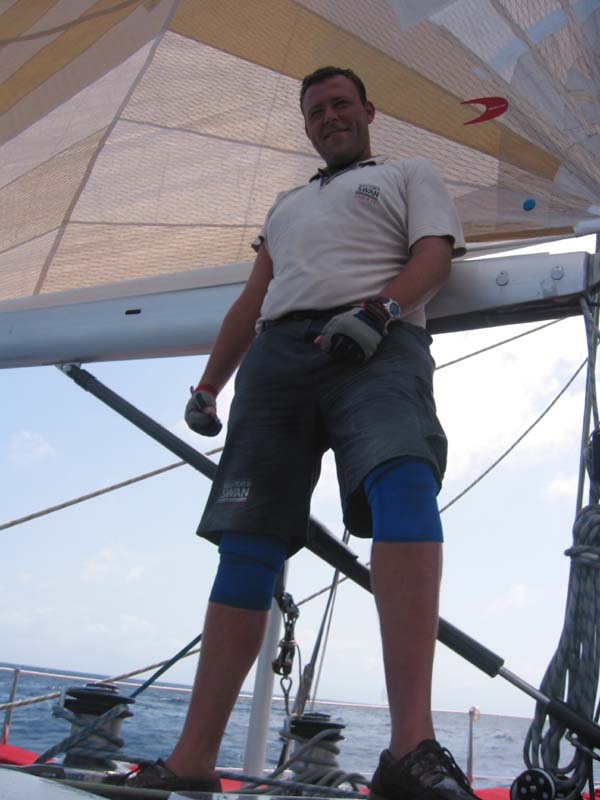 Hendrik, the fastest jib tacker, both sides of the Atlantic.

After racing, Tarok VI had the most contestants in the beer chugging contest.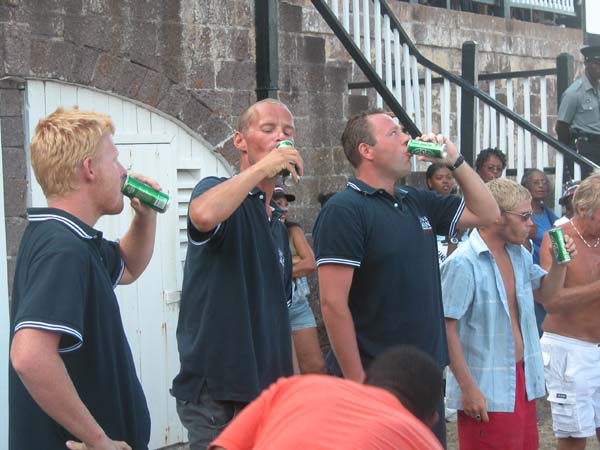 Unfortunately, the warm Heineken didn't sit well with the Danes.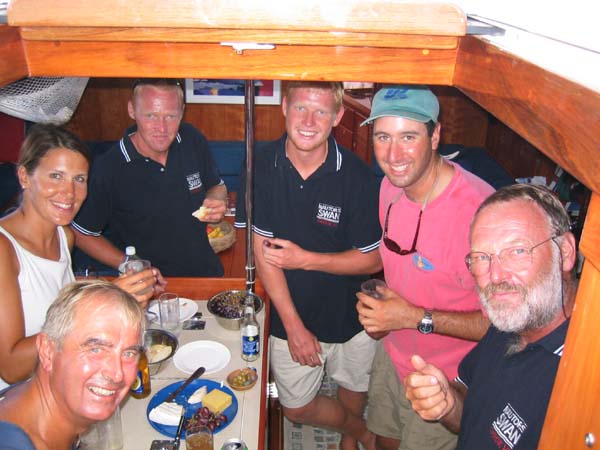 Happy hour aboard Vanish.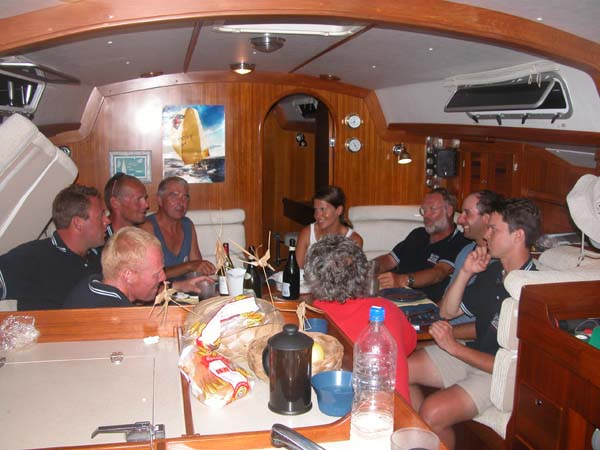 Followed by a Jean-Louis dinner for ten aboard Albacor III.

Erik and Klaus diving into the kiddy pool at "Camp Chippy", a Dock party hosted by the Swan 60 "Chippewa".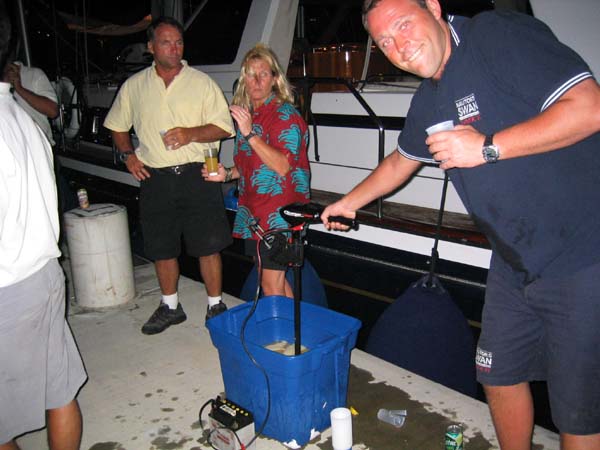 Hendrik stiring up the Camp Chippy punch.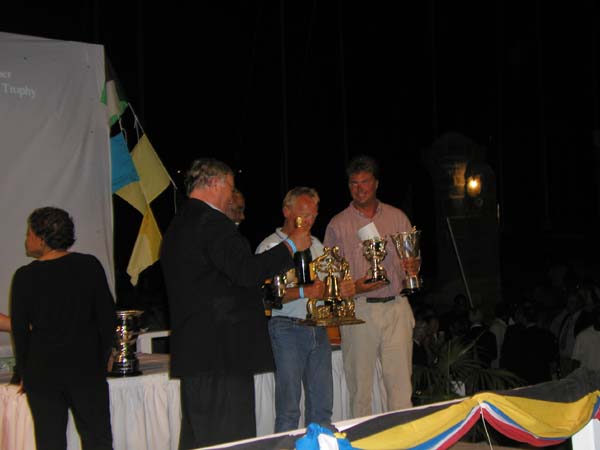 Award ceremony where Tarok VI collected its second place trophy!