Feb. '03: Trinidad
Four o'clock in the morning, with 25-30 kts wind we set the sails, and exited Grenada. It's a 12 hours sail to Chaguaramas, Trinidad and we didn't want to arrive in the dark. We made great time and arrived mid-afternoon at what seemed like the nicest marina we've ever been to. Each morning, they deliver the paper to your boat! I wouldn't be surprised if you could arrange "boat service".
Our stay started off with a blast and ended with a bust. We rented a car, explored some of the huge island's beautiful landscape, wildlife, and beaches. With our friends and "Trini'ophiles", Richard and Marjorie on Northstand, we felt like locals limin' (Trini for hanging out) at many pre-Carnival competitions - Pan, Soca, and Calypso.
Among the many marine services in Chaguaramas, Trinidad right next to the marina was Dockyard Electric - a Fisher Panda generator dealer. Noticing our generator was starting to corrode and leak around the electrical windings area, we thought it would be a good idea to get some service. We took the generator out of the boat, waited a week and a half for first one part, then another, and finally stitched it up and put it back in the boat. Somehow the patient didn't take well to the part transfusion and the generator decided to start overheating. Five days of in boat diagnostics left all scratching their heads. Once again we pulled the generator out of the boat, left it with Dockyard to fix and finally set sail from Trinidad sans generator - hoping to be reunited with our little Fisher Panda in the BVI's.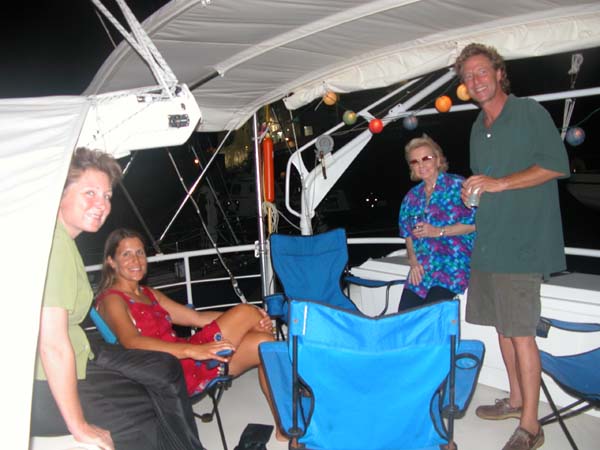 On our friend's Richard and Marjorie's boat Northstand. Richard's mother Camille was visiting.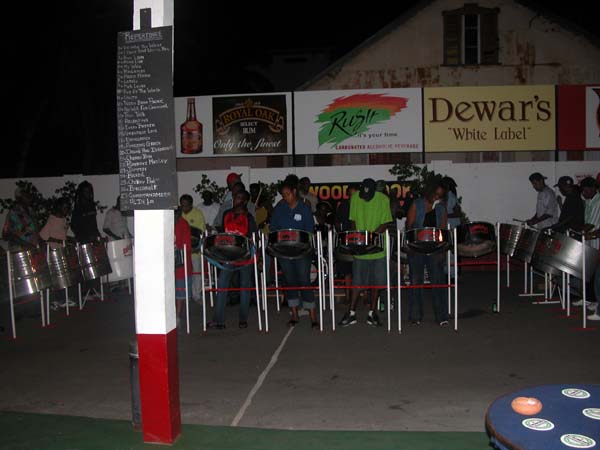 Pan band practicing at their panyard for Panorama competition during carnival.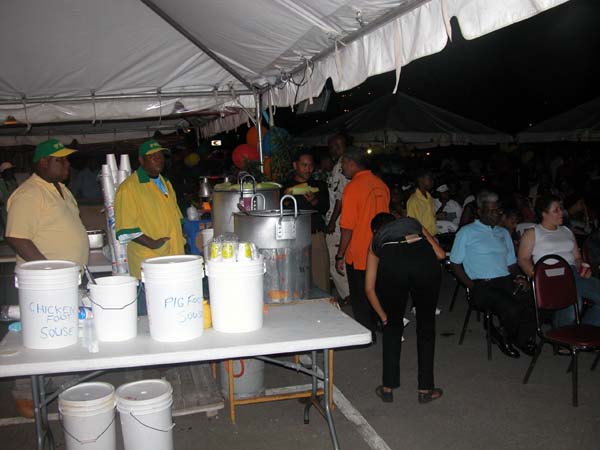 Hmmm . . . I can't decide chicken's foot or pig's foot tonight?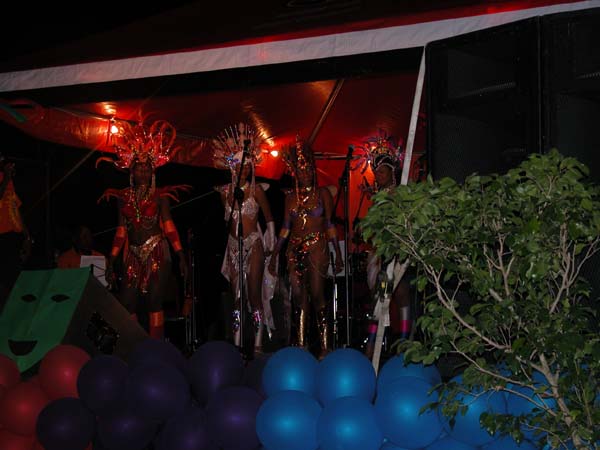 Preview of some carnival costumes.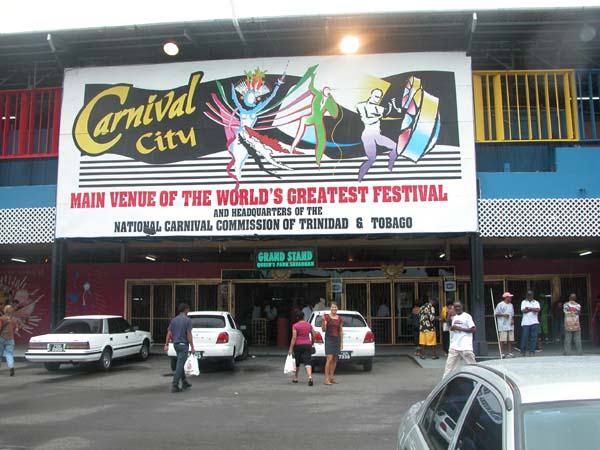 Pan Semi-Finals at Queen's Park Savannah, Port-of-Spain.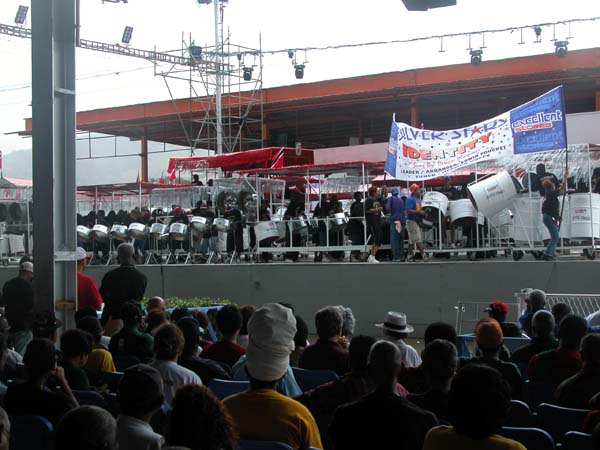 Silver Stars on stage at the semi-finals.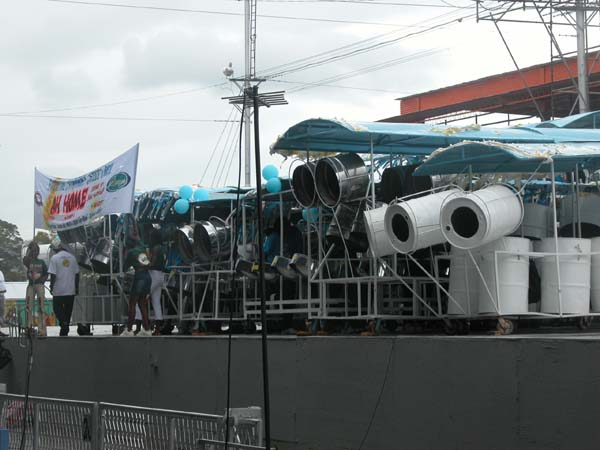 One of the about 30 bands in the semi-finals.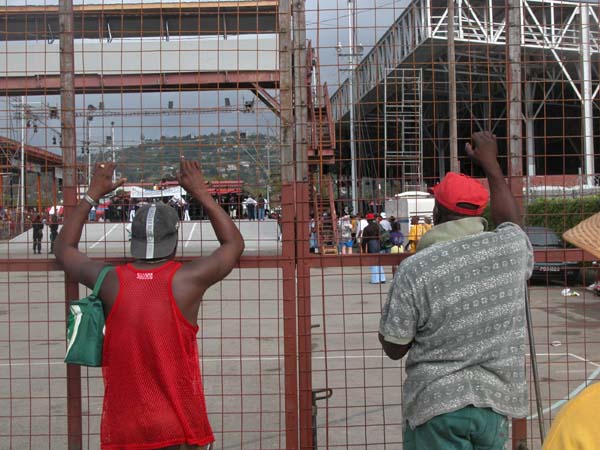 We could have been pan players . . .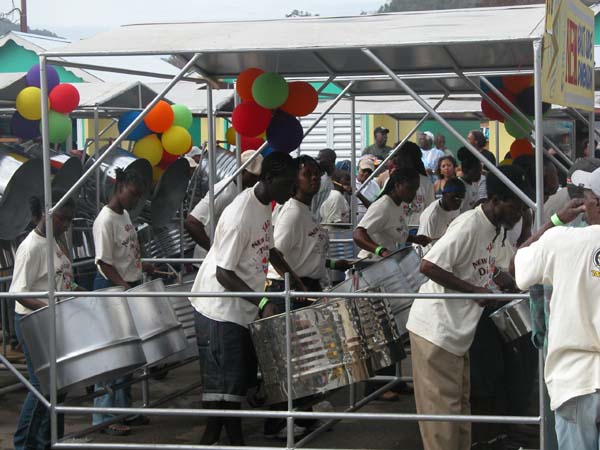 Bands warming up on the track before taking the stage at the Savannah.

One last chance to practice.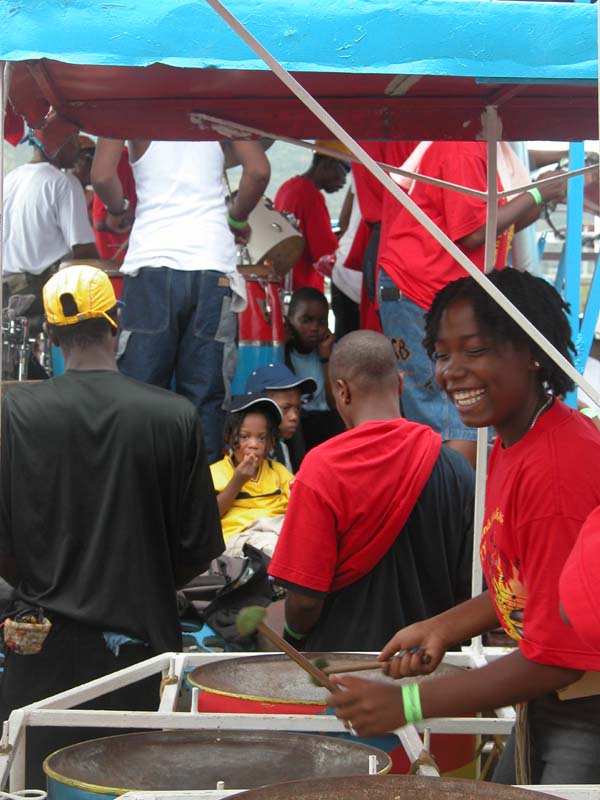 I luv teh play deh pan!

Somebody give that man a sandwhich!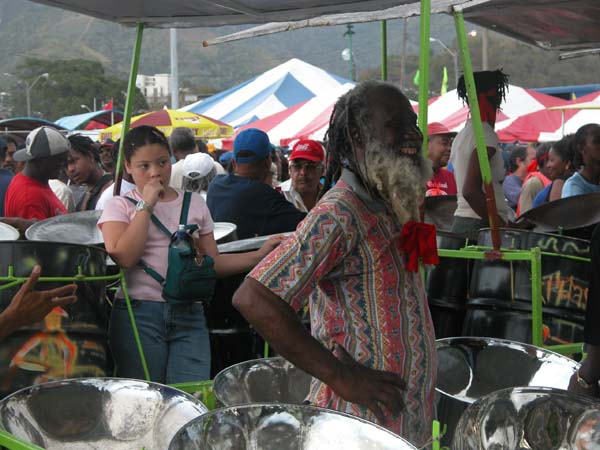 Who knew Santa Claus is pan player in the off-season?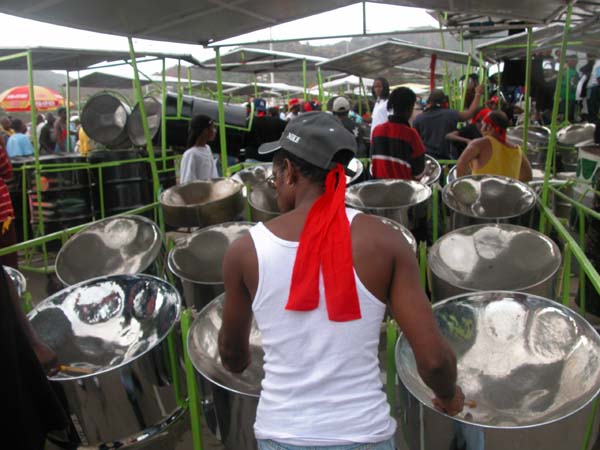 So many drums to play, so little time.

Trini' to the bone.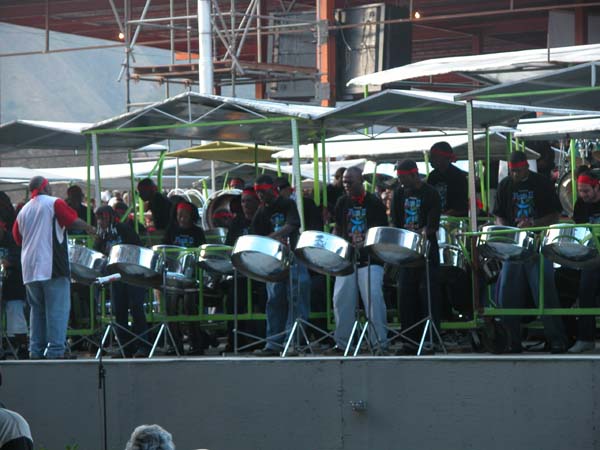 Phase II jammin' at the semi-finals.

Limin' on the track at the semi-finals with Marjorie, Richard and Richard's mother Camille and friend Doreen.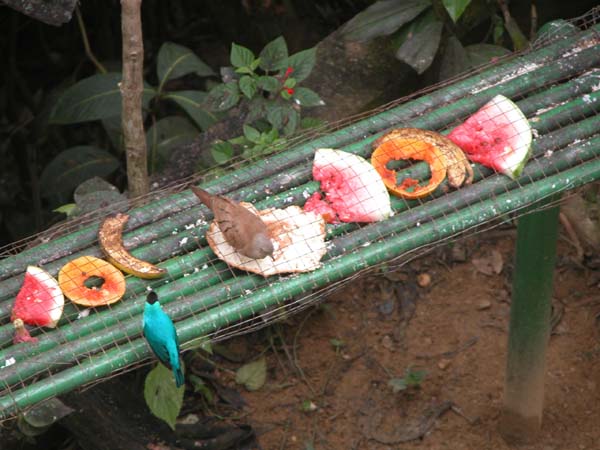 Birds at the Asa Wright Bird Sanctuary in the Trinidad mountains.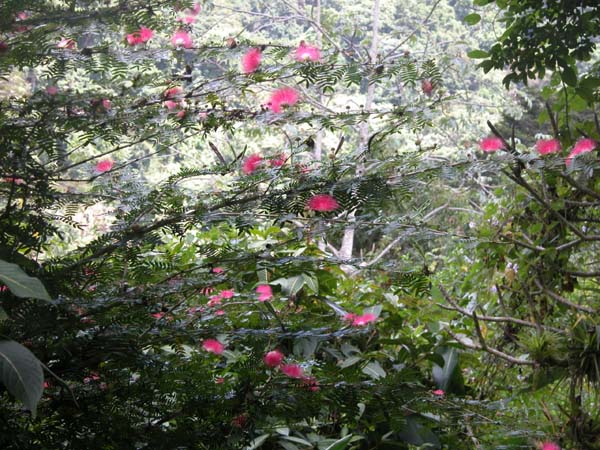 I think this is called a powder puff tree.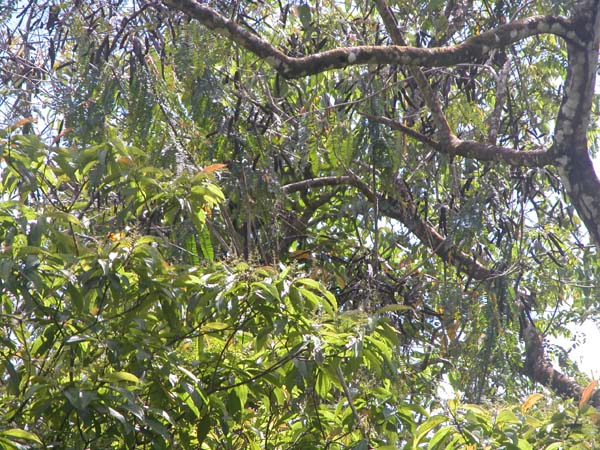 Can you find the bird in this tree? Supposedly behind the second horizontal branch.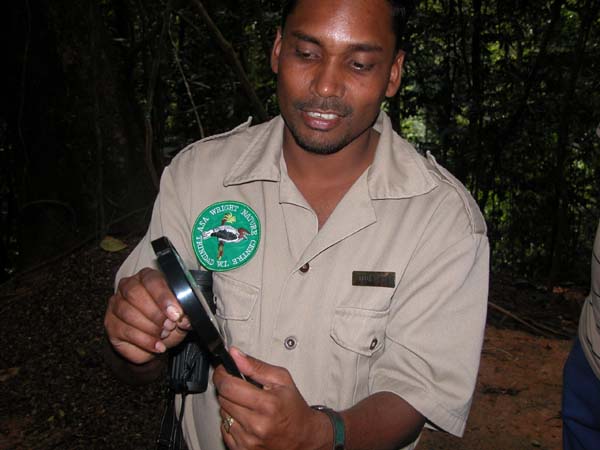 Guide showing us a soldier ant.

A green honeycreeper, Bill's favorite bird.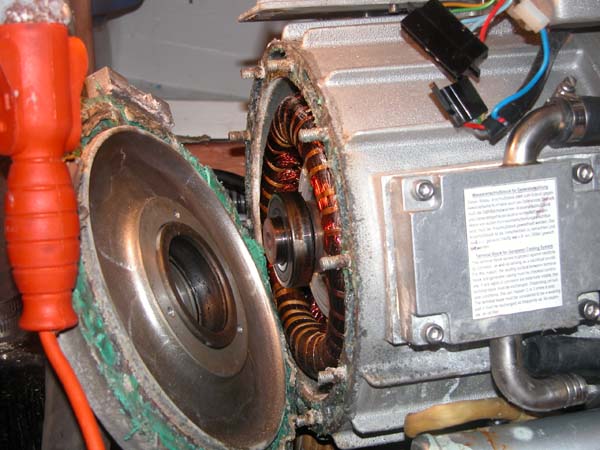 Generator problems - reason we were "stuck" in Trinidad.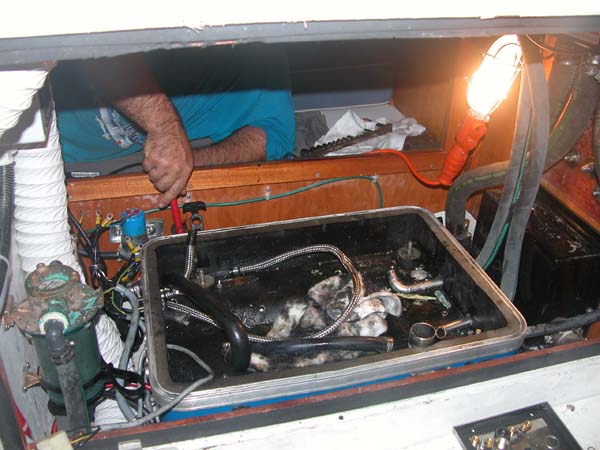 Removing the generator from the boat, the first time.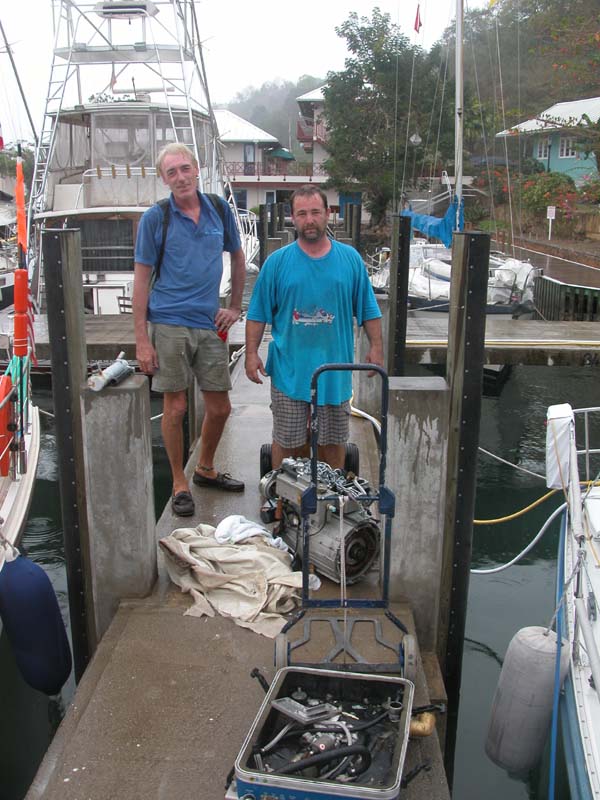 Getting serious - Trevor and Leon, our generator crew, taking the generator out of the boat. Probably the only rainy day we saw.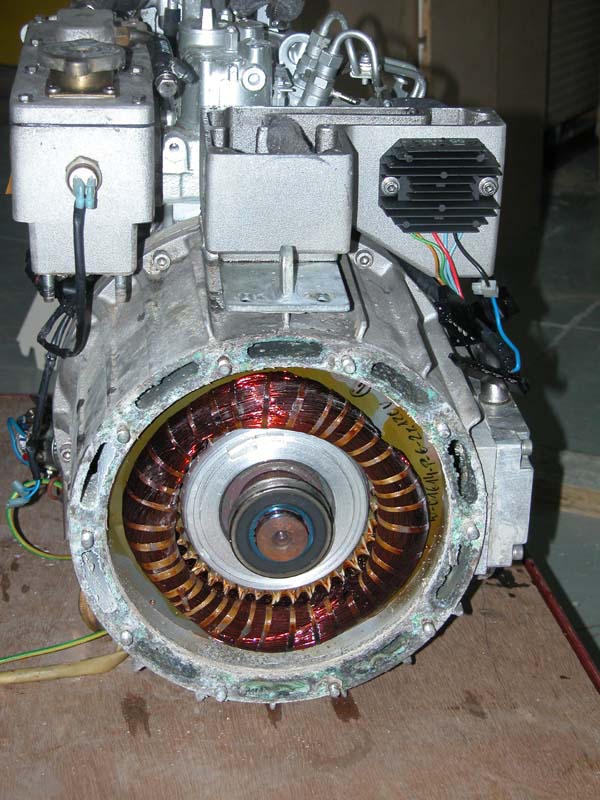 Corroded generator.

Alway's a good boat project, servicing the winches.

Queen's competition at the Savannah.

Colorful, fairy tale look.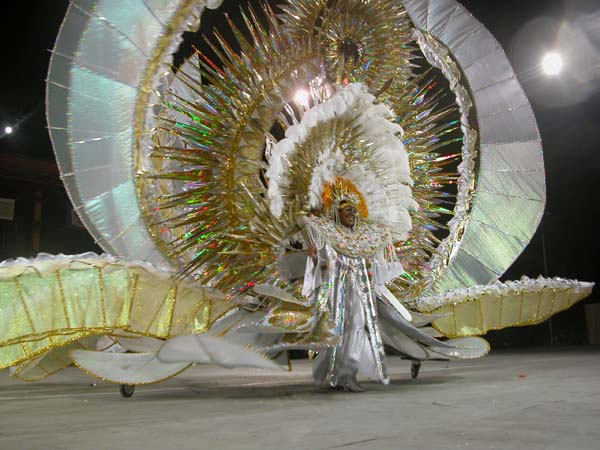 Our nieces would love these shiny "pretty dresses"! She was called the Supreme Goddess of Life and Light, I think. I wish I would have seen this before the wedding in the bridal magazines.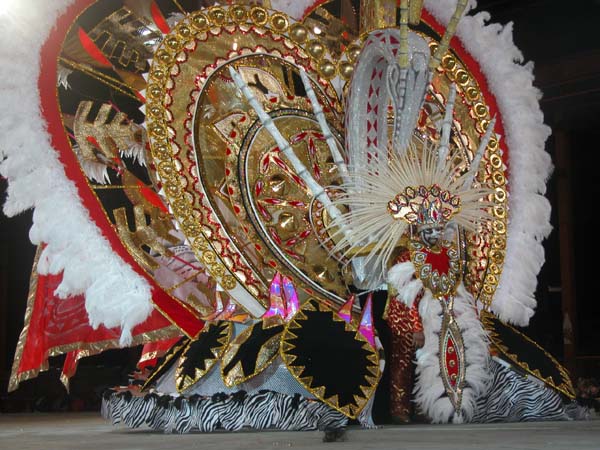 Yes, we think that there is a person in there.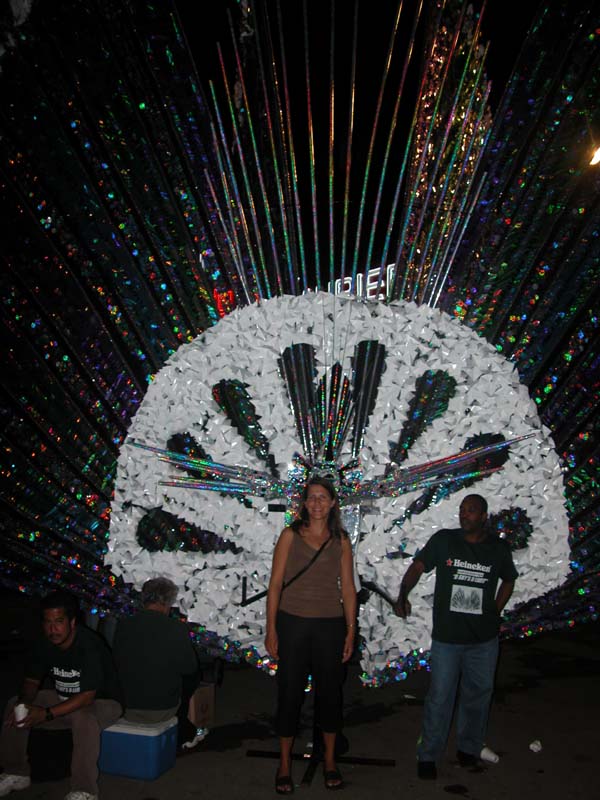 I don't think I can pull this look off.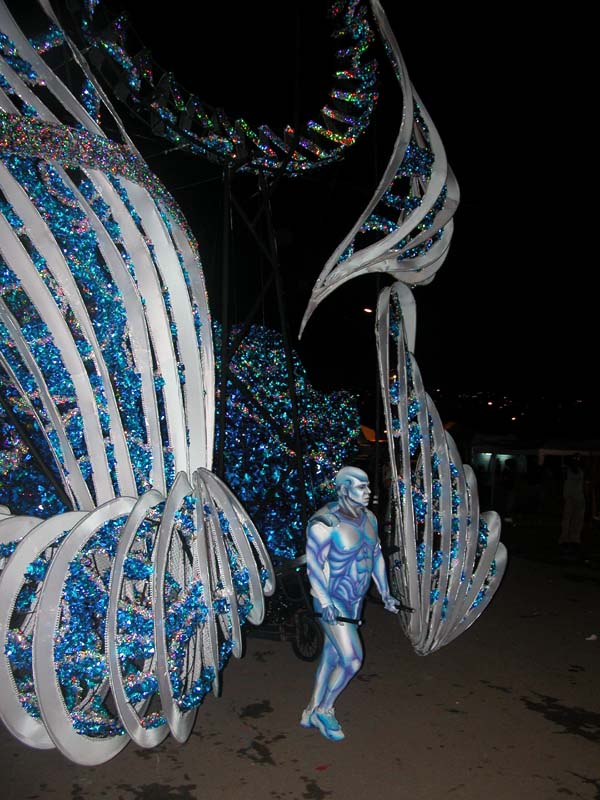 One of the Kings, called the "Schizo: Agony of Xtacy" I think, preparing to take the stage.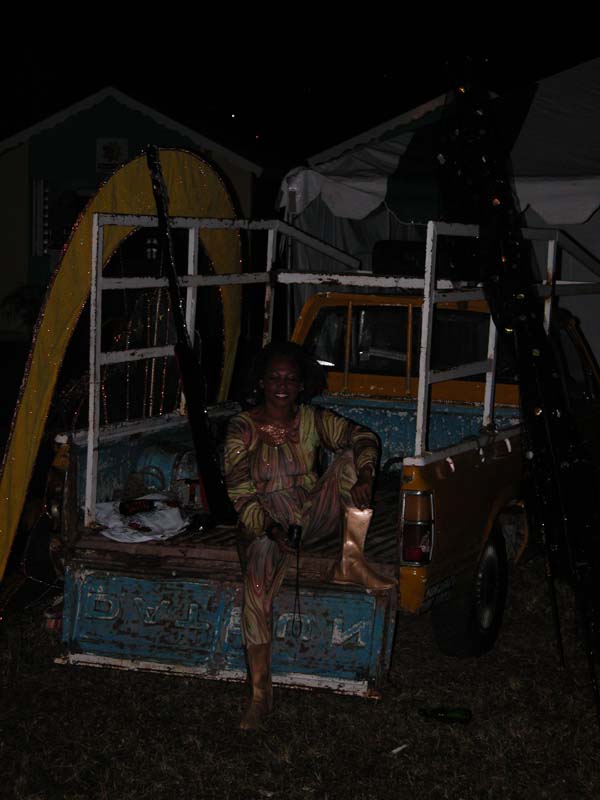 Queen contestant taking a break.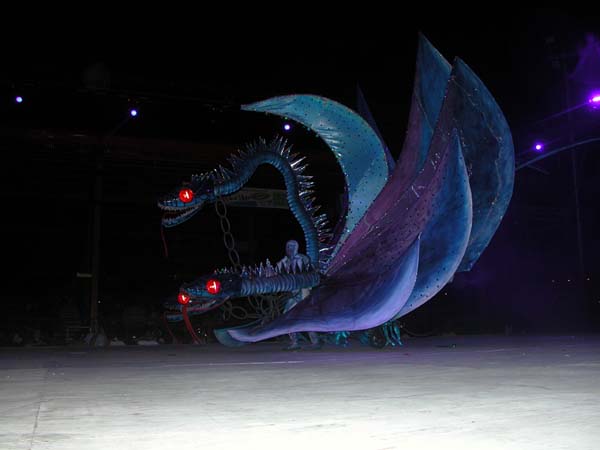 Scary dragon King.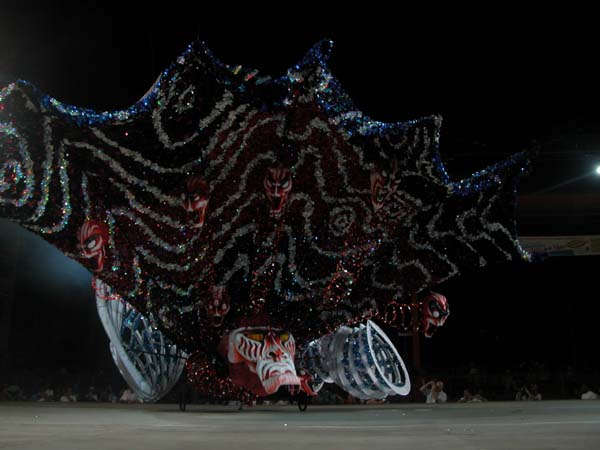 The "Xtacy" King shown from the back.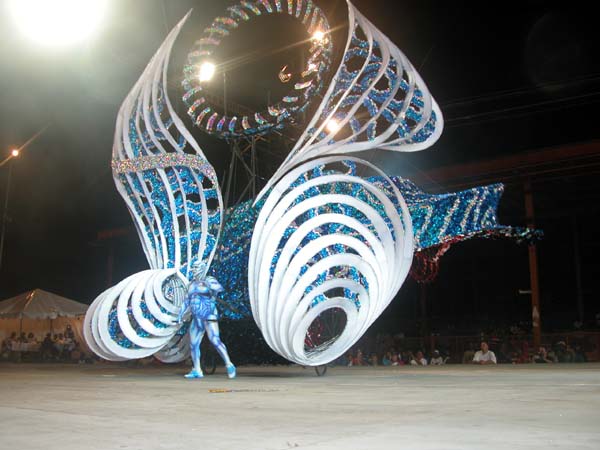 The most original and bizzare costume we saw.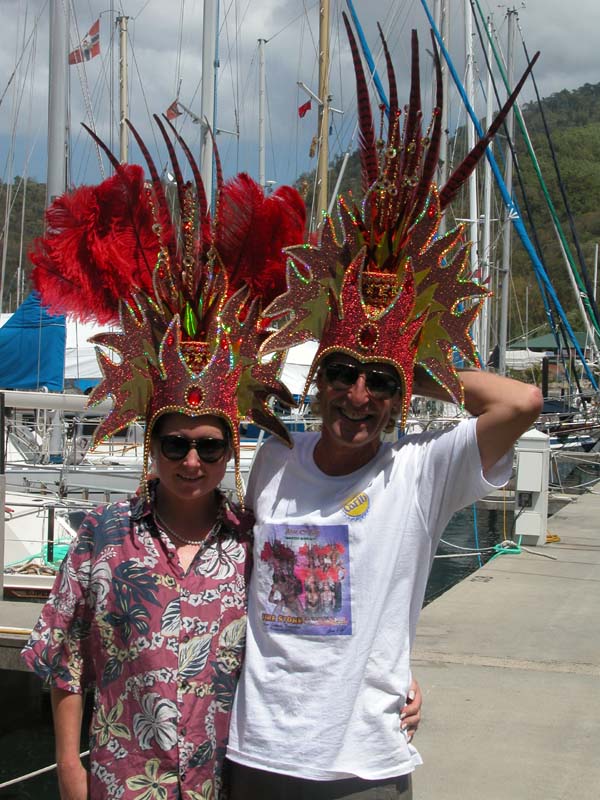 Friends Marjorie and Richard posing on the dock with their costume hats before the big day.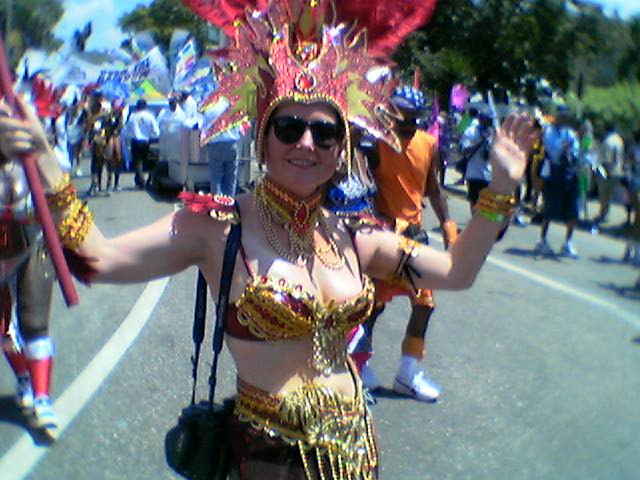 Carnival Tuesday and Marjorie's in full costum masquerading with the legends band. Photo curtesy of our friend Gil from Yonita.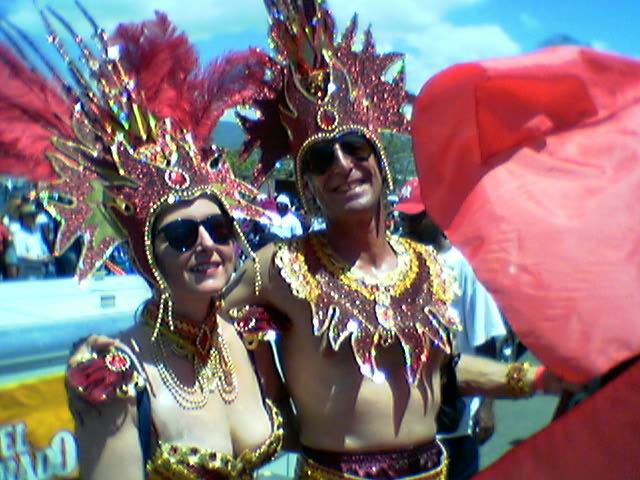 Richard and Marjorie together, Carnival Tuesday. They helped make those costums! Photo curtesy of our friend Gil from Yonita.

Albacor III, an American flagged J/160 owned by a Frenchman, Jean-Louis Pezin. To spend more time with his grandkids in France, Jean-Louis is selling Albacor III. If you know of anyone who wants to purchase an excellently maintained four year old J/160 fully outfitted for world sailing, send us an email and I'll get you in touch with Jean-Louis.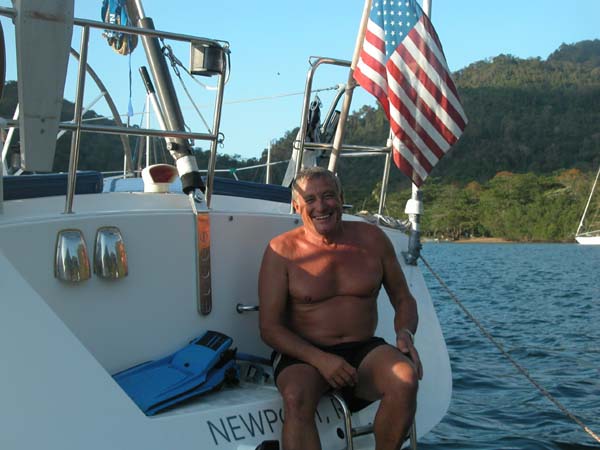 We found out Jean-Louis is both an excellent sailor, a great cook, and knows the Mediteranean cruising waters like the back of his hand. We look forward to seeing him again in the Med.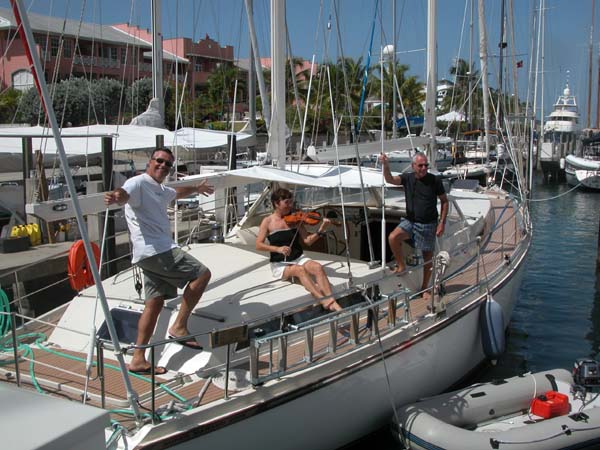 Our charming marina neighbors, Gil, Nielly (a classical violinist) and her husband Michael on Yonita.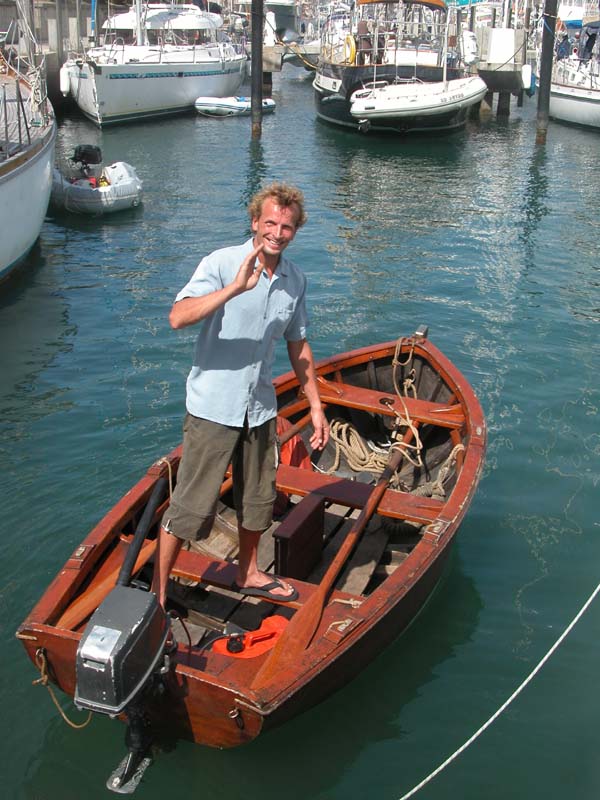 Jonas, captain of Activ, a 100 plus foot wooden schooner.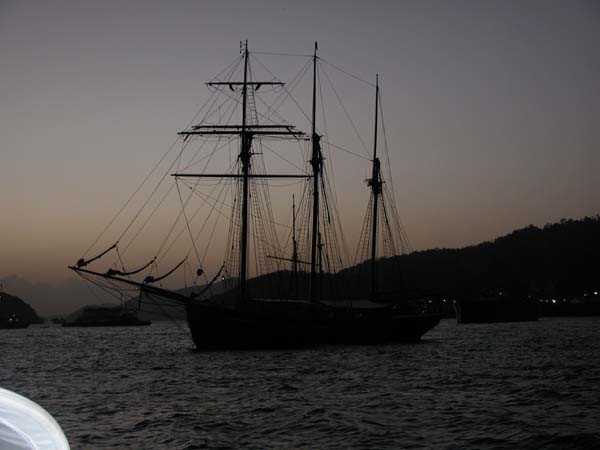 The schooner Activ seen as we leave Trinidad.