From Falmouth Harbor, we had a real fast, close reach to Deshaies in Guadeloupe. We swam, hiked and enjoyed some excellent French food in Deshaies, including one "long French lunch." After a troubling day attempting to get diesel in Basseterre, we ended up sailing to Point-a-Pitre, getting fuel and then sailing back to The Saints that same evening. The Saints, small islands south of Guadeloupe, were absolutely gorgeous; we thought of them as the "Martha's Vineyard" of Guadeloupe.
MPEG Videos: (right click to download, left click to play)
- Bill sailing us into Deshaies, Guadeloupe. (2.0 meg)
- Hotstuff! (2.0 meg)




After a great sail from Antigua, the next morning we awake to a rainy day in Deshaies (Day-Hay), Guadeloupe. Ummmm, the french bakery has wonderful, smokey warm baguettes.

I guess I know our next pet.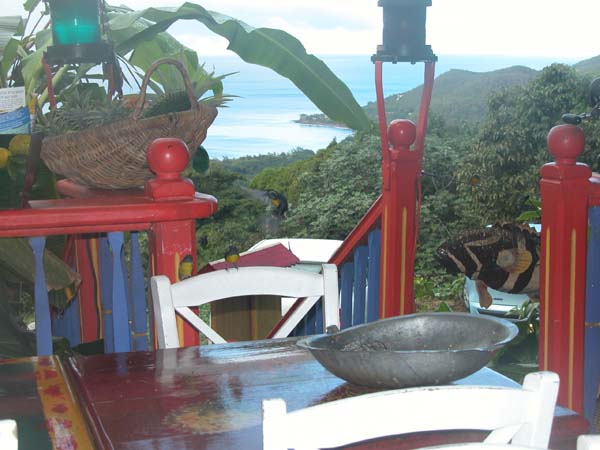 Baguette in hand we set out on a hike, only to find 'Le Tableau du Poisson Rouge' atop a mountain peak offering a four course set menu dejeuner. The baguette would wait.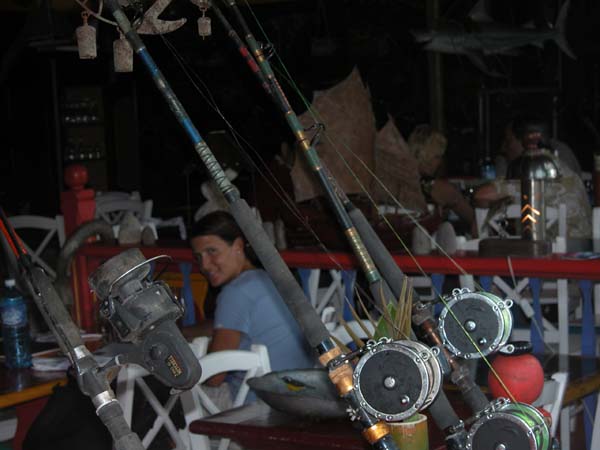 Le Tableau du Poisson Rouge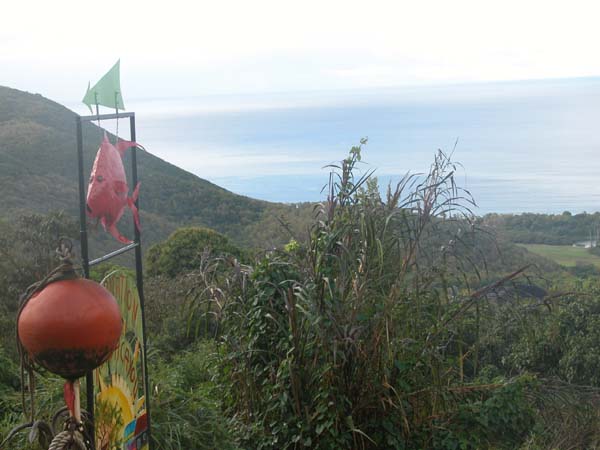 View from Le Tableau du Poisson Rouge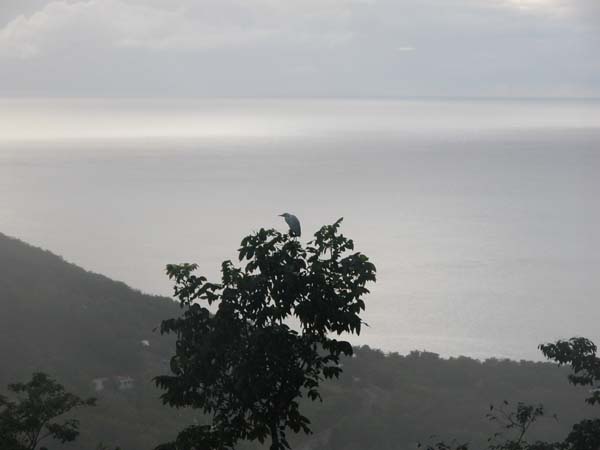 Bird on watch.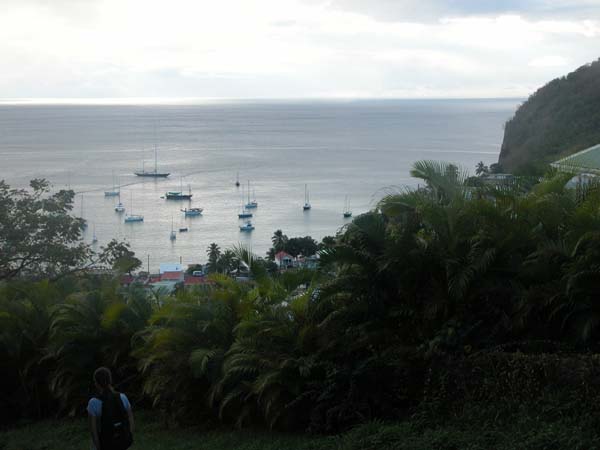 Vanish at rest in Deshaies harbor.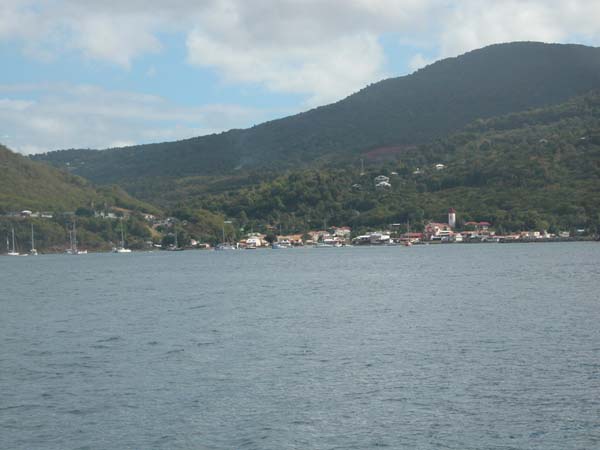 B-Bye, Deshaies - We'll be back.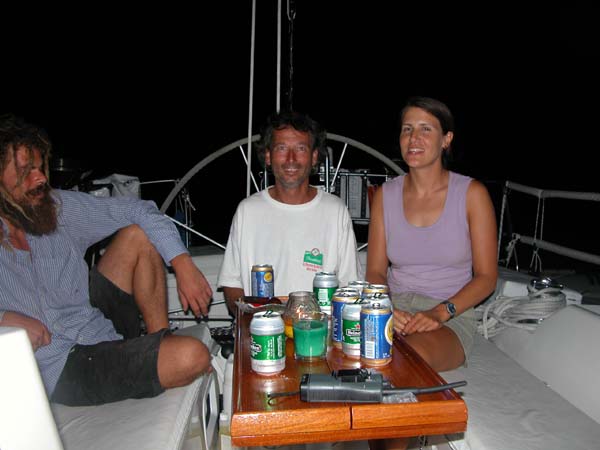 Scene 1: Tough day for Vanish and Haze. Plan was sail from Deshaies (north west corner of Guadeloupe) to The Saints (Islands south of Guadeloupe) with a brief fuel stop in Basseterre. Let's not discuss how we know, but the channel in to Marina Riviere Sens is very shallow, and the fuel at the marina was not even open.
Thanks Paulie (guy in middle of photo) for your assistance.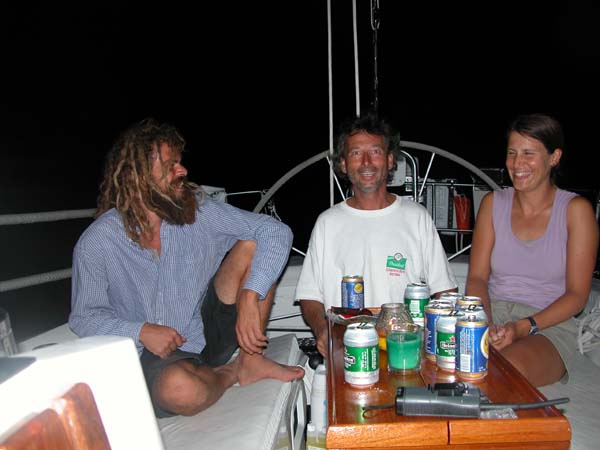 Scene 2: Plans to reach The Saints aborted due to low fuel, we anchor off Basseterre and assist our neighbor in the bay. Edward (pictured at left) is a solo eco-sailor on a 24' petroleum-free wooden sloop. With no engine and a rolly harbor he needed a light push closer to land.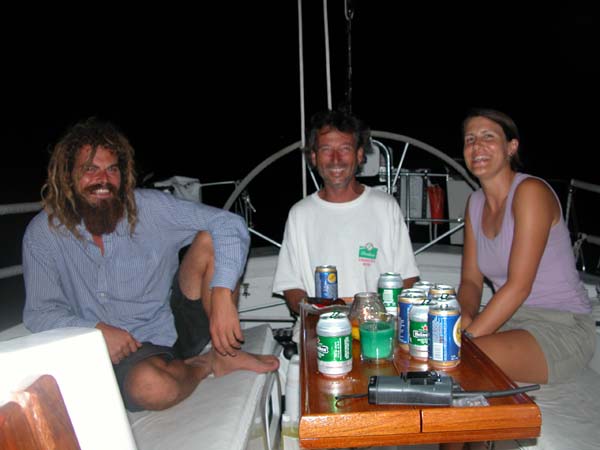 Scene 3: After a delightful veggie burger bbq on Vanish with Edward, there is late night knock on the topsides. "Ahoy Vanish, Ahoy Vanish, do you know were your dinghy is?".
Paulie came to the rescue again. On land eying his boat lying next to us in the anchorage, he happened to see Haze wonder away from Vanish's stern. With one paddle and a half-inflated dinghy, Paulie rowed like mad out of the marina. As he put it, "It was 50/50, I could go for the drifting dinghy, or try to reach Vanish and get some help". With a sign of sanity, he chose not to paddle out into the open sea alone at night. Bill jumped in Paulie's dinghy with an extra paddle, spotlight and handheld VHF, and headed out to sea. Twenty minutes later, Haze was safe again.
Paulie is another single hander, on a 46' French sloop, again with no engine. We shared all the beers we had and were treated to his hilarious sea stories. Thanks Paulie, we owe you.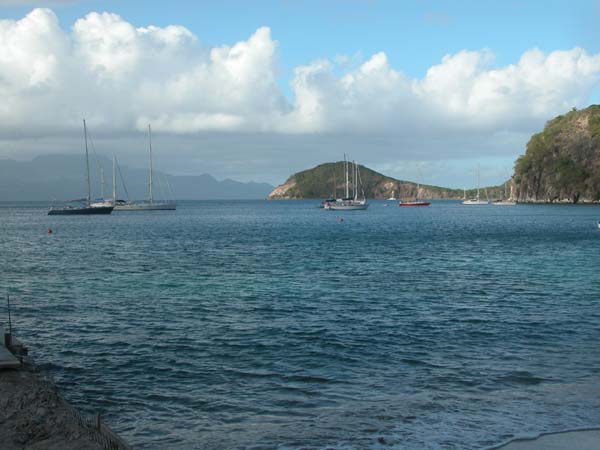 After a brief fuel stop in Pointe-a-Pitre, we made it to the Saints! Think of the Saints as the Martha's Vineyard of Guadeloupe.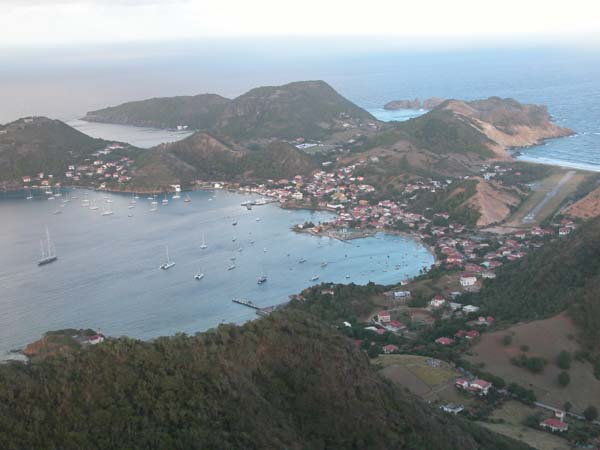 After a steep hike up to Le Chameau - a lookout tower for Napolean's fort - we were treated to this view.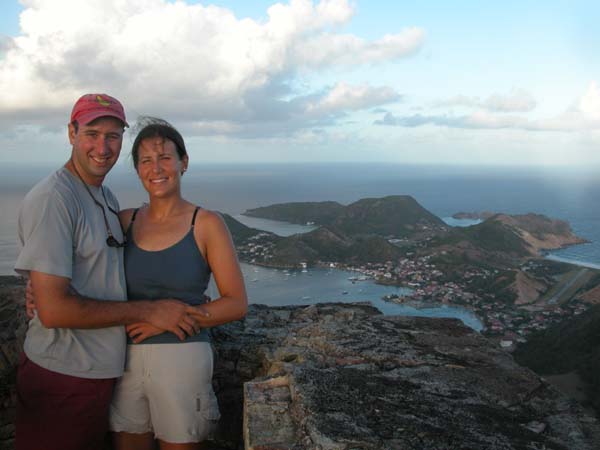 Le Chameau, The Saints.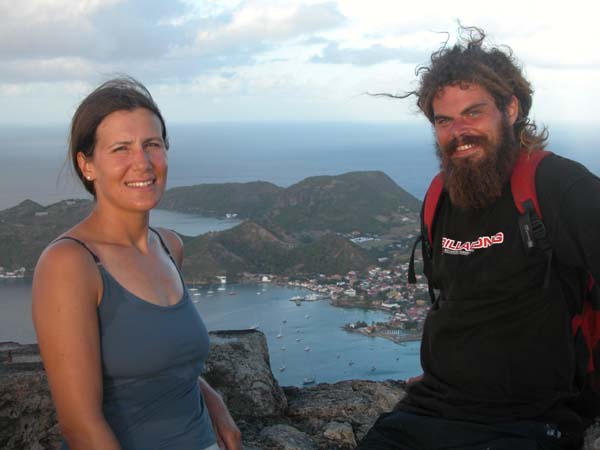 Edward also made it to the Saints and joined us for the hike.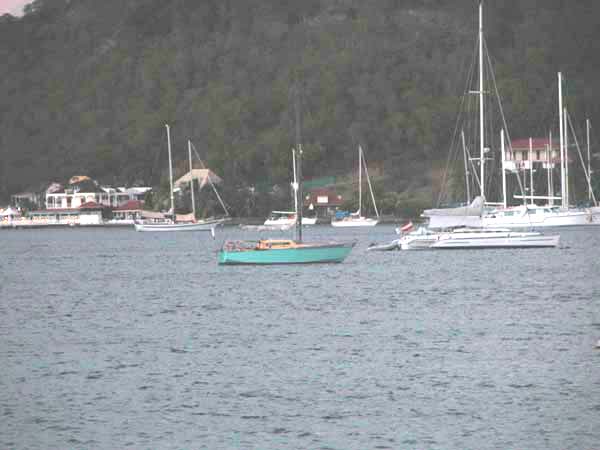 Edward's colorful wooden sloop.