Tied up at Pier 66 in Fort Lauderdale, it already feels like we've made it home, even though we still have over 1000 miles of ocean to cover. There is something about returning to the US, NOAA weather radio, Seatow reports, and backdrops of big cities that brings a familiar comfort after over a year of foreign waters.
For the passage North, Renee and I were joined by veteran Vanish sailor Michael Fay (BVI Spring Regatta, Trans-Atlantic) and a Vanish newcomer, Tony Leigh. Once again we were fortunate to have such a competent and entertaining crew for what will prove to be fast trip north.
Around midday on Tuesday, May 11th, the four of us push off the dock, head out of the Fort Lauderdale canals, and make a left into the gulf stream. Before we know it, we are doing 11 kts over the ground. The gulf stream, our nemesis of other ocean passages, is our best friend this time keeping us warm and going fast!
Sails set and Marlin lure trailing, we're flying along in gulf stream bliss. Just as we are discussing what to do if we get a pull on the rod, we hear the real go zinnnnng! Racing back to the rod, we are almost out of line before I can even get my hands on the reel. I manage to tighten the drag. It is too late, we run out of line, and then pop, all goes slack. If I could only have seen what was on the other end!
After about a third of the passage, we are becalmed and revert to our trusty friend the Yanmar for the next 36 hours. We motored past Cape Hatteras and into the colder waters North of the now beloved gulf stream. Once again the wind picks up, and we make our way to Buzzards Bay under full sail. We are now squarely back in familiar gray/green waters with overcast New England skies.
At our current speed, we'd arrive in Boston in the middle of the night. Unsure if there is a dock waiting for us, we decide to pull in for the night at Sandwich Marina right on the east side of the Cape Cod Canal. The next morning, we are off for our last fifty mile victory leg back to Boston.
It was an unbelievable trip, but it's comforting to come home and dream about new adventures.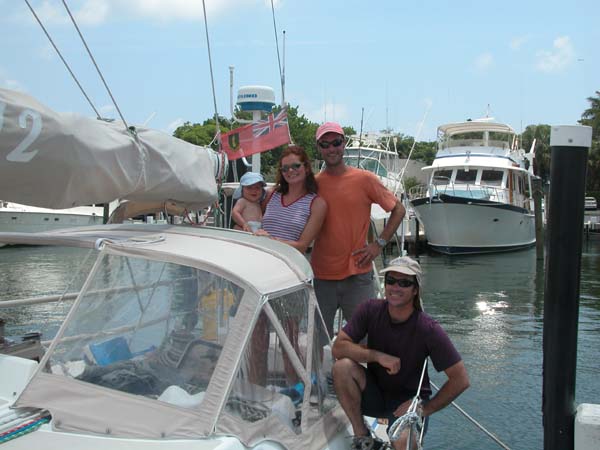 The Keep It Simple crew preparing to push off; destination North, eventually back to Sag Harbor, NY.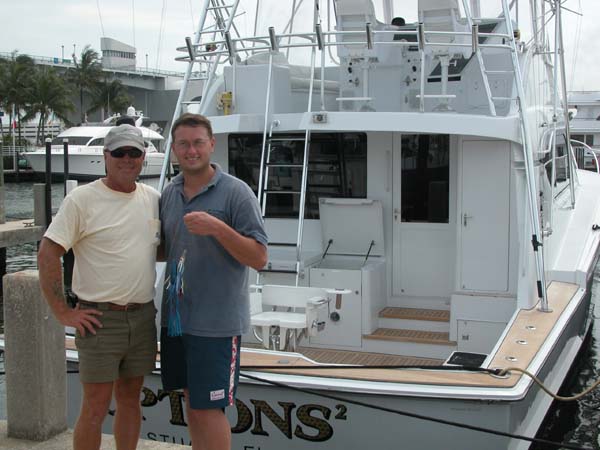 Michael Fay joined us for another offshore passage. Here he is befriending a Florida marlin fisherman who supplied us with the biggest lures we've ever seen.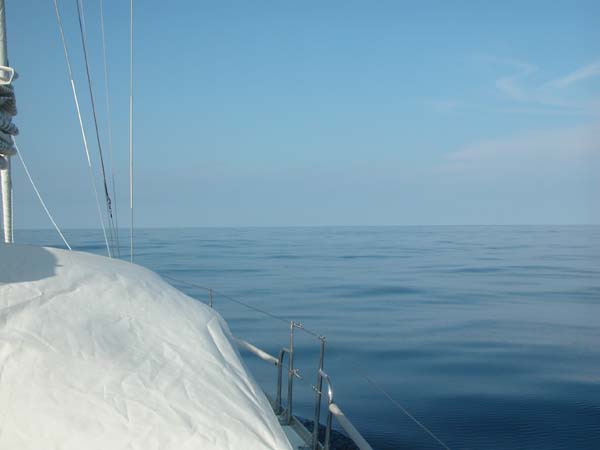 Bill, do you think we should turn on the engine?

Fay, reading the "Cruiser's Guide to Fishing" trying to figure out what to do if we catch that monster marlin.

Out of the warm gulf stream, it gets cold, but everyone is still smiles.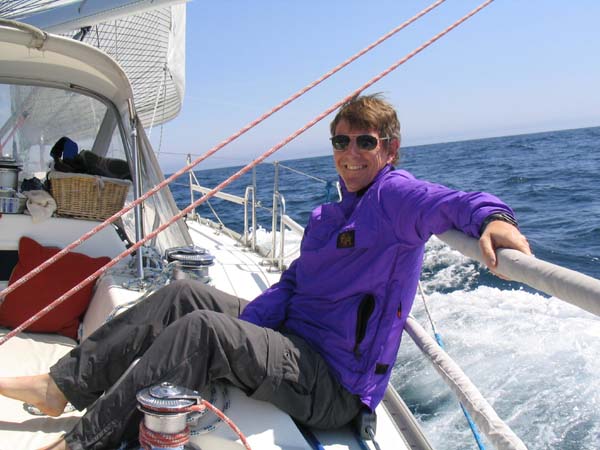 New England sailor, Tony Leigh, transplanted from Kenya, joined us for the sail back to Boston.

Never caught the marlin (did lose the lure with a big zinnnnng) but we did find a pigeon quite a ways offshore.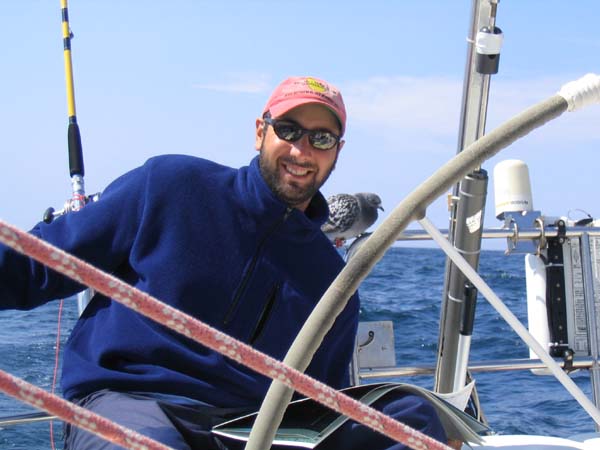 Not quite the same as posing with the marlin.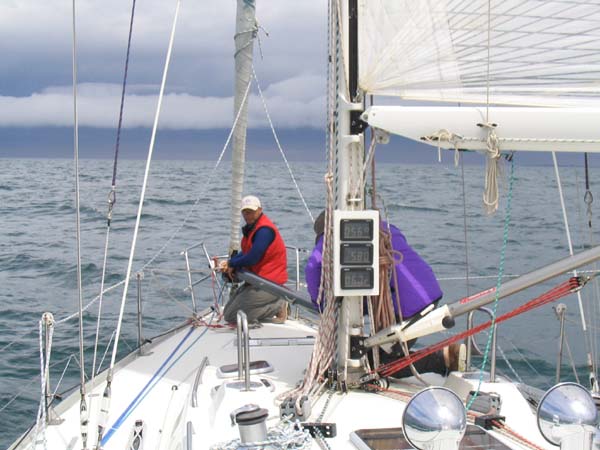 By the looks of those clouds on the horizon, Bill can't imagine exactly why we were preparing to go wing-on-wing as we approach Buzzards Bay.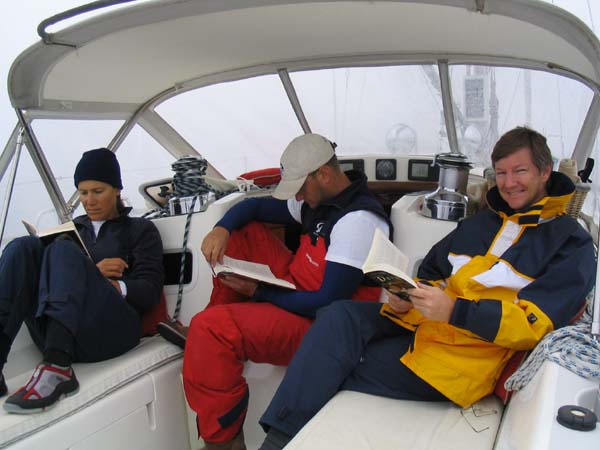 Almost home, motoring up to Boston, everyone's trying to finish their books.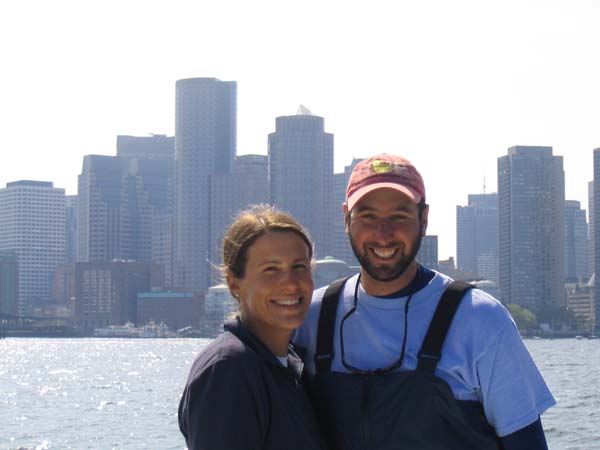 Home sweet home with all our fingers and all our toes!