Dec. '03-Jan.'04: St. Lucia to Barbuda
After regrouping in St. Lucia for about a week after the trans-Atlantic, we headed back up the island chain toward St. Martin where we would leave the boat while we went to Boston.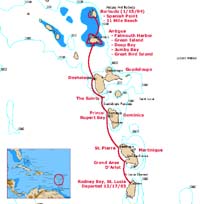 We stopped in some of our favorite places and some places that we missed last time around. We did some hiking on Mount Pelee in Martinique and spent a couple of days in the Saints off Guadeloupe before heading to Antigua.
In Antigua, we celebrated the holidays with friends on Steadfast, Eight Bells, Aragorn and Oasis, and even did a New Year's Eve Day pursuit race! We also had Antigua Sails repair our spinnaker, and had the rigging checked (which somewhat explains the length of our stay). Once everything was set we cruised the spectacular north coast of Antigua which we had previously overlooked, and headed to Barbuda where we met up again with Eight Bells which was heading our way.
MPEG Videos: (right click to download, left click to play)
- Barbuda Frigate Bird Rookery (2.5 meg)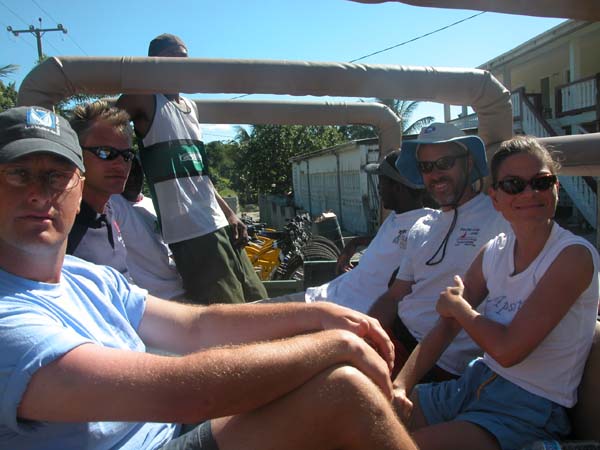 Mountain biking trip in St. Lucia where we met Scott and Nancy from Aspara. The mountains bikes came later.

Do you think we'll be bike riding any time soon?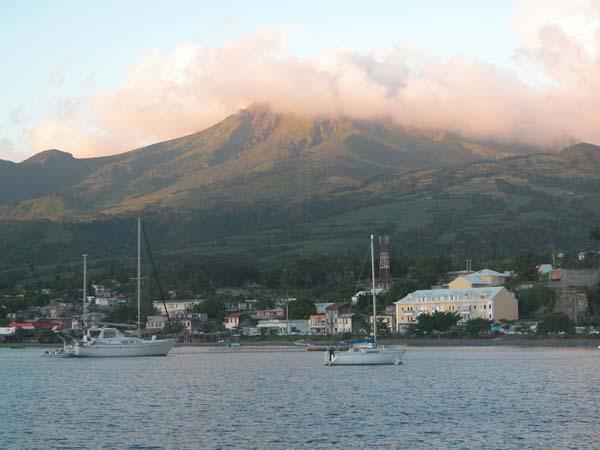 Sunset on the coast of Martinique, Mt. Pelee in the background.

Trailhead for a hike up Mount Pelee.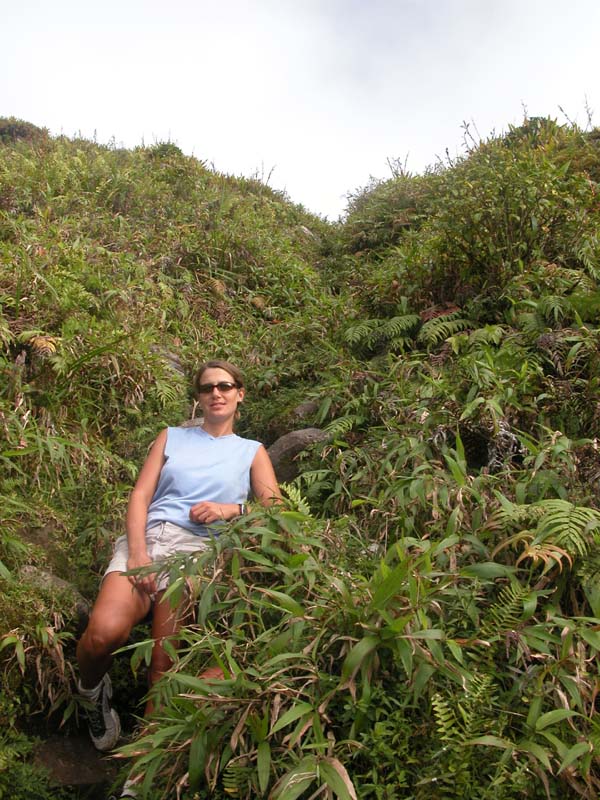 Steep climb.

Somewhere over the rainbow - lies Dominica.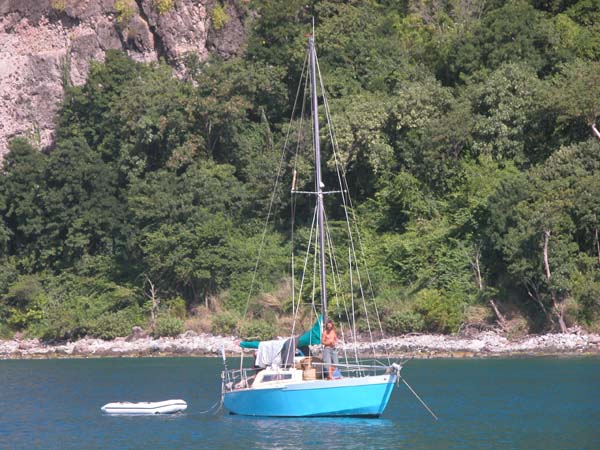 In Deshaies harbor, Guadeloupe - Edward on Scarf shows up!! We haven't heard from him since last year when we met in Guadeloupe. He's been sailing solo around the Caribbean in a 27 foot wooden boat without an engine, and spent much of the winter in Venezuela.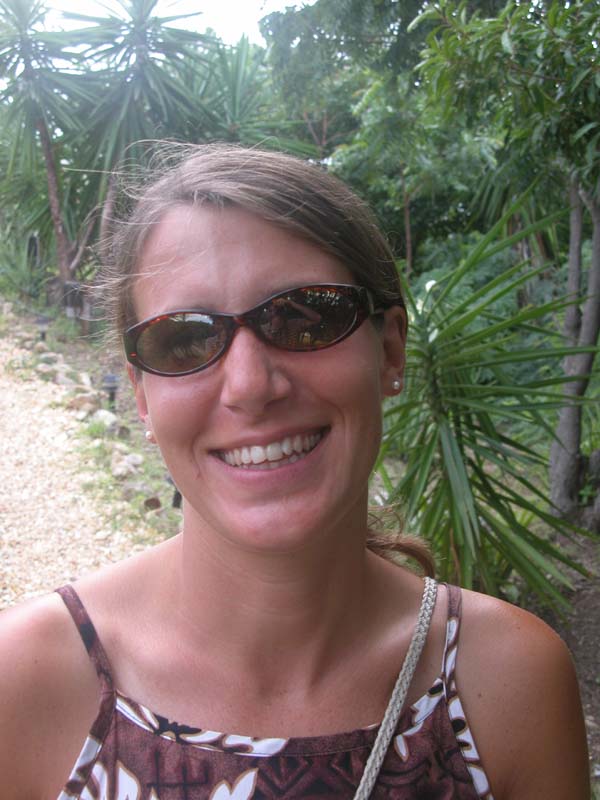 Going out for lunch at Harmony Hall in Antigua near Green Island.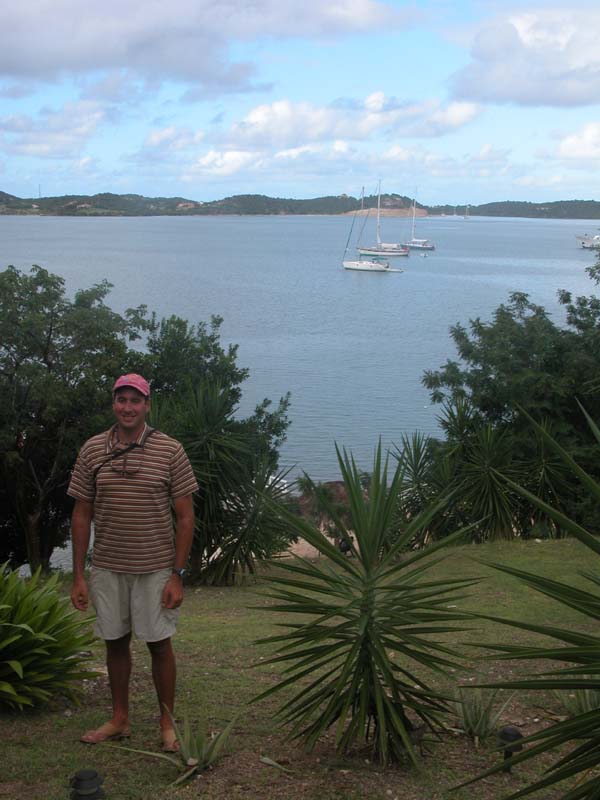 Harmony Hall is probably our favorite restaurant in the Caribbean.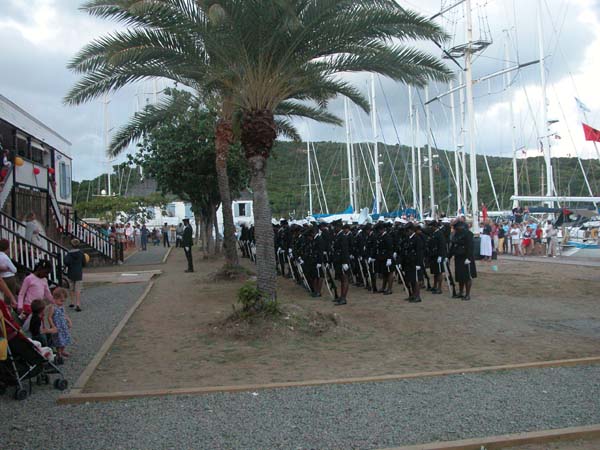 Antiguan police parade on New Year's Eve Day.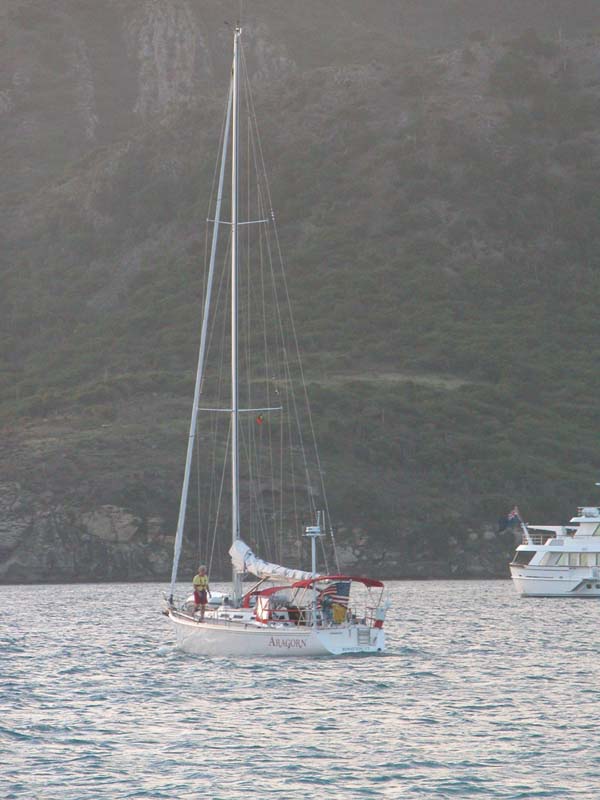 Dick and Leslie York on their J-46 Aragorn setting off to do their circumnavigation with blue Water Cruising, see www.YachtAragorn.com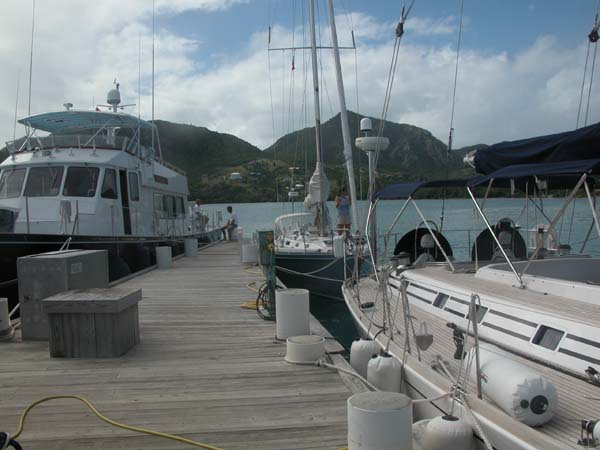 Vanish tied up behind Steadfast at the Cat Club in Antigua, awaiting some work from the Antigua Rigging crew.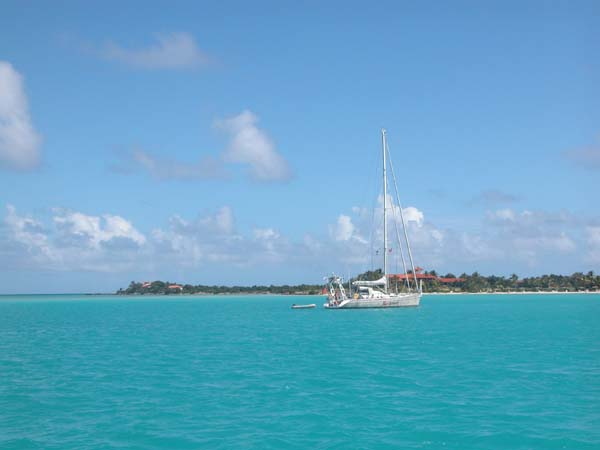 South African friends, Audrey and Ken, on their great boat Fast Forward. We met them in Jumby Bay on the beautiful north coast of Antigua.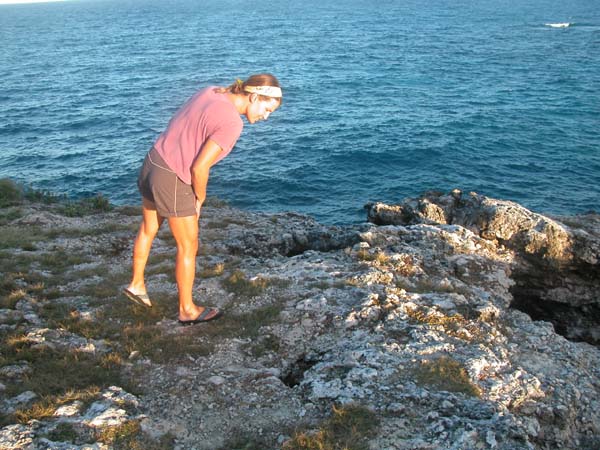 Looking at the tunnels down to the sea on Great Bird Island, Antigua.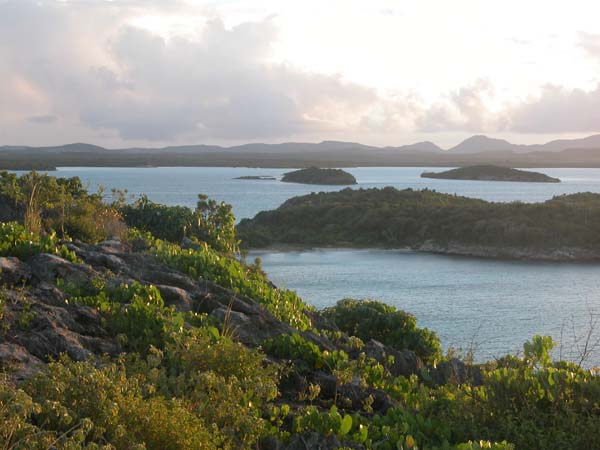 Unspoiled north coast of Antigua from Great Bird Island.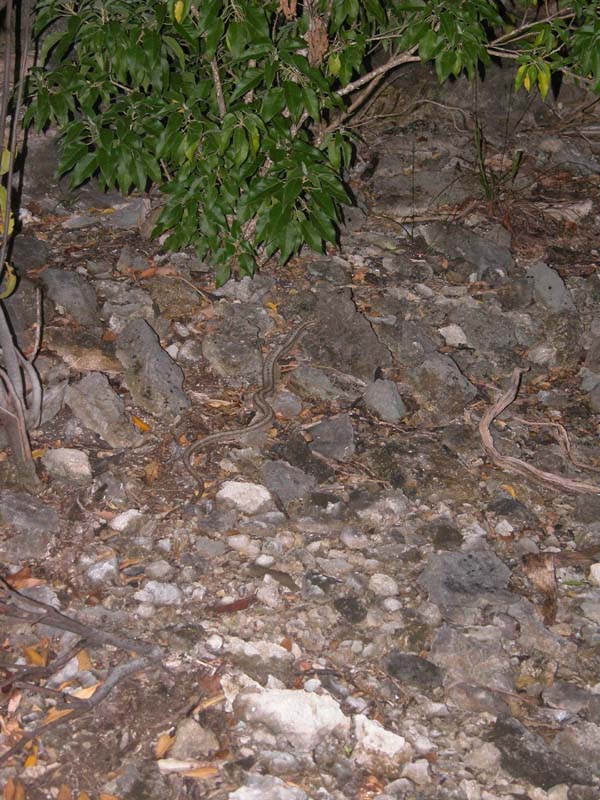 The rare and endangered Antigua racer snake, found only on Great Bird Island.

Eight Bells anchored off Spanish point on Barbuda.

11 mile beach on Barbuda - best beach in the Caribbean?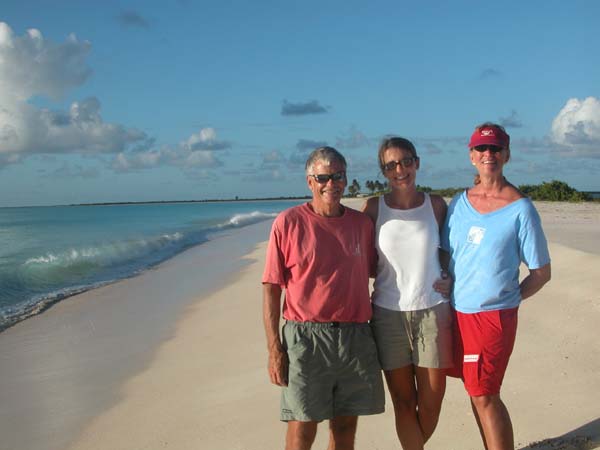 With Peter and Carol from Eight Bells.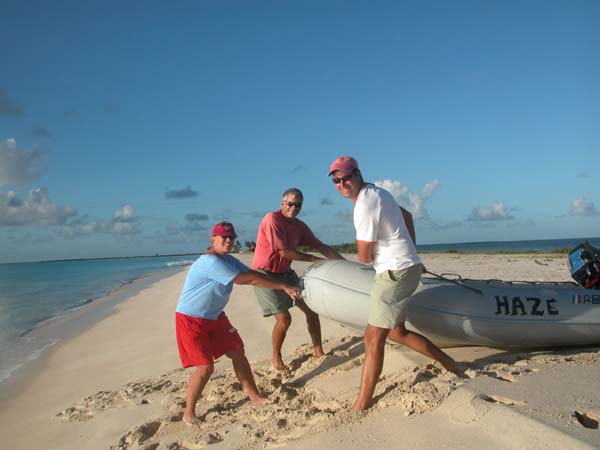 Of course, pristine beaches like this do not have dinghy docks.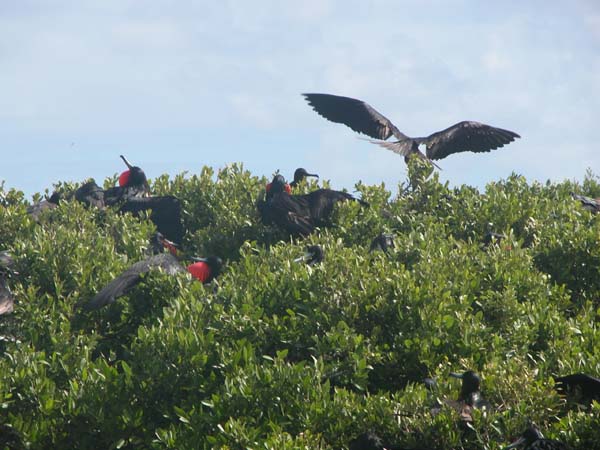 Frigate bird rookery in Barbuda. These birds have a huge wing span and fly many miles out to the sea to fish for food. Very Alfred Hitchcock-ish.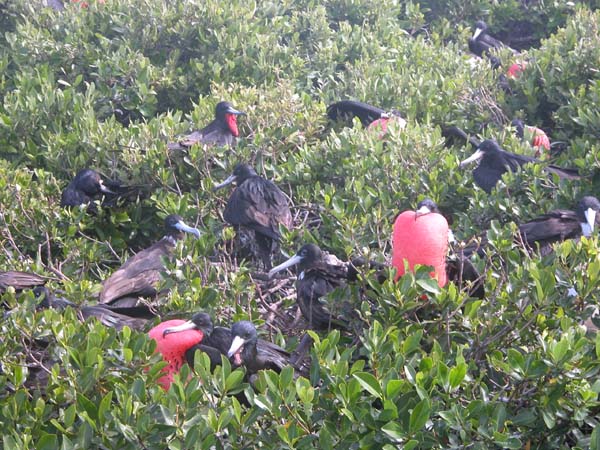 Male frigate bird blowing up the huge, red pouches under their throat to attract a female.

Our guide, George Jeffrey, rowing us through the colony.

We had brought binoculars to watch these birds, but they we got close enough to them to touch them!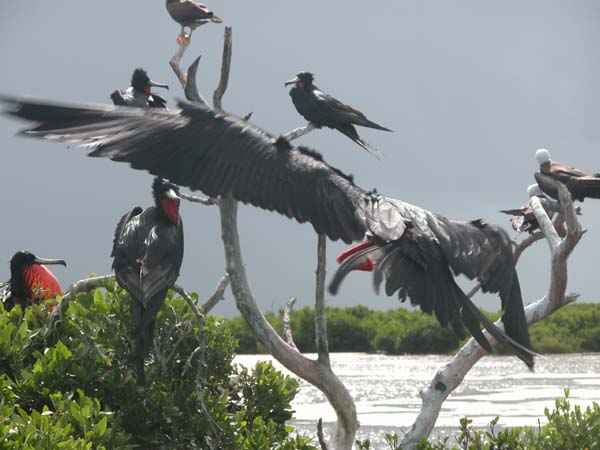 This frigate bird colony was recently featured in National Geographic.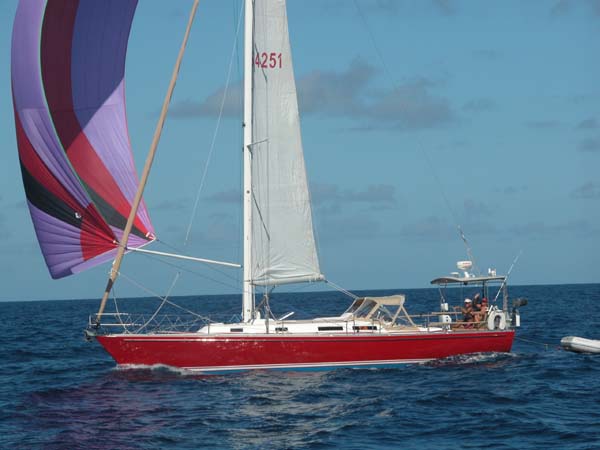 Peter and Carol flying their chute on the way to Nevis.