A Few Trans Atlantic Log Entries
During the crossing we wrote in a few log entries that were posted on the ARC web site. Here they are for reading pleasure... See Trans-Atlantic photos for more pictures.
Thursday, November 27, 2003 - Thanksgiving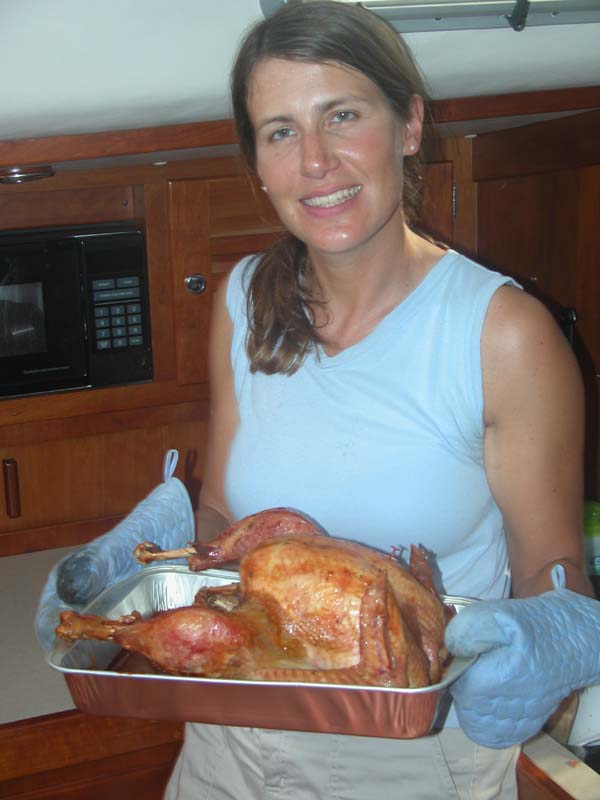 Unfortunately, Thanksgiving has come at a bad time for us this year. It's the American feast day and we already have tons of leftovers in the icebox. A combination of early on queezies, and lots of fresh food to eat quickly has left us with a stocked fridge. There's fajitas (yesterday was Mexican night), soy-ginger chicken (the night before was Asian night) and a huge vat of Bill's famous guacamole. Avocados don't last that long - even the hard ones.

Given our stocked fridge, we've decided to re-arrange the calendar a bit. On Vanish Thanksgiving will be tomorrow, Friday November 28th. Tonight we eat our leftovers and give thanks for a working fridge. Tomorrow we'll cook the Turkey and hopefully give thanks for the great passage we continue to enjoy.

Vanish Haiku
"country time" your so fine
you make Fay enjoy our water
lemonade for all!


Monday, December 1, 2003 - Vanish Half Way Party
Today on Vanish was the Halfway Party - our mid-Atlantic celebration. We had traveled more miles than we had left to go. Hopefully, it would be all downhill from here. To celebrate, we enjoyed Mediterranean culinary delights given to us by friends while cruising the Med. over the past summer. The "party" was also scheduled to last two hours. We then set the clocks back two hours afterwards to adjust for the time zones we had crossed, and had two "free" hours.

Philippe, a French sailor and canard farmer extraordinaire, gave us cans of rillettes (a duck meat pate) and cassoulet -- probably among the best fare ever on Vanish. It went well with a bottle of rioja wine we discovered in Spain. For dessert, friends from Boston who visited us along Italy's Amalfi coast gave us a canned limon torta with instructions to open it in the middle of the Atlantic. Enjoying great food and wine seemed an appropriate farewell to the Med. as we sailed west.

Tuesday, December 2, 2003 - Navigation decisions up to halfway point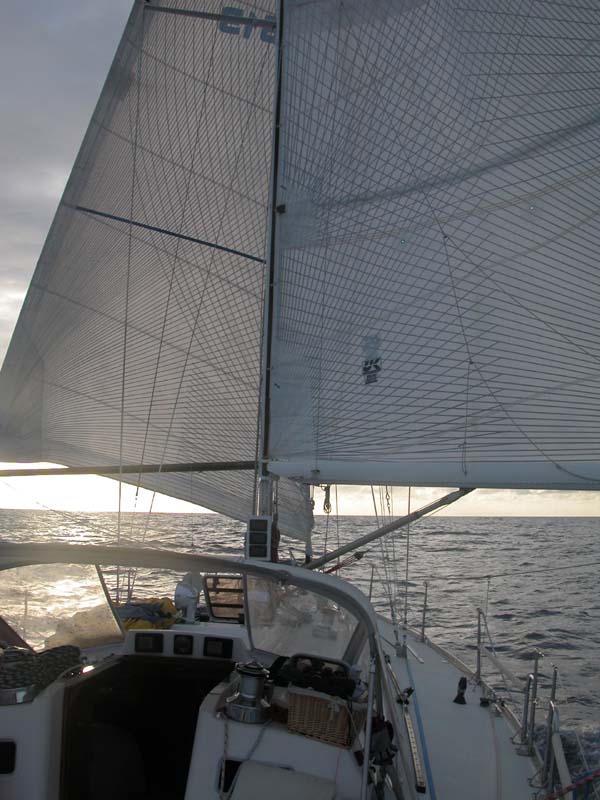 At the starting line, we enjoyed 15 kts out of the northeast giving us a downwind start. The wind quickly went light as we rounded Gran Canaria causing us to fly our asymmetrical spinnaker for a while. We drifted along with no wind for a bit as we saw other boats resorting to their engines. As we got away from the bottom of the island, the wind came around to the northwest and we close reached to a course of just south of the rhumbline.
During our first full day at sea, the wind started to veer to the north moving us to a starboard broad reach - quite pleasant sail. By the next morning (11/25) the wind had settled in at NE and we went wing on wing with a poled out jib on a starboard tack. By the 27th, we were still below our rhumb line, but now we were heading more north back towards the rhumb line as the wind continued to clock around. Having a strong bias for getting south into the more consistent trade winds, we jibed onto a port tack and continued on with full sails flying.
On the 28th with light winds (10-15 E), we reviewed the forecast and thought it may be best to head further south. The hope was there would be better more consistent winds as we got into the trades. We stayed on the port tack and headed out on a broad reach instead of
wing on wing. We continued this way through Saturday 11/29. On Saturday's ARC weather forecast there was a caution against strong squalls with up to 50 kt winds! From our estimation, it seemed that these would mostly be centered to the north. We then decided to continue going on a broad reach through the night and put a preventive reef in the main for the night. By morning we were more than ready to head back on a more westerly course. We then received another ARC weather forecast calling for even stronger squalls in a very widespread area. The sky on the morning of the 30th also did not look like a typical trade wind sky confirming there may be some trough activity in the area. We continued along cautiously on a broad reach, putting a double reef in the main and rigging a storm jib on our inner forestay just in case it got really bad.
At this time, however, we were experiencing 15-20 out of the east - great sailing weather! By mid afternoon on the 30th the wind had dropped and the sky began to clear. After carefully reviewing the weather charts and speaking with another catamaran in the area who had not heard of any 80kt squalls on any of their forecasts, we decided to go back to port tack wing-on-wing for the night but keep our double reefed main set. This put us directly on course to St. Lucia. Luckily, the night passed with no squall activity.
On Monday morning 12/1, the wind had dropped again to 12-18. We took the reefs out of the main and continued on towards St. Lucia. By afternoon the wind was down to more like 10-15 out of the ESE. The weather files showed that more light air is ahead of us still. If we go south a bit we may get out of the light air sooner. Better than slotting around going wing-on-wing, we decide to put up the asymmetrical spinnaker and crack off a little more south in search of more breeze. Still weary of squalls, we carefully go over the drill for socking the spinnaker in a hurry. And that's Vanish's navigation in a nutshell!